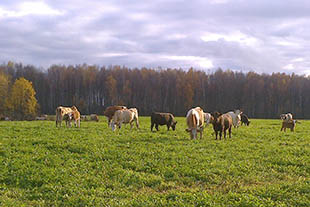 Savinskaya Niva started supplying organic beef to Hipp, a German producer of baby food.
Hipp is one of the largest European producers of organic baby food. All raw materials undergo a strict control for the presence of prohibited trace materials. According to specialists, Hipp laboratories can filter out a salt grain in a 50-metre pool.
'Detailed preparations for beef supply to Hipp started last spring', says Anatoliy Nakaryakov, Director of Savinskaya Niva, 'we exchanged specification sheets and beef quality requirements, discussed the technical standards required for baby food beef and their compliance with the Sanitary Regulations and Standards.'
After that, Savinskaya Niva found a partner to slaughter cattle. The main criterion was compliance with the EU organic standards. REMIT, Podolsk meat processing plant established by a German company Ponnant, met all requirements. The slaughter facility of the plant has the status of an organic operation.
After all preparations and testing, the first batch of beef — over 3 tonnes — was sent to the Russian plant of the German partner. Savinskaya Niva is planning to deliver 15 tonnes of beef and 5 tonnes of veal annually.
Organic beef production in Savinskaya Niva started in 2012. The company purchased some Charolais beef cattle and Aberdeen-Angus bulls to improve beef traits. Currently, Savinskaya Niva houses 1,000 head of cattle, including 550 head of breeding stock. The certification is performed in accordance with the EU 834/2007 and StO 'Agrosofia' standards. The last certification was performed by BCS, one of the leading European certification authorities based in Germany.
By Olga ATANOVA