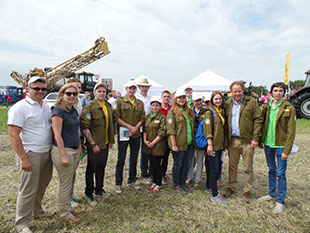 Expanding production capacities and putting several new mega-dairies into operation every year, EkoNiva, like other farming enterprises, faces the problem of deficiency of qualified employees capable of economic thinking and possessing profound knowledge of the industry and experience of working at innovative farming operations.
'Finding high-class specialists is a challenge, but we have learned to cope with it', says Stefan Duerr, Director General of EkoNiva-APK.
Currently, the attitude of students to agriculture is changing considerably — they are finally able to appreciate the prospects of working in the farming sector. Many of them are genuinely interested in building a career in their area of specialisation. EkoNiva looks for such motivated young people all over Russia, invites them for an internship, organises trainings and provides an insight into the future profession. In 2016, over 250 students of institutions of higher and professional education did an internship at EkoNiva for a period from 1 to 3 months. Most of them — about 200 people — in the dairy farming sector.
EkoNiva-APK intends to ensure that its former interns will return to work for the company thus providing an inflow of young specialists. The company's target is to employ at least 50% of the students arriving for an internship. The HR department of EkoNiva is planning to implement internship programmes in other areas of activity of the company as well.
Talented and open-minded students are invited to take part in other projects aimed at formation and development of the candidate pool. One of such programmes is EkoNiva-Student, which is going to be restarted next year. Within five years of implementation of this programme, over 600 undergraduate and graduate students from the leading agricultural universities of Russia took part in it. Fifty winners received a grant in the amount of 30 thousand rubles each.
Within the framework of partnership agreements with agricultural universities (currently, EkoNiva has signed 10 agreements), the company organises lectures and practical workshops for students with the participation of qualified specialists of the holding. Besides, EkoNiva-APK invites students for intensive 6-day training sessions dedicated to modern technologies of dairy farming within the Academy of Dairy Farming project allowing students to immerse into their profession and find their true calling.
'Our students are very good and clever', says Stefan Duerr. 'They are real enthusiasts! I always like to talk to them.'
In 2016, the company started cooperation with the Russian Student Troops and welcomed the Russian Student Agricultural Troop 'MOST', The Milk Standard of EkoNiva, which united 27 students studying livestock farming from 14 agricultural universities of Russia. Project curators hope for a continuation of this important initiative.
Fresh graduates are welcome to enroll in the 3.5-month inter-company training course held by EkoNiva-APK under the EkoNiva Academy programme. The company also implements a career development and employee promotion and rotation system, including appointment of employees showing good performance to key positions within the regional subdivisions of the holding.
Young EkoNiva programme, designed to assist the existing federal and regional governmental programmes in solving the problem of accommodation for young specialists, has been available to young employees of the company for a few years already.
'Motivation and professional development of our employees are extremely important to us since we owe our success to the professionalism of our specialists', commented Stefan Duerr.
By Tatiana LIAPINA