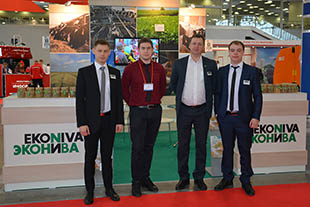 EkoNiva took part in Beef and Dairy Industry trade show. Livestock farming leaders gathered at Crocus Expo.
At the opening ceremony, Jambulat Khatuov, First Deputy Minister of Agriculture, underlined that the main priority is the establishment of a good basis for pedigree cattle breeding. After the opening speech, he visited all exhibitors, including EkoNiva.
EkoNiva sells dairy pedigree cattle of Holstein, Simmental, Red-and-White and Brown Swiss breeds.
'Holstein cows, on average, produce 32 litres of milk a day; Red-and-White cows — up to 25 litres', explains Pavel Chernyshov, Sales Manager of EkoNiva-Semena. 'Brown Swiss cows produce 22 litres, the butter fat content in their milk is higher, which makes it more popular with cheese producers. Simmentals produce about 23 litres. Their milk also contains a good amount of fat. This breed is bigger and tougher than the others, it is considered to be suitable for both dairy and beef livestock farming.'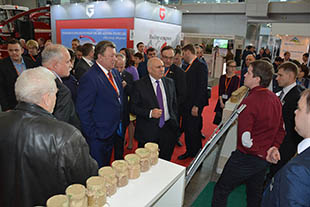 In 2016, the company sold over 4,000 head of cattle. The largest batch was delivered to The Karachay-Cherkess Republic — 440 head. EkoNiva is ready for 'big appetite' of clients. Purchasing large batches of animals guarantees herd uniformity, prompt adaptation of cattle and high milk yields.
'We have the same approach to clients regardless of the purchase volume', shares Vladimir Chirkov, Executive Director of EkoNiva-Semena. 'Our specialists give advice and share their experience in the areas of cattle housing and herd management with all clients. We provide high-quality after-sales support.'
Besides pedigree cattle, EkoNiva also sells commercial livestock. These animals are not inferior to pedigree cattle in terms of genetics, but they are not kept at specialised cattle breeding facilities.
EkoNiva also implements an organic farming project at Savinskaya Niva operation, Kaluga oblast. This area of business activity is comparatively new in Russia, and Savinskaya Niva is one of the pioneers in organic farming. The company grows crops without any use of artificial fertiliser or chemicals. The beef cattle also receives exclusively organic ration. Last year, Savinskaya Niva supplied its first lot of organic beef to Germany.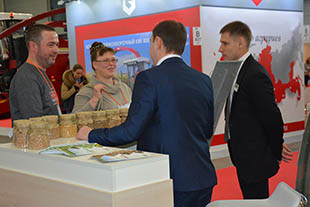 EkoNiva also presented a wide choice of seeds at the exhibition. All seeds offered by the company are of the world's best varieties consistently producing high yields. The guests of the event were interested in fodder grasses such as alfalfa, clover, timothy, festulolium, ryegrass, brome grass and wheat grass as well as grass mixes providing a balanced ration for animals.
'At first, we perform variety trials at our plot at Zashchitnoye operation, Shchigry district', says Aleksandr Ryabenko, Sales Manager of EkoNiva-Semena. 'Then we evaluate the performance of the varieties in our production fields, and only after that sell the seeds commercially providing the breeder's recommendations and our advice regarding growing technologies and chemical treatment for every variety.'
EkoNiva has long won the reputation of the crop growing leader. The company is well-known and respected in Russia and the CIS countries.
'Our goal is to preserve the reputation of a responsible supplier of high-quality seeds', says Vladimir Chirkov. 'We are very happy that we have an extensive customer base. We are ready to surprise our customers with the novelties, which are not yet available in Russia. We keep developing and offering exactly what the market needs.'
By Tatiana SIMONENKOVA