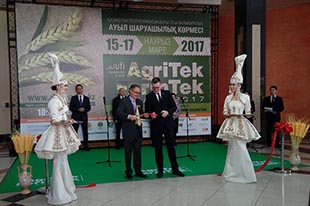 EkoNiva-Semena presented its products at AgriTek/Farmtek Astana 2017 international trade fair in the capital of Kazakhstan.
According to the organisers, the trade show was attended by approximately 4 thousand people, 96% of which were farming industry specialists. EkoNiva is becoming increasingly popular with Kazakh farmers. The company has exhibited its products at AgriTek/Farmtek Astana for the second year in a row.
'Kazakh market provides huge opportunities for our products, but we are just starting to explore it', says Valentina Sarayeva, Sales Manager of EkoNiva-APK Holding. 'Farmers are interested in seeds, in particular soy, peas Jackpot and wheat Triso. Livestock producers are looking for optimal fodder crops, so we offer them perennial grass varieties and provide useful tips for growing them.'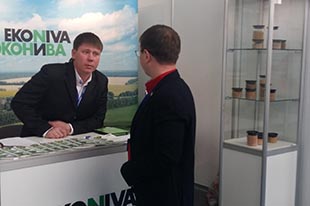 Another important topic discussed at the trade fare was pedigree cattle delivery. Sibirskaya Niva had already prepared 68 head of Simmental cattle for shipment to Kazakhstan.
'We met the clients at last year's trade show', says Valentina Sarayeva. 'The negotiations continued for a year, the clients had an opportunity to see for themselves that our company has a very good reputation and make sure that the cattle had been duly vaccinated in order to be transported to Kazakhstan. Currently, all organisational issues have been resolved, and the whole procedure will become simpler for everyone in the nearest future.'
Simmental cattle are very popular with farmers in Kazakhstan. Another benefit of the cooperation is that Novosibirsk oblast shares borders with Kazakhstan, so the climatic conditions are similar, and the animals transported from Novosibirsk are adapted to the weather.
Kazakh farmers are interested in the cooperation with EkoNiva. Currently, the parties are discussing preliminary agreements for the delivery of seeds and pedigree cattle.
By Tatiana SIMONENKOVA