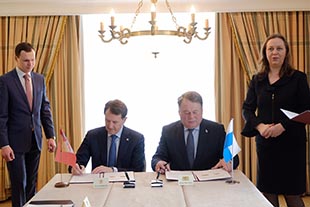 Aleksey Gordeyev, Governor of Voronezh oblast, has held a meeting with Horst Seehofer, Prime Minister of the Federal State of Bavaria in Moscow.
The meeting was dedicated to the development of the farming sector in both regions. Aleksey Gordeyev observed that it was worthwhile to adopt the Bavarian experience of social policy aimed at the support and development of rural areas.
'We should not only adopt high technologies but also aspire to the same level of agricultural production', says Aleksey Gordeyev, 'and use a patriotic approach. We must understand that rural areas are the core of the nation. We have a governmental programme for the development of rural areas, the goal of which is to establish a high standard of living in villages so that young people could stay to live and work there.'
The Governor of Voronezh oblast asserted that in order to ensure harmonious development of rural areas, it is essential to support local government and encourage efficient interaction among the rural municipal bodies. Aleksey Gordeyev also discussed the development of the farming sector with Helmut Brunner, Minister of Food, Agriculture and Forestry of the State of Bavaria. At the end of the meeting, they signed a cooperation agreement.
'Bavaria and Voronezh oblast have been cooperating for many years', says Helmut Brunner. 'Aleksey Gordeyev has given it a fresh impulse. We have agreed on joint projects in the areas of professional education in agriculture, food industry and the development of rural areas.'
By Tatiana SIMONENKOVA