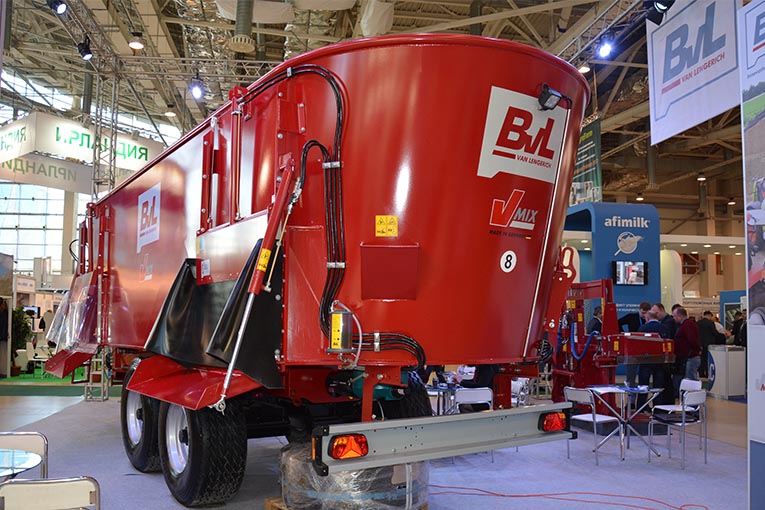 The V-MIX Plus 30-3S vertical mixer wagon, a novelty from BvL, has been tailored to meet the specific needs of EkoNiva's farms. The machines operate at the company's dairies in Tyumen, Novosibirsk, Kaluga and Voronezh oblasts. The mixer wagons can hold up to 10 tonnes of feed and mix 18 loads a day.
At EkoNiva's request, we designed a completely new chassis of the mixer wagon which has no equivalents so far', says Konstantin Shilling, Export Sales Manager for Eastern Europe, BvL Maschinenfabrik. 'The model has the highest suspension in this class of machines, an increased clearance, good stability and such terrain crossing capability that we often internally refer to it as "an off-roader". It is intended for farms with rough road conditions.'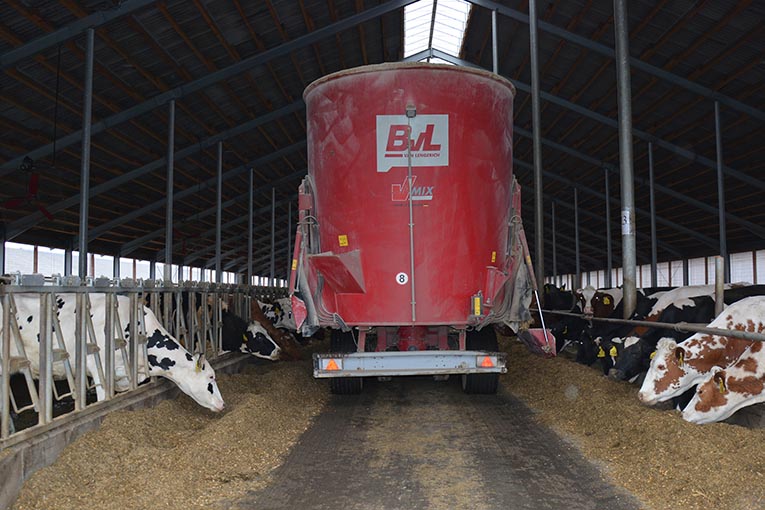 BvL uses only high-quality steel. Besides, lap joints used instead of traditional butt ones ensure better reliability. All assemblies are easily accessible and do not require complicated maintenance works. Oil level monitoring is hassle-free: the large clear tank facilitates good visibility at all times.
'The machine is equipped with a dual-speed reducing gearbox', continues Konstantin Shilling, 'so we can use a less powerful tractor, thus sparing the gear-box and the PTO and surely saving fuel.'
The mixer wagon chops, mixes, meters and delivers feed to animals. The ration may include different ingredients: maize silage, haylage, loose and pressed hay and straw, feed concentrates, root crops with liquid and solid supplements. The mixer wagon is equipped with an electronic weighing system including large backlit digital indicators. The equipment is controlled from the tractor cab.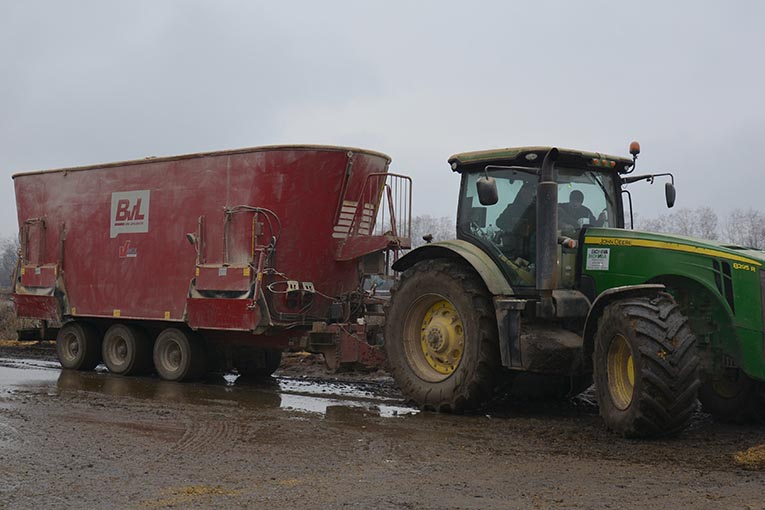 'Chopping entire round and square bales poses no problem at all', says Artyom Konoplyov, Sales Manager of the Kaluga branch of EkoNiva-Tekhnika. 'The powerful conical auger with active knives ensures consistency of the mixture, facilitates its uniform discharge and complete emptying of the mixing hopper. The knives are adjustable directly at the mixing auger flights - a feature that is unique to V-MIX Plus 30-3S.'
Having determined the optimum placement of the discharge opening for both feed troughs and feed bunks, BvL patented its asymmetrical side door position in relation to the center of the hopper.
'The machine has a hydraulic feeding system', says Atryom Konoplyov, 'which means that the tilt angle of the chute is variable, whereas the competing machines feature a fixed tilt angle. The turbo straw blower has a 360-degree rotating mechanism compared to its counterparts, which are stationary.'
By Tatiana SIMONENKOVA