Maintaining genetic properties of agricultural crop varieties is a methodical painstaking work requiring high skills. Unless early generation seed production methods are followed, valuable biological and economically important traits of varieties can be lost for a number of reasons, leading to variety degeneration.
Zashchitnoye seed growing enterprise (Kursk oblast) is celebrating its 15th anniversary this year. Over the years, the company has developed a highly professional science-based system of commercial seed growing. Thus, maintenance of genetic properties and economically important traits of varieties in the process of multiplication of pre-basic and basic seeds has become possible. It is the genetic potential of the variety that allows growers to achieve consistently high and stable yields which translate into high returns and profit.
Scientific methods widely employed in the process of early generation seed growing have enabled EkoNiva to secure its position among Russia's top 3 seed companies and sell high-quality seeds all over Russia and the CIS countries.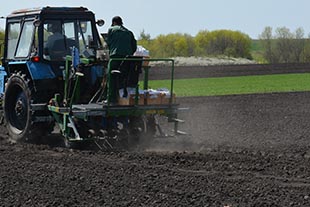 Variety outdating and, correspondingly, seed quality deterioration is caused by genetic and mechanical contamination. For example, even in self-pollinated crops, cross-pollination is observed within the variety in the range from 0.5% to 1.5%. Natural mutations lead to the emergence of untypical families and loss of valuable genetic properties. The immunity system of plants weakens due to the emergence of new races of pathogens of various diseases, sprouting of volunteer seeds of predecessors, 'foreign' seeds getting into the bulk from improperly cleaned equipment, implements, cleaning lines or packaging. For these reasons, seed material undergoes a systematic strain renovation. When a variety loses its commercial value, a variety change takes place.
'Maintenance plant breeding is a guarantee of preservation of the original genetic properties of a variety, its commercial value', says Andrey Zvyagin, Head of Plant Breeding and Early Generation Seed Production Department of Zashchitnoye. 'The task of early generation seed production is to preserve exactly the traits that are valuable to agricultural producers. To achieve this, we grow seeds at a number of stages on the basis of a comprehensive seed production system.'
The first stage is screening of typical ears in nurseries of basic material selection. We thrash the selected heads, cull them by grain properties and then plant them on the plots according to families. In the trial nursery for assessment of the 1st year progeny (PR-1), line assessment starts when the plants reach full heading.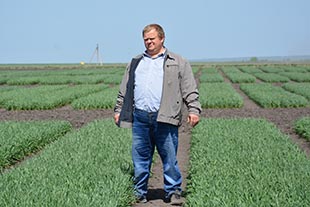 'Thus, the worst and untypical families are culled', continues Andrey Zvyagin. 'Then we sow each selected family in the trial nursery in order to assess the 2nd year progeny. Each family occupies a 10 m2 plot.'
Further, we carry out species and varietal hand weeding on the plots, the worst families splitting by a number of traits, lodged or affected by diseases are eliminated, and the best specimens featuring all varietal benefits, resistant to biotic and abiotic environmental factors and producing consistently high yields are selected. These true-to-type lines are harvested by the method of joining and sown in the 1st year propagation nursery.
'We ensure that the stands are uniform, free from species and varietal impurities or weeds', says Andrey Zvyagin. 'Uniformity potentially minimises losses for commercial producers which purchase their sowing material from us, and impurity-free stands guarantee varietal purity.'
Until recently, early generation seed production in Zashchitnoye was performed for purely scientific, non-commercial reasons. The seeds acquired this way were used for the company's own purposes. Since 2016, when the company started developing its own plant breeding and submitting winter wheat varieties for state trials, trial nurseries for assessment of 1st and 2nd year progeny have been planted with the prospect of further sale of high-quality pure variety seeds.
By Tatiana SIMONENKOVA