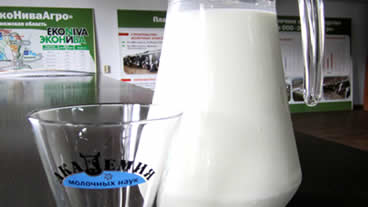 Russia underproduces 8 million tonnes of milk. According to Aleksandr Tkachev, Minister of Agriculture, stimulation of investment in the dairy industry is the solution to the problem.
The government has set the goal to build 800 dairy farms by 2020 and increase milk production up to 36 million tonnes a year. EkoNiva-APK Holding has already achieved impressive results on the way to the designated goal. In 2015-2016, the holding company launched three dairy facilities (Vysokoye and V.Ikorets dairies — in Voronezh oblast and Bushovka Dairy — in Kaluga oblast), each with the herd size of 2,800 cows and daily milk output capacity of 75 tonnes.
Three more mega-dairies of the same herd size are being constructed currently.
Ramon Schenk, Deputy Director General for Livestock Production of EkoNiva-APK Holding, believes that the tendency to build larger dairy facilities is boosting the industry development.
'Right at the start, our three mega-dairies showed outstanding performance — the company never produced as much milk before', shares Ramon Schenk. 'The technical and management solutions that we had been thoroughly picking on our tours of foreign farms and at trainings were then systematically implemented at these dairy facilities. Now it is important to keep up that pace.'
The herd number is not as important as its quality, therefore high-yielding pedigree Holstein cows had been imported for the farms.
Besides, the company employs a systematic and comprehensive set of state-of-the-art technical solutions. Dairy Comp 305 herd management software ensures efficient tracking of cows and planning of daily processes.
'It is a reliable herd monitoring tool', comments Aleksandr Fedotov, Manager of Bushovka Dairy. With the help of the software, we carry out a highly accurate estimation of cows' health, draw up meticulously evaluated plans and promptly respond to any changes in the working process.
The nutrition system is also progressive. Individual diets are formulated, depending on the type and purpose of animals.
'The dairy is "armed" with 46-m3 BLV mixer wagons', adds Aleksandr Fedotov. 'With their help, we are capable of distributing feed for large groups of cows. In addition, the software enables us to calculate the nutritive value with high precision and estimate the feeding performance.'
All cows are ear-tagged, which provides 100% control of the herd.
'Moreover, our facility is non-polluting', says Ruslan Mydlo. 'Manure removal with vacuum tankers not only ensures good and quick cleaning of barns but also allows using the wastes as fertiliser. First, the slurry is accumulated in the lagoons, then it settles down and after that it is applied in the fields.'
Availability of good specialist is crucial for the dairy business.
'Today, the lack of qualified staff is a sore point for Russia in general', admits Ramon Schenk. 'But we are making progress in solving this problem by implementing our own entry-level and advanced training system — School of Livestock Farming.'
This 'staff factory' has been working for two years. The average age of the specialists is under 30. So, they adapt well to cutting-edge technologies implemented.
'Thanks to this school, we had selected and prepared employees six months before the dairy was launched', shares Aleksandr Sorokin, Manager of Vysokoye Dairy. 'As a result, the commissioning of the dairy and adjustment of all processes went really smoothly.'
By Aleksander KUTISCHEV