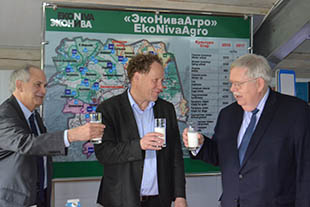 John Tefft, US Ambassador to Russia has visited EkoNiva within the framework of a two-day visit to Voronezh oblast.
The Ambassador was accompanied by Jonathan Gressel, Minister-Counselor, Office of Agricultural Affairs, U.S. Embassy in Moscow and Rachel Vanderberg, Agricultural Attache.
The first destination of the tour was EkoNiva-Chernozemye service centre in Zaluzhnoye village. Stefan Duerr, President of the company, welcomed the honoured guests, and after a brief excursion to the machinery servicing site, the delegation set off to visit the nearby dairy.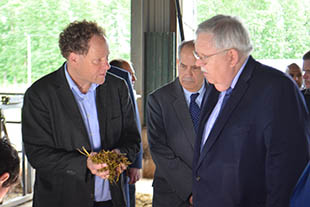 The Ambassador saw the rotary milking parlour, demonstrated keen interest in the Dairy Comp 305 herd management software and tasted the products of the Academy of Dairy Sciences. The meeting finished with a tour of Verkhniy Ikorets dairy and a friendly lunch.
'I have always been interested in agriculture', says John Tefft, 'and Minister-Counselor Jonathan Gressel suggested that I should visit this wonderful enterprise which is a good example of a cutting-edge farming operation. I am genuinely impressed! It was especially pleasant to learn that EkoNiva uses US scientific developments, including herd management software.'
It should be noted that the Ambassador was born in Wisconsin, 'the dairy state', famous for its milk and cheese production.
'Therefore, I feel at home in Ekoniva', says John Tefft.
'We have found a common ground very quickly and had a very good farmer-to-farmer conversation', adds Stefan Duerr. 'Despite his high rank, he proved to be a very down-to-earth person, easy to talk to.'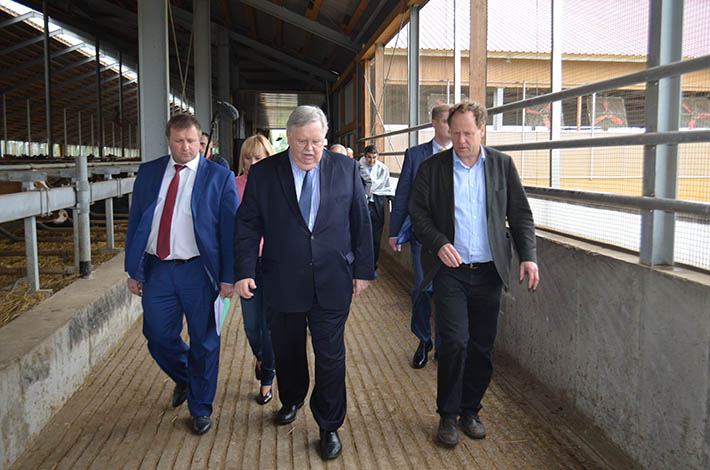 By Aleksandr KUTISHCHEV