Welcoming guests from all over the world!
Press-centre / News,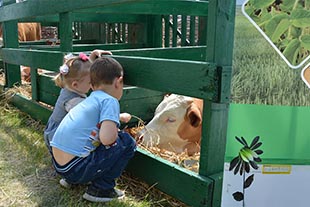 The 17th interregional Kursk Korenskaya Trade Fair has taken place in Svoboda, Zolotukhino district.
The event welcomed visitors from 36 regions of Russia and international guests from 28 countries. Several thousand people attended the trade fair over the weekend looking for goods to suit their taste, seeking useful connections or simply having fun.
The booth of Zashchitnoye farm was at the entrance to the livestock section of the trade fair. As a breeding reproducer of Simmental cattle, the enterprise showcased bull calves and heifer calves of Simmental breed.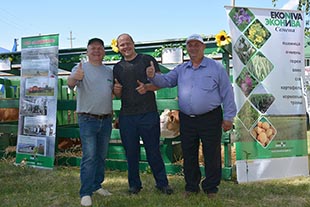 'Simmentals are popular with the public, no advertising needed', says Nikolay Basov, Head of Zashchitnoye Dairy. 'Livestock specialists, owners of large farming operations and ordinary people who want to have a cow in their household come up to us and ask about the cattle. Both heifers and bull calves are selling fast. Calls with requests are coming every day. Our cattle are purebred, adapted to the Russian conditions and automated milking.
A list of orders has been put together following the trade fair. All potential customers are welcome to Zashchitnoye, Shchigry district, where they can choose cattle and get livestock farming guidelines.
By Tatiana SIMONENKOVA