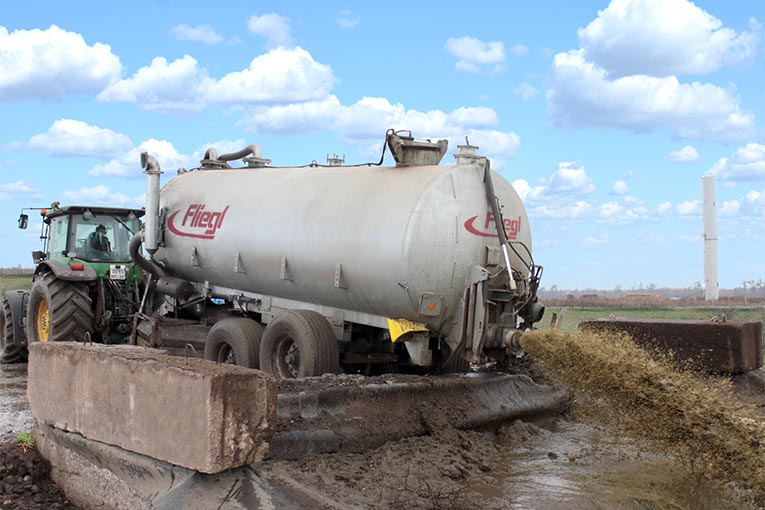 EkoNiva dairies choose VFW 18 000 Tandem Vacuum Tankers by Fliegl for slurry removal and transportation.
According to EkoNiva's specialists, vacuum tankers are the best solution for slurry removal and transportation. The powerful vacuum pump ensures fast and efficient removal of the entire bulk of manure, irrespectively of the consistency. Neither the hoses nor the tanker get clogged with straw.
At Vostochnoye Operation of EkoNivaAgro, a vacuum tanker has been operating for a year now, with a short interruption – the machine was lent to Levoberezhnoye Operation for a few months.
'The company has commissioned a new dairy unit with the capacity of 2,800 head in Vysokoye', says Vladimir Kaznovskiy, Chief Engineer, 'we needed to handle liquid manure somehow, so we borrowed the Fliegl vacuum tanker from our colleagues. We were quite happy with the performance of the machine, so we have followed suit and acquired one for ourselves.'
Vostochnoye Operation purchased a Fliegl VFW 18 000 Tandem straight after its launching into mass production. Later, the manufacturers improved the model based on the feedback from the specialists of the enterprise.
'Fliegl has taken all our suggestions on board', says Dmitriy Korendyasev, Executive Director of EkoNivaAgro Vostochnoye, 'and now the vacuum tanker has everything required by a large dairy unit.'
It cleans out slurry build-up in the alleys in a single pass. The scraper has a variable width, thus the manure is easy to scoop both in narrow and wide areas. The material collected by the scraper is sucked into the tanker. Then, the manure is either transported to special lagoons or applied in the fields with a Skate or Fliegl cultivator or a trailing shoe spreader. Another undeniable advantage of the entire Fliegl product range is that it is made in Europe.'
By Olga ATANOVA