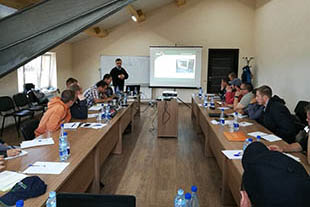 Specialists of Kaluzhskaya Niva have held a seminar for young herd managers and agronomists.
The newcomers learnt about all the specifics of forage harvesting.
'It is a common practice in EkoNiva', says Viktor Kosintsev, Head of Cattle Nutrition Department of EkoNiva-APK Holding, 'such trainings are arranged in order to improve the skills of young specialists so that they could catch up with their more experienced colleagues.'
About 30 young herd managers and agronomists from all farming enterprises of EkoNiva attended the seminar. For them, it was a unique opportunity to undergo a 'nutritionist boot camp' within two days. The young specialists had a detailed lecture on silage conservation processes. The ensiling process essentially comes down to harvesting plants within the period when they are rich in nutrients and feeding cows with palatable and nourishing silage throughout the year.
'It is a complicated and labour-consuming process, which does not allow for any mistakes', says Viktor Kosintsev, 'it is really important to choose the right time for harvesting, coordinate the work of the machines and pack and cover the silage within the shortest possible time.'
There is a long list of parameters for silage quality assessment, and each of them is important for cattle health and lactation performance.
'Ash content is a very important qualitative parameter', says Viktor Pisarenko, Nutrition Specialist of EkoNiva-APK Holding. 'This parameter shows how much the forage was contaminated during its harvesting and handling. High ash content results in nutritional value decrease and can be a reason for clostridiosis, which is almost always a fatal disease.'
By Olga ATANOVA