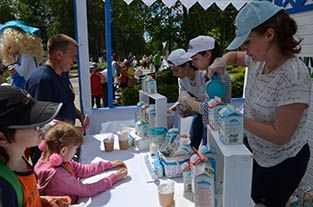 Alye Parusa park has hosted a large-scale celebration of one of Russia's oldest holidays, Children's Day.
The organisers of the event developed a extansive entertainment programme and did their best to leave a lot of good memories about the day. The Academy of Dairy Sciences, one of the main partners of the event, set up a special area for games, arts and crafts and treated children to its products. The little guests of the event chatted, made drawings, played with the animators and refreshed themselves with delicious milk, yoghurt, sour cream and curds.
'We have tried the products of the Academy of Dairy Sciences for the first time today', says Svetlana Parinova, a guest of the event. 'You know, next time, when I go shopping, I will choose this brand.'
The guests of the event took part in the all-win lottery from the Academy of Dairy Sciences. All adults and children won colouring books from professor Zorkin, ginger cakes from Zhu-Zhu bee, a stylish summer outfit from Polya and dairy baskets with tasty products from Cow Marta. The main prize was a brand-name cooler-bag from the Academy of Dairy Sciences.
By the evening, all prizes had found their winners and all the milk and yoghurt had been drunk up — The Academy of Dairy Sciences had provided fun and refreshments for yet another holiday!
By Viktor BARGOTIN