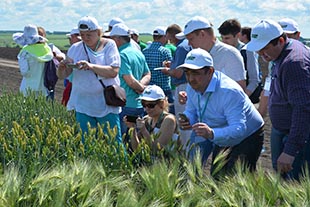 Attaining a rich crop requires significant effort. But it will be in vain, if you fail to choose the right seed material. EkoNiva offers selected genetics following a thorough verification of each novel commercial variety in its own agricultural enterprises. A good product sells itself, but reviews of growers are important, too!
Vazgen Grigoryants, Director of Aladyino LLC (Ryazan oblast):
'Last year we bought С1 seeds of Rocket peas and sowed them on an area of 100 ha. The yield amounted to around 4.0 mt/ha. We were happy with the result, so, this year, we increased the area under the peas up to 266 ha. Besides, we took the seeds of Max oats for trial, having dedicated 200 ha to it. We had some minor issues with the seed drill, which resulted in delayed sowing. However, Max was quick to catch up with the other barley varieties which had been planted earlier.'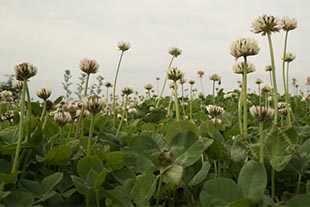 Alexandr Kisten, Head of Agronomy Department, Manager of Motor Vehicle Fleet of Druzhba LLC, a subsidiary of Okhotno Agroholding (Bryansk oblast):
'We prefer to deal with the companies producing seeds themselves, with own processing plants where the seed material is conditioned prior to sale. Before starting cooperation with EkoNiva, we saw the way the production is set up for ourselves first. For us, GOST (state standard) for us is yield and quality characteristics. In many respects, seeds from EkoNiva have an edge over counterparts produced by other seed companies. We went with Margret and Calcule barley varieties, they produced a maximum yield of 5.0-6.0 t/ha. Last year, we took Skipetr wheat for trial and it produced 6.0 t/ha. We are looking forward to the results for MV 37-14 wheat. We also grow Belmondo and Rocket peas. The seeds of grasses we grow, among them alfalfa, annual ryegrass, Persian clover, brome grass, come only from EkoNiva.'
Aleksandr Tarasov, General Director of Consensus-Agro OJSC (Ryazan oblast):
'We purchased our first seed lot from EkoNiva in 2017. The extensive range of cereals was what appealed to us. To begin with, we bought Triso spring wheat. The variety has been released for the 3rd region, which Ryazan oblast is a part of. The yield as well as the emergence and developmental patterns of Triso have encouraged us to continue the cooperation.'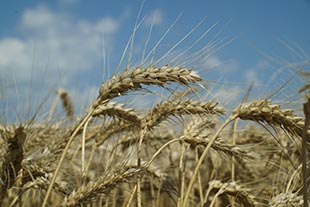 Irina Gurinovich, Acting Head of Crop and Livestock Production Technology Development Office of the Department of Agriculture of Oryol oblast:
'I used to work for a company producing malting barley which purchased seeds from EkoNiva, including the already then famous Margret variety. Today, due to the nature of my job, my duty is to protect regional interests and support local farmers. I admit that cooperation with EkoNiva is beneficial through the lens of economics.
It is a reliable company ensuring excellent quality of seeds and their full compliance with GOST. Advisory support in crop production technologies also lends credence to their commitment. There is a demand for Max oats in Oryol oblast, the variety often appears in the documents submitted by local farmers applying for state support. Other enterprises, such as KDV-Group LLC engaged in confectionery production, buy Triso soft spring wheat to produce first-class flour.'
Dmitriy Filonov, a farmer (Kursk and Belgorod oblasts):
'We've been buying our seed material from EkoNiva since 2010. We have achieved a yield of 2.8-3.0 t/ha in Prudence variety soybeans. We've taken Triso spring wheat and Calcule barley for trial. We've also had an eye on to MV-NADOR and MV-3714 winter wheat varieties for a while now, with a view to buying. Practical tips from the supplier's agronomists are also very useful.'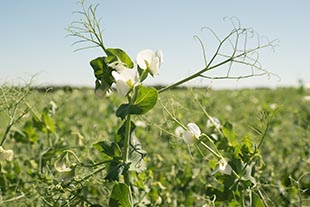 Nikolai Semyakov, Agronomist of CJSC Mordovskiy bekon (Mordovia):
'Skipetr winter wheat variety produced up to 9.8 t/ha in places, with 3.7-4.2 t/ha on average. The yield of Rocket peas was up to 8 t/ha, with an average one around 3.5-3.6 t/ha. Predominantly, we have clay loam soils, with occasional black soil, thus the yield variances. The varieties are registered for our region, and, so far, we haven't found anything better. We decided to carry out an experiment, for which we bought MV-NADOR wheat and sowed on an area of 40 ha. The variety has successfully survived the winter, so now it is good to go to production. We are going to order around 500 tonnes.'
Aleksandr Bezotosny, Chief Agronomist of Yudanovskiye prostory (Voronezh oblast):
'We've been maintaining a close working relationship with EkoNiva for 6 years now. We purchase basic seeds which we propagate ourselves. This year, we've sown MV-NADOR winter wheat. Preliminary economic calculations show an expected yield up to 8.0 t/ha. We are happy with the performance of Margret barley which we predict to amount to 5.5-6.0 t/ha on visual estimation. We expect a good output from Rocket peas to achieve which we did everything possible: fertilizer applications and a comprehensive crop protection system, comprising herbicide, fungicide and insecticide treatments.'
Igor Protasov, Agronomist of Karakulino farm enterprise (Kursk oblast):
'We sowed seeds of Grizzly hybrid maize in our fields. Having emerged excellently, it has outperformed our other varieties in development. For example, Grizzly already has 6 leaves, whereas other varieties — only two or three. The seed vigour is much higher.'
Alexey Luzhkov, farmer (Belgorod oblast):
'We've been cooperating with EkoNiva for 15 years now, and for about as long we've been observing the way the work aimed at variety range renewal is set up. So as to keep pace with the times, we do our best not to miss the Field Days hosted by the company. I believe all the crops we grow – apart from sunflower, probably – come from EkoNiva. There was a time when Annabel spring malting barley variety was our favourite, now it is being replaced by Calcule. Among other varieties are Rozkishna winter wheat and OAC Prudence soybeans.'
By Tatiana SIMONENKOVA