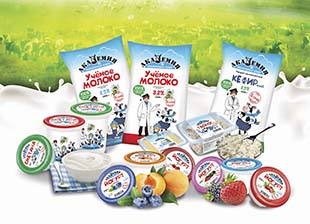 Sibirskaya Niva is planning to open a healthy food cafe under the Academy of Dairy Sciences brand in Maslyanino. The café offering delicious, nourishing and, most importantly, healthy food will open its doors in the very heart of Maslyanino park of sports and entertainment.
Maslyanino district government has been considering a unique project –construction of an all-season amusement park, a so-called Siberian Disneyland. Sibirskaya Niva has supported this idea with enthusiasm. The centre will be launched in full capacity in 2019. The construction of a number of components of the future amusement park is underway.
'We are planning to launch some of the recreational and entertainment areas this summer,' says Natalia Valyukh, Deputy Head of Maslyanino district for Social Welfare. 'On the whole, the project will include all-season facilities, among them a sports school, an amusement park and a youth and community centre. Besides, we are planning to include facilities for mountain skiing, snowboarding, snow tubing, snowmobiling and quad biking.'
In March, a snowboarding school for the youngest residents of Siberia from the age of five was opened in the district. Besides, this summer, everyone will have an opportunity to roller skate, ride bicycles and segways in the park. Active and healthy recreational activities raise the need for a proper meal, which will be provided by the healthy food cafe of the Academy of Dairy Sciences.

'In our cafe we in the first place will promote the consumption of milk and dairy products', says Sergey Lyakhov, Regional Director of EkoNiva-APK Holding for Siberian region, Head of Sibirskaya Niva. 'We intend to advertise a healthy lifestyle; therefore, our menu will not include any alcoholic drinks. We will offer only the tastiest dairy products and light snacks.'
The design of the cafe has already been developed and approved, the foundation has been laid and the preparation for the installation of metal constructions is in full swing.
'The cafe will be located in the centre of the all-season park', says Sergey Lyakhov. 'The building will have panoramic windows, and there will be an open summer terrace on the second floor. This will allow the visitors to admire the magnificent beauty of the Salair ridge.'
This summer, the healthy food cafe will open its doors and traditionally welcome the first visitors. However, the residents of Maslyanino village have even more ambitious plans and dreams.
'We want both adults and young people, 100% of the population of the area to participate in the development of mass sports so that everyone сcould be engaged in amateur sports such as skiing or snowboarding, or just have fun outdoors, enjoying fresh air', emphasises Natalia Valyukh.
Sibirskaya Niva is always ready to provide all-round assistance to the residents of the area. Stefan Duerr, the President of EkoNiva Group, has decided to buy a snowcat for preparing ski or snowmobile tracks and snow grooming at the all-season amusement park. Next winter, the machine will start operating on the training slopes.
By Tatiana IGNATENKO