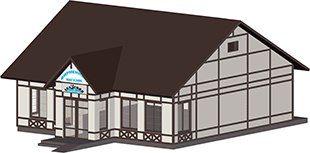 How do we bring Russian rural areas back to life? First of all, it is necessary to create favourable conditions for work and a comfortable life in the countryside. Sibirskaya Niva is on the right track!
In Maslyanino village, the company is building an all-season amusement park, which will include a healthy food cafe serving the products of the Academy of Dairy Sciences. In the nearest future, Sibirskaya Niva is planning to build townhouses for the employees and open a dairy store under the Academy of Dairy Sciences brand.
The construction of the all-season amusement park, which is also referred to as the Siberian Disneyland, is in full swing. It is a joint project of the government ofMaslyanino district and Sibirskaya Niva, the social partner of the project.
'We intend to launch the first phase of the recreational and entertainment project already this summer', says Natalia Valyukh, Deputy Head of Maslyanino District for Social Welfare.
In winter, the park will offer mountain skiing, tubing and snowboarding; and in the summer — bicycles, segways and roller-blades. Active recreation requires a healthy snack, which will be provided by the healthy food cafe of the Academy of Dairy Sciences. The cafe will open its doors to the first visitors in summer.
'Our cafe will, in the first place, promote the consumption of milk and dairy products', says Sergei Lyakhov, Regional Director for Siberia, EkoNiva APK Holding.
The panoramic windows of the cafe will allow the visitors to take in the magnificent beauty of the Salair ridge.
To make the area even more attractive for tourists, Stefan Duerr, President of EkoNiva Group, decided to purchase a snowcat for the all-season park to prepare the tracks for skiers.

Comfortable living is as important as good recreation. Therefore, Sibirskaya Niva is investing funds in the construction of residential houses for its employees in the very centre of Maslyanino village. Young specialists will be able to purchase the houses from the company by means of a 10-year mortgage. The price of the houses offered by the company will be almost twice lower than the market price.
'Normally, one square metre in a house like this costs over 50 thousand rubles. Our price is about 30 thousand rubles per square metre', emphasises Sergey Lyakhov.
The construction of the brand shop of Sibirskaya Niva is close to completion. The company will use it to sell its dairy products and high-quality refrigerated beef directly to the customers, which will help to establish good customer relations and make the life of the local residents even more comfortable.
By Tatiana IGNATENKO