EkoNiva's seeds gain popularity in Kazakhstan
Press-centre / News,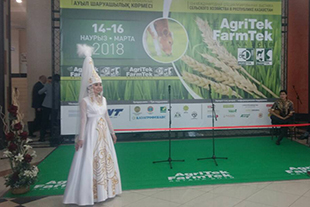 In the first spring month, EkoNiva-Semena has attended a whole host of major trade shows, with two of them in Kazakhstan: the 13th International Agricultural Trade Fair AgriTek Astana — 2018, which was followed by the 4th Annual Regional Agricultural Trade Show Agrokostanay — 2018 in late March.
Large-scale Kazakh farming enterprises have been successfully cultivating EkoNiva's seeds for a long time. Such crops as spring wheat — Licamero variety in particular — and peas have shown good performance in the fields of Kazakhstan, with yields of 3.9 tonnes/hectare and 2.9 tonnes/hectare, respectively.
'Our crops, among them peas, barleyand wheat, are well suited to the region's climatic conditions', says Valentina Sarayeva, Sales Manager of EkoNiva-Semena.
Skipetr winter wheat variety shows a good lodging resistance in low- and medium-fertility soils, an excellent winter survival at the germination stage, rapid spring regrowth, and a high tolerance to spring frost. At the trade fair in Astana, the variety appealed to Nikolay Kupavtsov, a farmer from Volya farming enterprise from Central Kazakhstan.
'We hope the variety will produce a rich crop in this country's climatic conditions, which are not always favourable for winter crops', says Nikolay Kupavtsov.
Together with the seeds of winter wheat, Nikolay Kupavtsov purchased seeds of Licamero spring wheat. The high-yielding variety uniquely combines early maturity and a high yield. It rapidly develops in the early stages and has a high kernel protein content.
'The seeds have already been shipped to our farm', says Nikolay Kupavtsov. 'We are quite happy with the way the company's logistics is organised: everything is very prompt. And as to the seeds, they are clean and of superior quality. We look forward to continuing our cooperation with EkoNiva in the future. We'd like to buy seeds of oil and pulse crops next year.'
Peas, soybeans, lentils are all in high demand in export markets. Modern varieties of these crops grow well both in fertile and poor soils. 'We are offering CDC Redcliff lentil variety to our customers at trade fairs this year', says Valentina Sarayeva. 'The variety gives you a guaranteed rich crop at low input.'
CDC Redcliff red lentil variety of Canadian breeding is a new solution for increasing profit and crop diversification. The seeds sprout as soon as soil temperature reaches a mere 5 degrees Celsius. Redcliff tolerates drought and a mild freeze. Among those who have decided to buy the seeds of thisvariety is Aleksandr Belkin, Head of Vydrikhinskoye (Vostochno-Kazakhstan oblast).
'Growing lentilssounded like good idea, so we decided to give it a go in our fields', says Aleksandr Belkin. 'We've already bought Triso, Sonore and Licamero wheat varieties from EkoNiva and the result came up to our expectations.'
At the 4th Annual Regional Agricultural Trade Fair Agrokostanay — 2018, EkoNiva- Semena has presented its products for the first time. With over 5.5 million hectares of cropland, Kostanay oblast is the main breadbasket of the republic.
'The trade fair is a great opportunity to inform our potential customers about the excellent quality of our seed material', says Alexander Suntsov, Sales Manager in EkoNiva-Semena. 'Our highyielding varieties are resistant to adverse environmental factors.'
Despite the fact that EkoNiva-Semena was a first-time attendee in Kostanay, even Archimed Mukhambetov, Akim of Kostanay oblast, showed an interest in the booth designed in the white and green corporate colors, where the seeds from EkoNiva were presented to him.
By Darya DENISOVA and Tatiana IGNATENKO