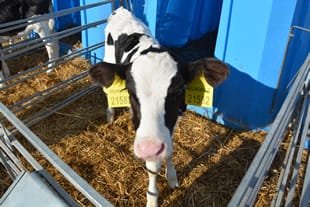 How to raise healthy calves and reduce the risk of disease? Experts from the USA and Germany arrived at Kaluzhskaya Niva to share the recent findings in young stock feeding and healthcare. Robert Corbett, a leading bovine veterinarian from the USA, knows all about the most advanced livestock farming practices.
'Calves must drink pasteurised milk', explains Robert, 'they are like children, their digestive system is very sensitive, and pasteurised milk helps to boost their immune system.'
Doctor Eller, manager of a veterinary clinic in Germany, supports the colleague's point of view and believes that pasteurised milk will allow avoiding such diseases as diarrhea and pneumonia in calves. To improve the digestibility of concentrates, the German expert suggests processing them with an extruder. It will help the digestive system and improve the function of the rumen, one of the four stomachs of bovine animals.
'The experts also advised that we should increase the protein level in our TMR to 27%', says Andrey Kamenskiy, Chief Herd manager of Kaluzhskaya Niva-East. 'It will help the calf to grow faster and gain weight.'
Another important recommendation is to let the calf drink 6 litres of milk during the first ten days of its life. Then, the amount of milk should be gradually increased to 9 litres per day. The weaning process should also be performed gradually, by reducing the milk amount by 1 litre every week. Since the age of three months, the calves must be fed TMR.
'We used to give concentrates and TMR to the calves separately', continues Andrey Kamenskiy. 'From now on, we are going to mix all ingredients together: concentrates, hay, silage and haylage.'
The international experts suggested avoiding the use of antibiotics when treating calves and using them only if the body temperature rises to 41 0C and higher.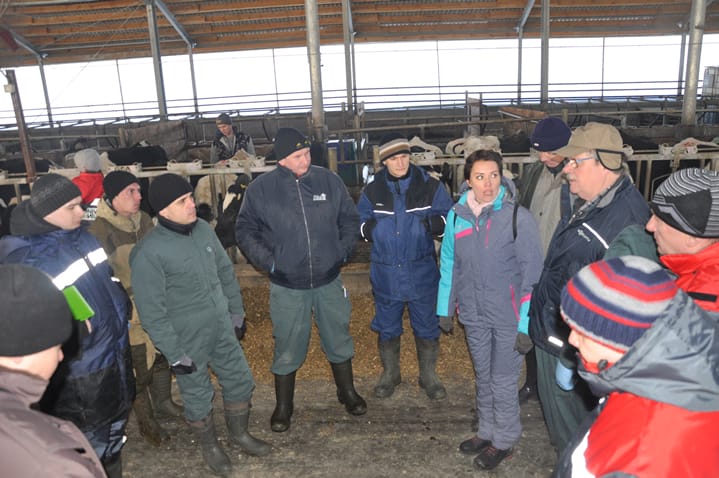 'For example, if a calf has diarrhea', says Robert Corbett, 'I suggest using electrolytes. They will restore the fluid and electrolyte balance. Electrolytes are also used for the treatment of gastrointestinal diseases and the improvement of the intestine function.'
The experts had a tour of the dairies of Kaluzhskaya Niva. Georg Eller paid special attention to training young employees and praised the work of Kristina Farneyeva, a young nutrition specialist. Kristina has been working at Bushovka dairy since last November but she is already a valuable part of the team.
'In my third year of studies, I did internship at Kaluzhskaya Niva. It was then that I understood I had chosen the right profession', shares Kristina Farneyeva. 'I am glad I have come to work for EkoNiva. We have a very good team. I can be sure that my colleagues will always support me and give professional advice when I need it. There can be success and failures in professional life. One cannot avoid mistakes, but I always try to get things right and move on.'
Georg Eller and Robert Corbett promised to return to Russia to get to know the young specialists better and share their extensive knowledge in the area of young stock raising, because healthy calves are the future of any dairy.
By Darya DENISOVA