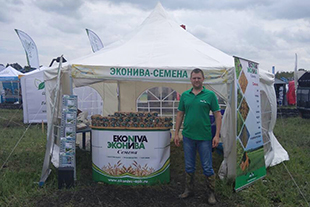 Field Days provide a unique opportunity to share the best agricultural practices and find solutions to the challenges farmers face in their profession. EkoNiva-Semena traditionally takes part in such events.
Not even the heavy rain could stop the farmers from coming to PenzAgroTekh trade show held in Zalesnoye village, Kamenka district, Penza oblast, to gain new knowledge.
'Due to the peculiarities of the current farming season, the attendees of the event were particularly interested in winter wheat seeds', says Aleksandr Novoselov, Sales Manager of EkoNiva- Semena. 'Varieties Lgovskaya 4 and MV 37-14 are Penza farms' favourites.'
These are intensive varieties of soft winter wheat with high lodging resistance in rich soil.
At the Field Day, the current and potential customers of EkoNiva-Semena came to the company's booth to give their feedback, share their experience and look for the new seeds for their fields.
Agro Alliance Plavskoye (Plavsk вistrict, Tula oblast) is a regular customer of EkoNiva-Semena. The company has been purchasing seeds of cereal and leguminous crops for several years.
'We grow Jackpot peas, Margaret barley and Max oats on our 4.5 thousand ha of land', says Igor Zaytsev, Deputy Director General for Crop Production. 'We are happy with the quality of the seeds.'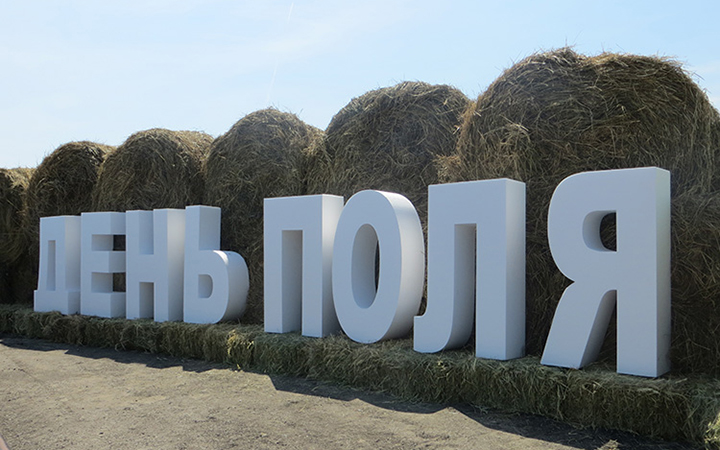 At Tambov Field Day in Chicherino village, Tokarevka district, EkoNiva-semena traditionally presented the best seeds for the attention of the guests of the exhibition.
Shcherbakov farming enterprise (Gavrilov district, Tambov oblast) has been buying the seeds of winter wheat and peas from EkoNiva-Semena for five years. The company is pleased with the results and eager to try growing something new.
'I am considering growing chick peas', shares Aleksandr Shcherbakov, Farm Manager. 'The price of this crop is currently very attractive.'
EkoNiva-Semena offers two varieties of chick peas: Privo 1 and Golden Jubilee. They are quite popular with farmers and perfectly suitable for the climatic conditions of Tambov oblast.
The field-based agricultural exhibitions are growing more and more popular year by year. They provide a unique opportunity for farmers to learn about progressive innovations, establish new contacts and make the right decision for the benefit of the future yields.
By Tatyana IGNATENKO