BioFach 2019 Organic Food Trade Fair has demonstrated that the world organic production has taken a huge step forward and made the visitors think about the matters of global importance.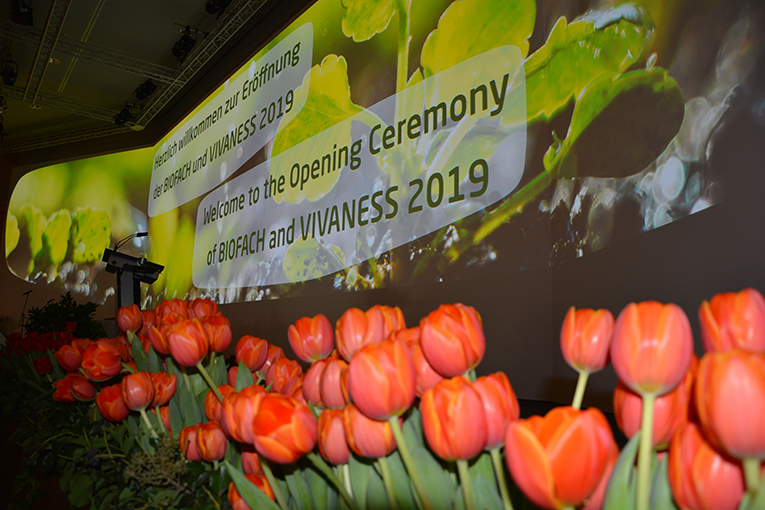 The philosophy of BioFach lies in the care for the future generations, human health and natural resources. This year, the Nürnberg Messe Exhibition Company gathered over 3,000 exhibitors from all over the world. Organic dairy products, meat delicacies, pasta, fruits, vegetables and drinks — there was a gastronomic abundance of tasty and, most importantly, healthy products.
'Organic food has a high nutritional value', says Felix Prinz zu Löwenstein, Chairman of the German Association of Organic Farmers. 'Studies showed that those who eat organic food live longer and do not suffer from allergies.'
Even chips which are usually blacklisted are, on the contrary, recommended by BioFach participants. Healthy beet, orange and apple chips have replaced harmful potato crisps. Organic snacks, as well as butter and sweets made from natural coconut, have gained great popularity. Food for sportsmen, vegetarians and vegans is at the peak of popularity. The producers also paid attention to biopackaging intended to decompose easily without any damage to the environment.
'Today, we focus on developing organic farming and protecting the environment', points out Ulrich Maly, Mayor of Nuremberg. 'We care for the world in which our children will be living. And one of the steps Germany takes towards this bright future is the refusal of nuclear energy and brown coal.'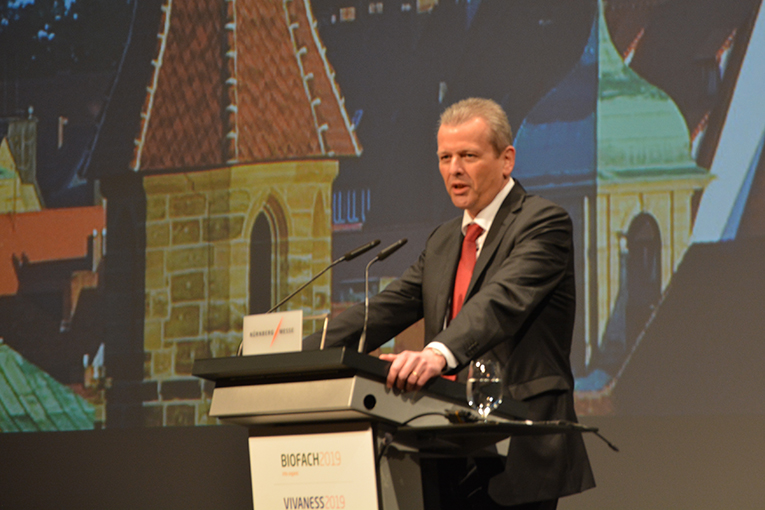 At BioFach 2019, Russian producers also showcased their unique organic products: natural sea buckthorn juice, Siberian pine nuts and cedar milk, Altai tea and honey. These products are yet unparalleled in the global market. The exposition was unveiled by the delegation headed by Aleksey Gordeyev, Deputy Prime Minister of Russia for Agriculture, Natural Resources and Ecology.
'Today, organic production is ramping up all over the world involving over 130 countries', says Aleksey Gordeyev. 'Russia possesses a huge amount of land and fresh water. We can make a significant contribution to the development of organic farming and wholesome food production.'
It is the second time that Savinskaya Niva organic farm has showcased its products at Biofach. The enterprise specialises in beef cattle farming and organic crops growing. The president of EkoNiva Group Stefan Duerr and the executive director of Savinskaya Niva Anatoliy Nakaryakov told Aleksey Gordeyev about the development and prospects of the company's organic production.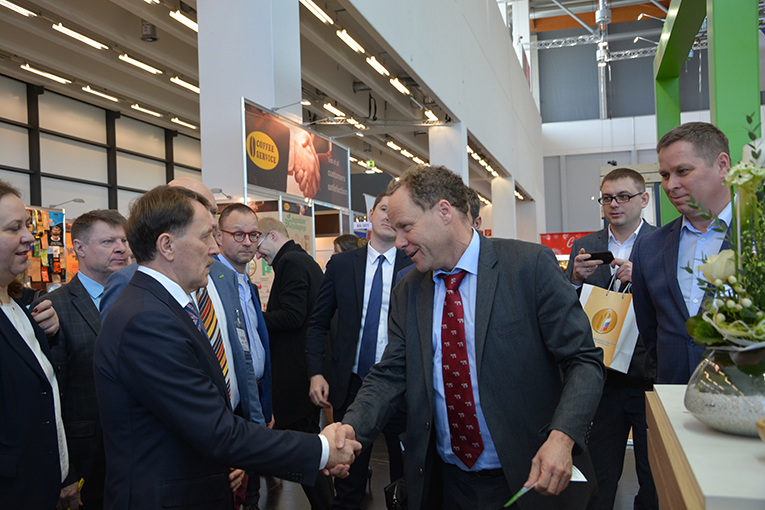 'Savinskaya Niva is embarking on a new organic milk production project in Kaluga oblast', says Anatoliy Nakaryakov. 'A farm for 250 milking cows of Simmental and Ayrshire breeds is currently under reconstruction. We are planning to equip it with a robotic milking parlour.'
The cows will graze on pastures, so there will be fresh grass in their diet. This milk is definitely going to be delicious and healthy!
In Orenburg oblast, the company is planning to launch Severnaya Niva Bio project aimed at the development of organic fodder production and beef cattle farming. EkoNiva is also considering developing organic production in Voronezh oblast.
Ivan Lebedev, Deputy Minister of Agriculture of Russia, Vladimir Kashin, Chairman of the Agrarian Issues Committee of the State Duma, representatives of the National Organic Association and the German-Russian Agricultural Policy Dialogue also visited the trade fair. The guests paid attention to each booth. Aleksey Gordeyev thanked the Russian exhibitors and expressed hope to taste organic milk and beef of Savinskaya Niva at the next Biofach Trade Fair.
A panel discussion devoted to the prospects of Russian organic production was held in the course of BioFach. Of special interest was the Organic Products Law signed by the President Vladimir Putin in the summer of 2018. The law will come into force on 1 January, 2020.
'The law takes into account all the peculiarities of the development of Russian organics and can help to solve the basic issues', points out Ivan Lebedev, Deputy Minister of Agriculture of Russia. 'It provides for a state support system, and the order of granting subsidies is currently being developed. There is a lack of specialists in organic farming and, consequently, there are not enough competent organisations which could certify farmland as organic. Today, 54 agricultural universities of the country have made changes in the curriculum in order to train specialists in organic farming starting from 2019.'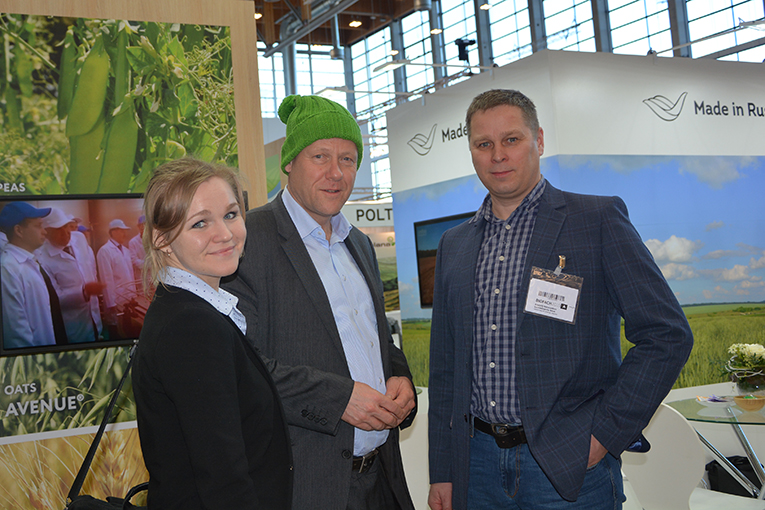 By the amount of certified lands, Russia occupies a worthy place in the world market. 290 thousand hectares of land are of the European quality standard.
'Russian organic enterprises produce mainly cereals and are export-oriented', says Anatoliy Nakaryakov, Executive Director of Savinskaya Niva. 'Organic processing in our country is lagging behind. Today, there is demand for organic dairy products, potatoes, eggs, and meat. All of this is produced in the domestic market, but in scant quantities. It is necessary to work in this direction.'
It is also important to deal with adulterated products which continue to appear on the shop shelves. An ordinary customer can hardly recognise them, but experts are sure that this problem will be solved over time. And for now, it is recommended to carefully study the labeling and composition of the product.
Another important issue is bilateral recognition of the Russian and European quality standards.
'The practice of double certification comes at a high cost for organic producers, since it suggests that Russian companies must obtain Russian certificate to work in the domestic market and the European-type certificate to work in the European market', explains Oleg Mironenko, Director of the National Organic Association. 'The current issue is to achieve mutual recognition between the countries.'
Stefan Duerr, President of EkoNiva Group, shared his views on the subject.
'It may take three or four years before we reach an agreement on bilateral certification. I believe the countries of the European Community should be interested in it because organic food market in Russia amounts to 160 million euros and most of the goods are imported. Currently, importing organic products to Russia is relatively easy, however, the situation might change starting from 1 January, 2020. For example, western producers of muesli will have to undergo certification in Russian regulatory authorities to be able to sell their goods under the label 'bio' or 'organic' in Russia. In order to achieve common understanding as soon as possible, there must be mutual interest.'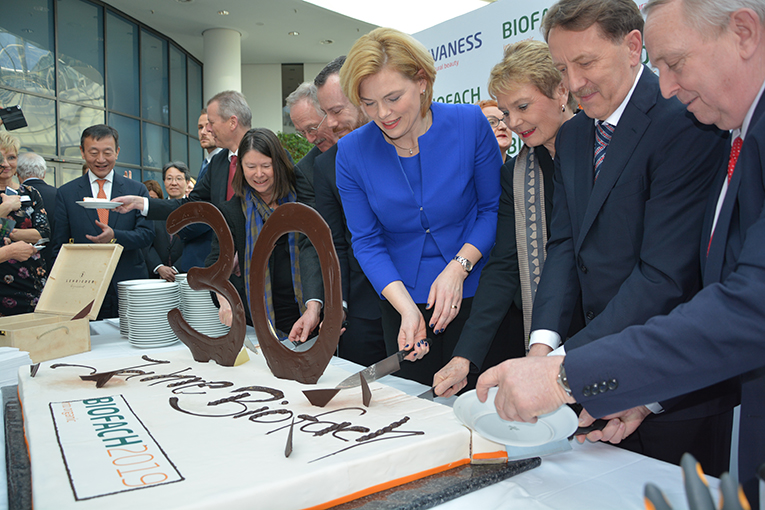 While the parties were discussing the terms of future cooperation, a huge cake made from only organic products was brought in to celebrate the 30th anniversary of Biofach. Aleksey Gordeyev and the charming Julia Kloeckner, Minister of Agriculture of Germany, were the first to taste the culinary masterpiece.
'In 1990, 197 exhibitors took part in BioFach Trade Fair', shares Julia Kloeckner, 'and today, this figure has grown to more than 3,000! The demand for participation in the trade fair is incredibly high, and the organisers consider increasing the number of the halls next year. According to recent polls, 78% of consumers in Germany buy organic products and 86% of them support the development of organic farming. We are happy to realise that we are moving in the right direction.'
By Darya DENISOVA