EkoNiva's soybeans become centre of interest in Bashkiria
Press-centre / News,
EkoNiva-Semena has successfully presented its stand on the 29th international exhibition AgroKompleks 2019. That is the major business event in agricultural sector taking place in the Volga region and Ural.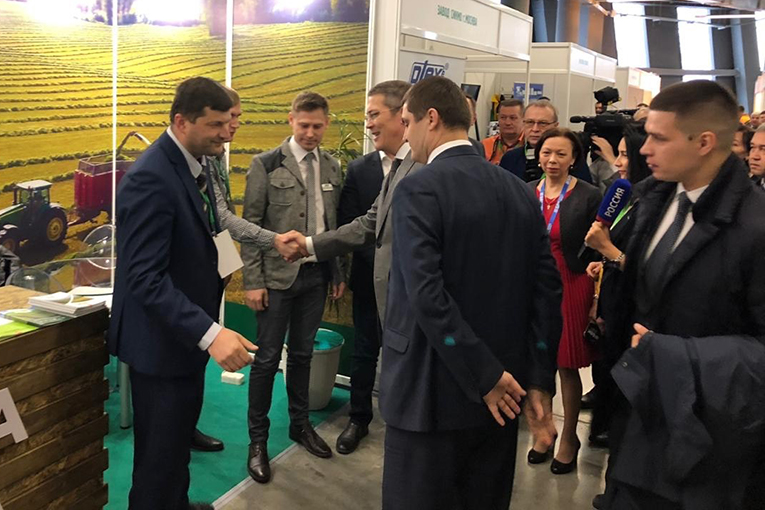 There were stands presented by 300 companies from all the Federal districts of Russia and various foreign countries on the territory of 15 000 square meters at the exhibition hall VDNKH-EKSPO in Ufa. Over 4000 representatives of agricultural business visited the exhibition during 4 days.
EkoNiva-Semena presented to its Bashkir partners the entire range of its products. Grains, grain legumes, annual and perennial forages have been traditionally brought to be showcased. The company is known all over Russia from Kaliningrad to Primorye. Bashkiria is also familiar with the company. The most fancied crops on demand of Bashkir farmers are barley, lentils and wheat. Company representatives told about new varieties of winter wheat which they had bred themselves (Sherotan, Aliot and Cepheus) to the Deputy Head of Bashkortostan. Radiy Khabirov visited EkoNiva's stand and was pleased with it.
'We are happy to have such prominent companies as EkoNiva as investors and partners in certain agricultural directions", said Khabirov. "Very few people are involved in breeding in Russia now and that is an important and necessary activity'.
Radiy Khabirov talked to Petr Dubyansky, the Executive Director of Severnaya Niva. They discussed the company's plans for building four livestock units in the republic, namely Semenovo-Makarovo in Yermekeevoregion, Adelkino and Russkaya Shveitsaria in Belebey ragion and Sukhorechka in Bizhbulyak region. In the last few years Bashkiria has grown attractive for investors.
Local producers of agricultural goods also contribute to development of the agriculture sector. As for the field crops, Bashkir farmers refer to soybeans more and more often as to a globally promising crop.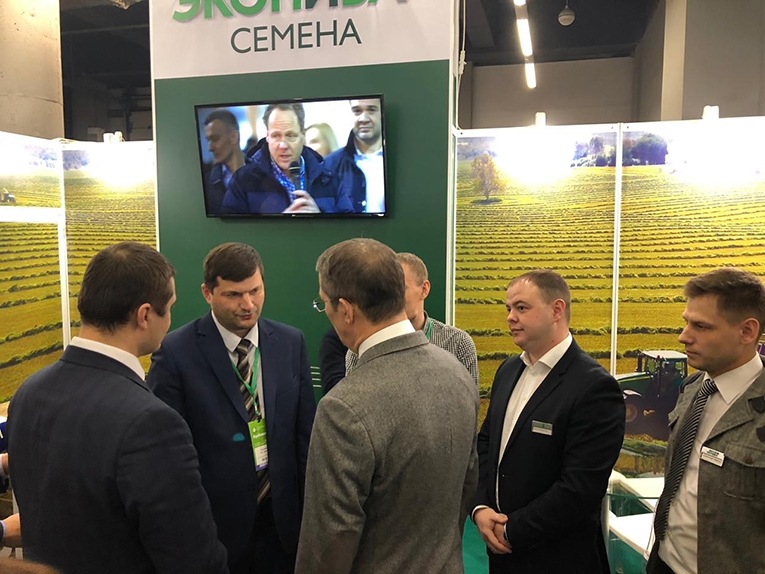 "Lentils, peas, and soybeans, indeed. These crops are just entering Bashkir agricultural market", says Alexander Ryabenko, EkoNiva-Semena's employee. "We have fine varieties and we are willing to offer them to the local farmers'.
Denis Yemelin, Director of Farming operations in Meleuz region, Bashkiria, has deliberately come to the exhibition AgroKompleks 2019. EkoNiva-Semena's pavilion was among the first pavilions that he has visited. The farmer got interested in the product rich in vegetable protein.
'I want to sow soybeans in the fields of my farm", said Denis Yemelin. "I read a lot about this crop and I know it has a great demand on the market. Soybeans are a new crop for our region. We are taking a little amount of them yet as we want to try it first. And if we succeed, then we will increase our crop acreage significantly'.
Why did the choice fall exactly on EkoNiva's seeds? Denis Yemelin replied without any hesitation:
'The company's credibility on the market and reviews from my fellow colleagues – these are the main points that should be taken into account'.
By Tatiana IGNATENKO