If you are a resident of Moscow or Moscow suburbs, you can spare yourself a visit to a supermarket and buy the EKONIVA natural dairy products from the comfort of your home! Starting from 25 February, the tasty and healthy dairy foods made with the high-quality milk produced on EkoNiva's farms are available online. Now you can order them at the website of Utkonos online hypermarket with just a few clicks.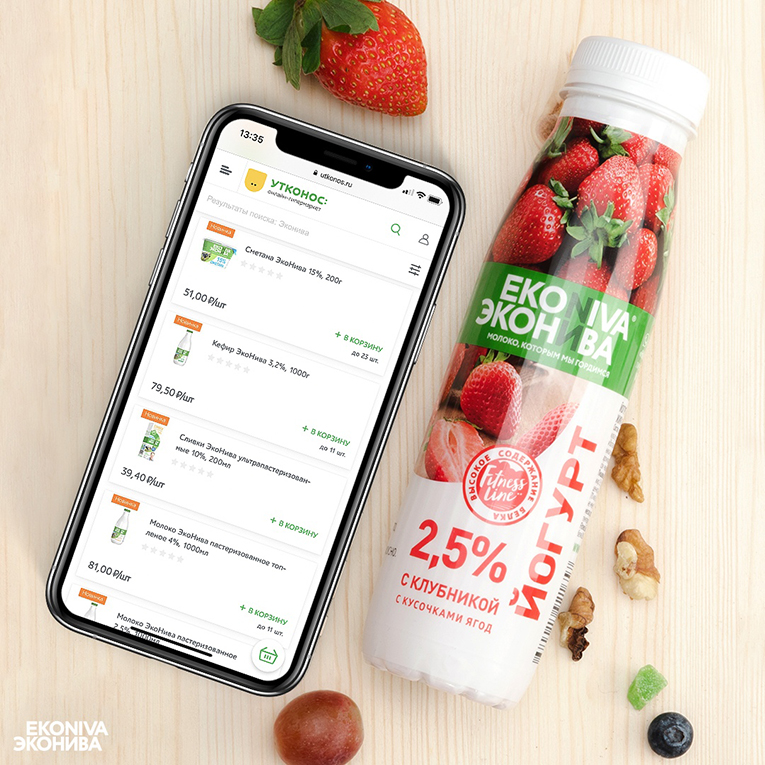 Anytime, even at night or in the early hours, when all supermarkets are closed, you can order food delivery service to your home or any other convenient place. Contact us at www.utkonos.ru or by phone +7 495 777-54-44.
Utkonos courier service works 24/7 in order to do the food delivery in Moscow and Moscow oblast round the clock every day, including public holidays.
'Partnership with Utkonos has become a milestone for us', states Dmitriy Sayapin, Manager of Dairy Foods Sales Department of EkoNiva-Food. 'In Russia, Utkonos online hypermarket is the largest e-commerce company offering food delivery throughout Moscow and Moscow oblast. Utkonos online service helps us to take better care of our customers offering them the most convenient ways of shopping for our products.'
Currently, Utkonos online store offers the following range of EkoNiva dairy products: Fitness-line drinking yoghurts with different fruit flavours, 3.2% fat kefir, pasteurized and ultra-pasteurized milk with various fat content, cream, sour cream and creamy curds with different fruit flavours.
By Aleksandr KUTISHCHEV