EKONIVA dairy products are now available on the shelves of Globus hypermarket in Kaluga. On this occasion, the company held a brand presentation for the parents and entertained little shoppers.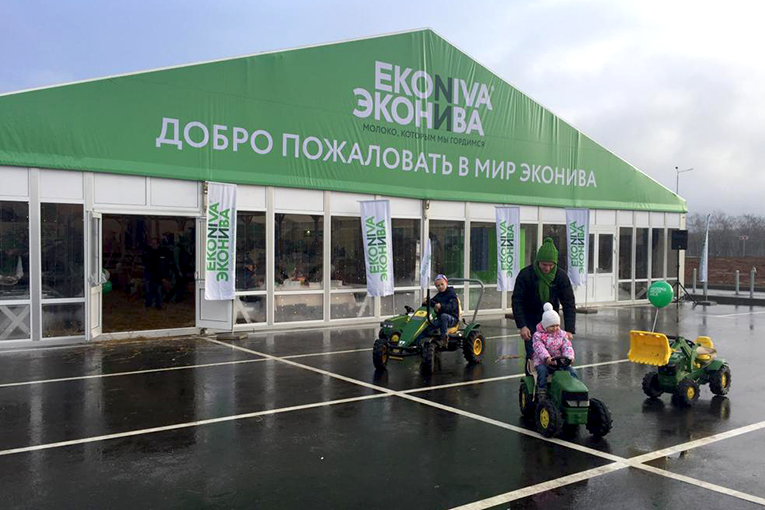 A huge pavilion of EkoNiva sprang up outside the hypermarket. Its guests found themselves on a real farm: cows, calves, hay and a lot of natural milk. Here, even the air brought back the memories of the countryside and summer holidays at granny's.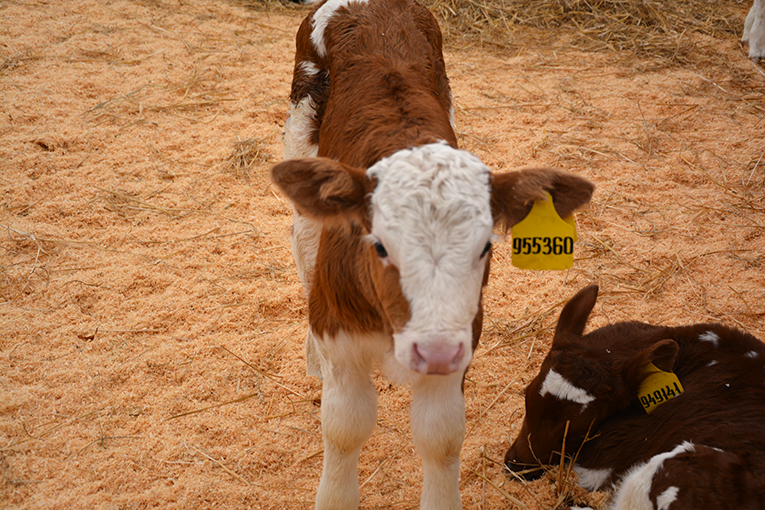 'We are so happy that our granddaughter has got the chance to see how a cow is milked', said one of the visitors Alla Varayeva. Nowadays, very few village people keep a cow while, back in the day, every household had a cow – a family nurturer and provider.'
At EkoNiva's pavilion, the guests could see the milking process, cows' comfortable life conditions and what their ration included. The visitors were welcome to sample the dairy products. Besides, the children and their parents could make milkshakes themselves by pedalling a special cycle blender.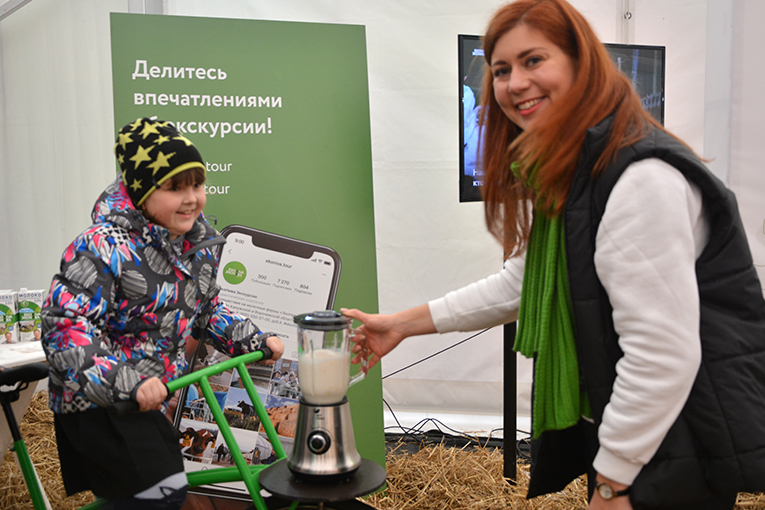 Next to it, at the art workshop, craft lovers were making wooden cows come to life with just a couple of brush strokes.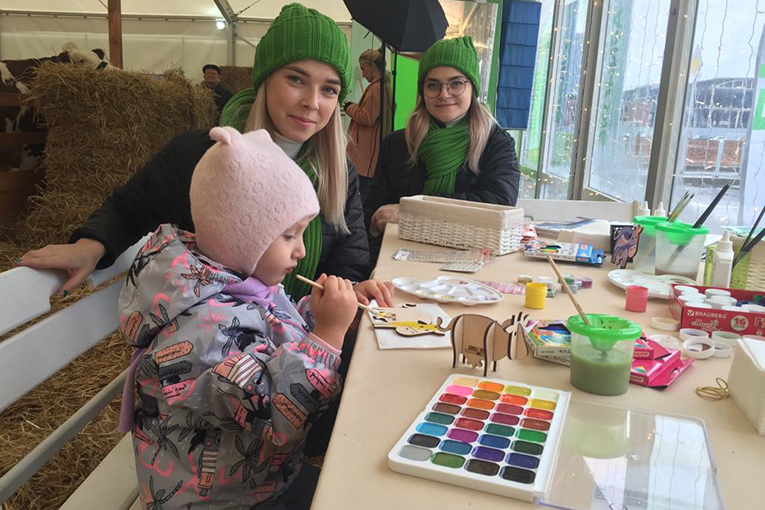 'All EKONIVA products are in high demand in Kaluga', said Konstantin Ivanov, Sales Director of EkoNiva-Food. 'We've earned the trust of our customers, they know that the milk is produced on our farms in Kaluga oblast. By the way, the product range has been extended with probiotic yoghurts, a Snezhok milk drink and butter with a fat content of 72.5%. Globus sells Medynskiy semi-hard cheese made at our local MosMedynagroprom plant.'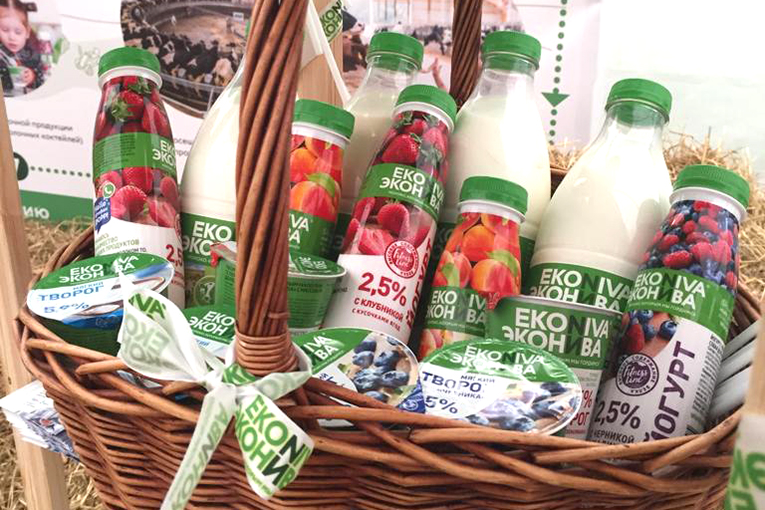 Seven-year old Nikolay Kolenochkin came to the hypermarket together with his grandmother and a shopping list in his hand. The diligent lines in child's bold handwriting ran: apples, corn, cheese, yoghurts, milk and butter. Although it is easy to get lost in the dairy section, Kolya and his granny know how to find high-quality products.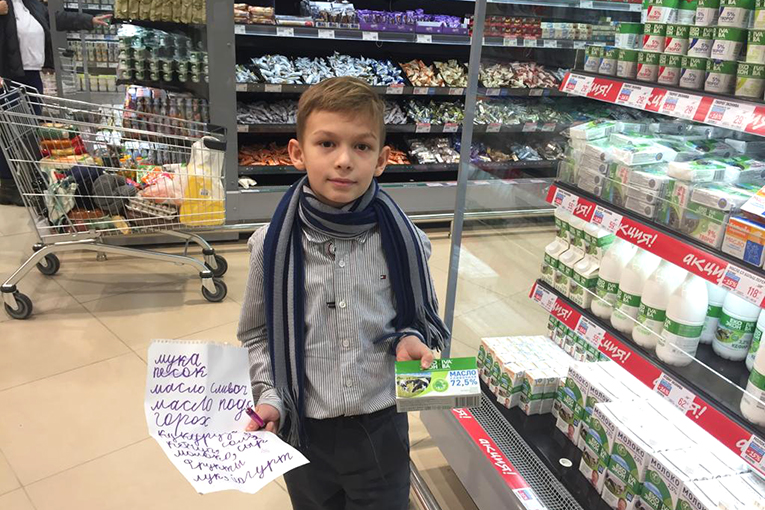 'We always examine the ingredients on the dairy label', explained Tatyana Makhorina, the little shopper's grandmother. 'EKONIVA products have no colouring agents and dubious food additives. That's why I go for this brand.'
EkoNiva uses only top-quality raw milk from its own farms.
'We guarantee a natural ingredient composition and the volume stated on the package', said Viktoriya Golyshkina, Customer Care Specialist of EkoNiva-Food. 'EKONIVA pasteurised whole milk is not standardised by fat, protein and carbohydrates. This means that the fat is the same as in the raw milk just given by a cow. Pasteurised milk with a fat content of 2.5% and 3.2% includes whole milk and skimmed milk.'
The yoghurts and quark desserts are very popular with consumers, especially children.
'I do love EKONIVA fruit yoghurts and quark desserts', said Nikolay Kolenochkin, 'there are pieces of real fruits, it's so yummy.'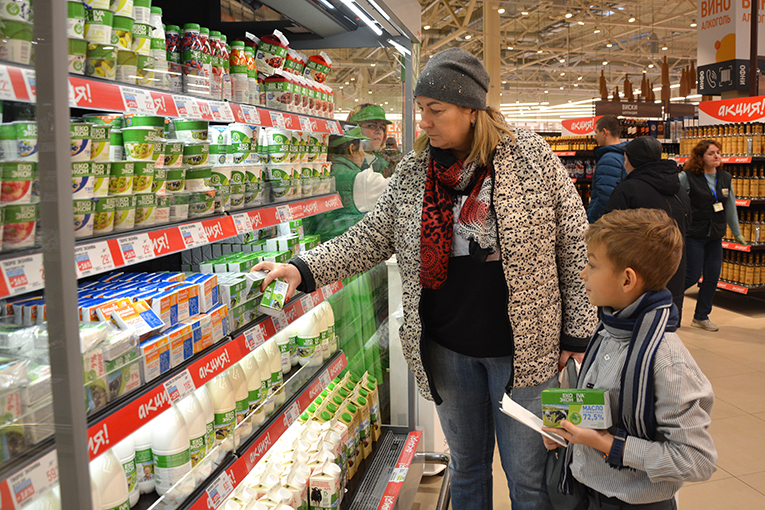 This year, EKONIVA fruit quark desserts, Fitness Line yoghurts and baked milk have been named the best products of 2019 at the international trade show PRODEXPO.
'EKONIVA yoghurts are made from standardised milk, fruit preparations and starter cultures of Streptococcus thermophilus and Lactobacillus bulgaricus', continued Viktoriya Golyshkina. 'Only natural ingredients are used in the production process. We never add preservatives or vegetable fats. We do our job with a clear conscience as we are absolutely honest about the composition of our produce.'
The company's product range also includes sour cream, kefir and cream. EKONIVA has just launched ORGANIC milk line — especially tasty and healthy novelty on the shelves.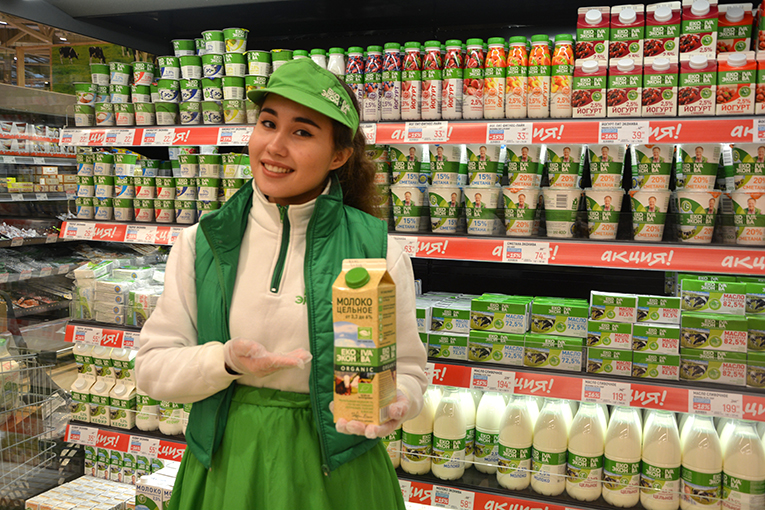 'EKONIVA ORGANIC milk is incredibly tasty', said Olga Filatova, a visitor of Globus hypermarket. 'On the package, it is specified that the product complies with the requirements for organic food and has all the necessary certificates. Every morning, I use only this milk to make porridge for my children.'
You can't have too much of a good thing, especially when it comes to EKONIVA butter —cooks know it for sure, it makes pastry truly delicious. The little boy Kolya put a pack of butter in his shopping basket as the granny had promised to bake his favourite apple pie at the weekend.
By Darya DENISOVA