The winter wheat variety Cepheus bred by EkoNiva has been included into State Variety Register of Plant Breeding Achievements permitted for use on the territory of the Russian Federation.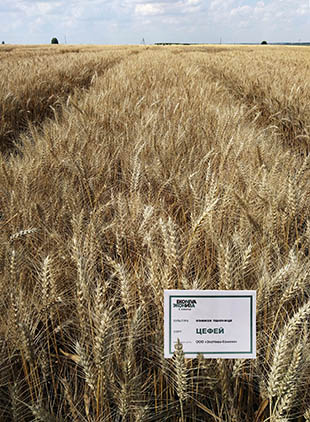 For over five years now, EkoNiva has been engaged in winter wheat and soybean breeding on the premises of Zashchitnoye, Kursk oblast. The endeavour has already produced first results: the winter wheat variety with the beautiful astronomical name Cepheus has been approved for use.
'Cepheus is a medium-maturity variety of intensive type', says Andrey Zvyagin, Plant Breeder of EkoNiva-Semena. 'It is distinguished for its high adaptive properties, consistent yield and high grain quality. The variety is suitable for food use and in terms of flour quality corresponds to strong (improver) wheats. The yield potential is 11 tonnes/hectare, with the maximum yield produced during the trials amounting to 10.7 tonnes/hectare.'
The cultivar's main distinctive feature is its high winter hardiness.
'In the stressful conditions of January-February 2018 in complete absence of snow cover with temperatures plunging to - 26 degrees Celsius, the variety performed well at the Shchigry state variety testing plot in Kursk oblast', continues Andrey Zvyagin. 'Cepheus was the most winter-hardy and among the highest yielding cultivars, as compared to other winter wheat varieties.'
Several other lines of EkoNiva's breeding are currently undergoing State variety testing. It is quite possible that they will also join the ranks of registered varieties this year.
'The the entry of the variety into the State Register is the result of our years of intensive work', says Stefan Duerr, President of EkoNiva Group. 'This is our contribution to import replacement. We hope our new variety will become popular among the Russian farmers looking for a productive winter-hardy wheat variety. For us, plant breeding is another way to diversify our business activity allowing us to reach a new level of intellectual production.'
By Tatiana IGNATENKO