Ekosem-Agrar, EkoNiva's parent company, has been awarded the Enterprise of the Year prize (UnternehmerSTARs 2019) presented by the regional office of the German Association for Small and Medium Enterprises (BVMW).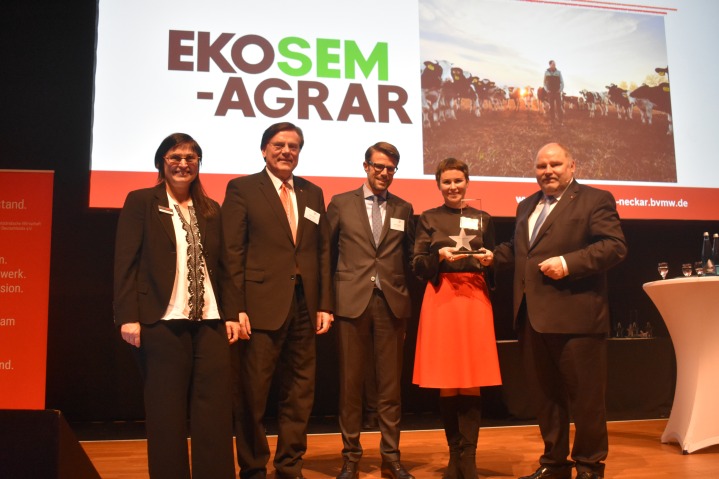 The award ceremony was held at the Palatine Conference Centre in the German city of Wiesloch. The prize is given to the companies of Rhein-Neckar, Baden-Wuerttemberg, in recognition of the high importance of small and medium businesses in general and this or that enterprise in particular. The best nominees were chosen in six categories: promotion of innovations, qualified personnel recruitment, digitalisation/industry 4.0, international economic activity, business administration and young SMEs (small and medium enterprises).
Ekosem-Agrar, the leading raw milk producer in Russia and Europe, became the winner in the International Economic Activity category. The company makes a significant contribution to the development of the Russian economy. In 2015, it was recognised as a systemically important organisation in our country. Ekosem-Agrar promotes advancement of rural areas through investment and training of specialists while applying the principle of rational resource management.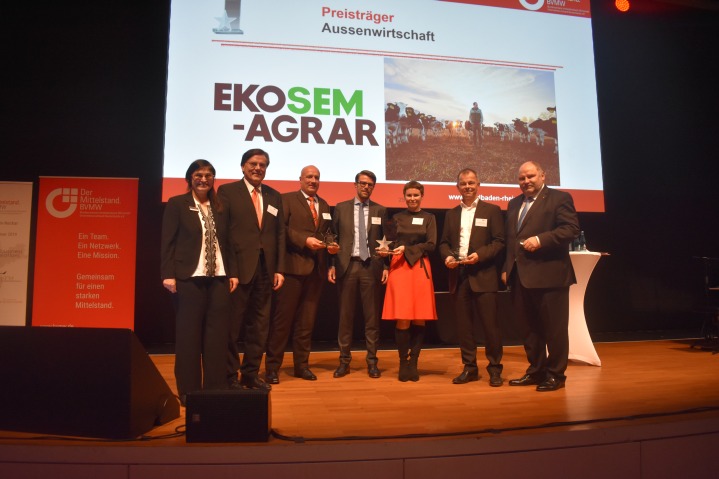 'The success story of Ekosem-Agrar is amazing', noted Josef Stumpf, Manager of BVMW Economics Department, presenting the prize. 'The company's tremendous growth really impresses everybody. Its substantial contribution to the German-Russian relations is also undeniable.'
Fabian Kirchmann, PR Department Manager, and Svetlana Simonis, Ekosem-Agrar Legal Service Specialist, were happy to receive such a prestigious award.
'It is a great honour to represent our company at this event', said Svetlana Simonis. 'We are pleased to see a growing interest in our activities and feel that our success is widely acknowledged. Today, many people have expressed a strong desire to visit our enterprises in Russia.'
Ekosem-Agrar's subsidiary, EkoNiva-APK Holding, operates in 12 regions of Russia, with dairy farming being its key area of activity. Over the past years, the number of dairy cows has increased by several times and now amounts to nearly one hundred thousand.
By Tatyana IGNATENKO