NivaStroy employees are united not only by the job they do together, but also by their love of sports. Just recently, a group of enthusiasts has organised an ice hockey club based at Severnaya Niva enterprise. All fans of the popular game are invited to join it.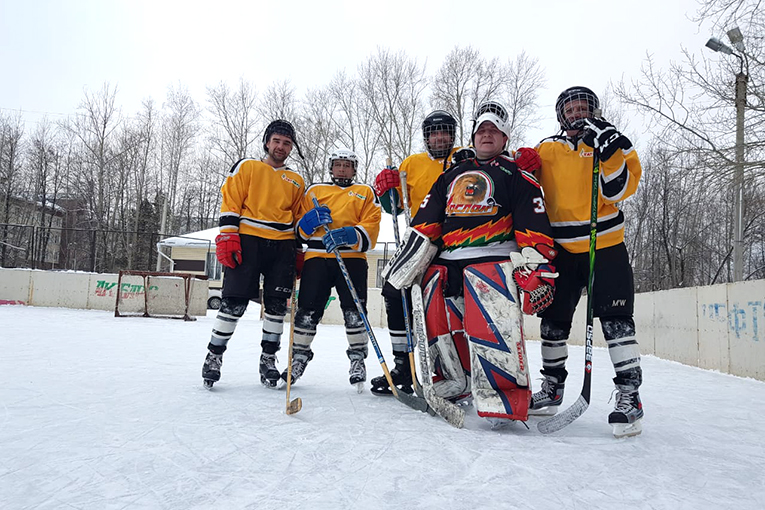 For nine years, NivaStroy has successfully operated as part of the EkoNiva holding. During this period, the specialists of the subsidiary have built 33 farming enterprises: dairy farms, milk processing plants, grain elevators, service centres and other important facilities. Today, 2,200 NivaStroy employees are doing their jobs on the construction sites of the holding. Some of them eventually made up a team of five magnificent players and the goalkeeper.
'Our staff are fit and many of them do some sports', says Vitaliy Fokin, Construction Site Supervisor at NivaStroy, team captain. 'At the beginning of winter, we got together on the ice rink in Bugulma (the Republic of Tatarstan) to play hockey. This is where we met Ildar Madiyarov, a youth ice hockey coach. He suggested that we trained with his players.'
The coach assisted in building the team. NivaStroy employees – Linar Gimaletdinov, Igor Serov, Dmitry Kozlov, Roman Afandiyev, Aleksey Chekurov, Eduard Sevryukov and Vitaliy Fokin - became its members.
'We train three times a week', continues Vitaliy Fokin. 'Traditionally, we start with cleaning the ice rink (smiles) because it snows all the time in winter in our place. After the high-intensity warm up exercises, we move on to combination play and shooting for goals. The part of training we like most of all is the game. We play against the youth teams for about an hour. They are really hard to compete with but game after game, my colleagues and I become more experienced.'
For several months now, our team has been sharpening its interactive skills on the ice rink. Even when spring comes, the season for NivaStroy players will not be over. The athletes will move to the modern ice hockey stadium in Bugulma. The training sessions there have already been arranged. Therefore, the players can continue the preparation for their first tournaments without disruption.
'It's too soon for us to think about participation in competitions but this is what everyone of us dreams of', continues Vitaliy Fokin. 'We need to get new sports equipment and officially appoint somebody as team coach to take part in the regional and republican tournaments.'
The athletes have noticed that hockey games improve their fitness and have a positive impact on their work. Recently, they have successfully launched another state-of-the-art dairy farm in Orenburg oblast - Kurskaya Vasiliyevka. Now, they are working on a similar project in Naratly, the Republic of Tatarstan.
'We have built a real team not only on the ice rink, but also on the construction site', concludes Vitaliy Fokin. 'We try to help each other at work to attain all the goals which are set by the management, meeting the deadlines and delivering quality. With this synergy, we can beat any record in sport and in our profession.'
By Viktor BARGOTIN