The renovated Sports and Recreation Centre in Severnoye village (Orenburg oblast) has opened its doors to young sportsmen. Severnaya Niva and NivaStroy made a perfect gift for the local sports school – complete refurbishment of the gym.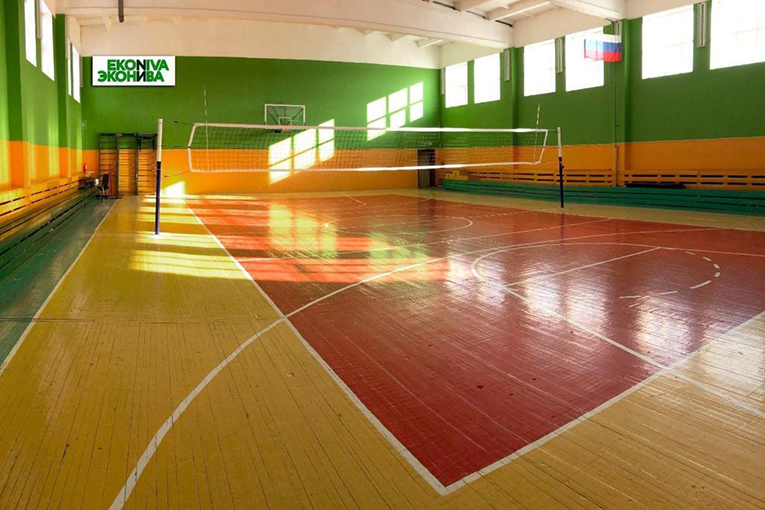 The last capital repair of the building had been performed more than 30 years ago. Prior to EkoNiva's undertaking, the Sports and Recreation Centre was in an awful condition: the roof was leaking, the walls were covered with mildew, the plasterwork was destroyed, the lighting was not working properly, and some blocks of parquet floor were damaged.
'EkoNiva Group initiated capital repair and redecoration of the local sports and recreation centre', says Elmir Shaikhutdinov, Deputy Regional Director for Volga region. 'Severnaya Niva provided financing for the project and NivaStroy made this great idea a reality. We replaced the ceilings and removed some of the walls, put in new lighting, laid new parquet flooring, redecorated the locker rooms and the staff room and bought a new volleyball net and basketball backboards.
After the renovation, the junior sports school at the Sports and Recreation Centre in Severnoye village welcomes its attendants back. A wide variety of activities is available to young sportsmen: unarmed self-defence, basketball, volleyball, etc. By the way, volleyball teams of players born in 2004 and 2005 have won gold medals at oblast competitions after training at the renovated gym.
'Severnaya Niva employees and their family members play volleyball at the sports centre several times a week', summarises Elmir Shaikhutdinov. 'The newly refurbished gym serves as an additional motivation for taking up sport, that is why the number of volleyball enthusiasts among our employees is growing. It is great that sports can unite people. Now, children and adults in our village have started a new chapter in their sports life.'