A new farmers' market has been opened recently on Deriglazov avenue in Kursk. There you can find an amazing array of foodstuff that you do not see in your average supermarket, because this market allows consumers to purchase fresh products directly from farmers. Ekoniva successfully presented its high-quality natural dairy produce at this farmers' market to Kursk citizens.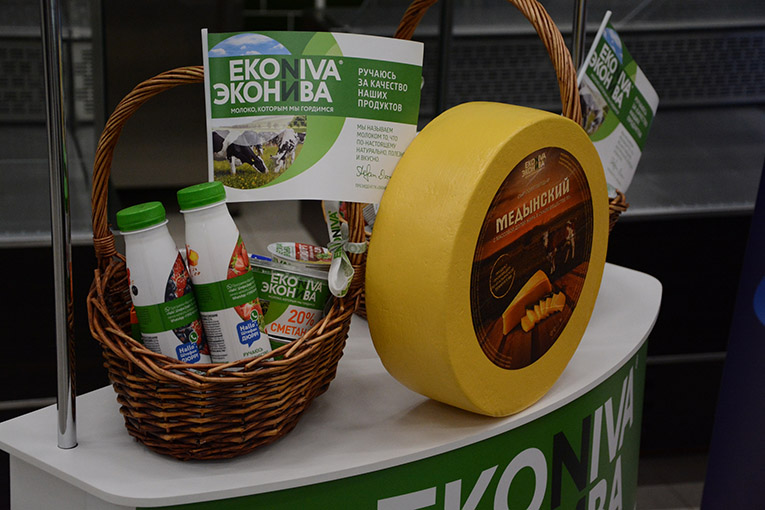 Equipped with special refrigerated showcases and ACs, new spacious building impressed customers by its comfortability. From day one, visitors really enjoyed modern concept of this area on Deriglazov avenue.
To evaluate new modern farmers' market, Roman Starovoyt, Kursk oblast Governor, visited it among first customers as well. He had a look at several sales points, including EkoNiva's pavilion, where he met Yuriy Vasyukov, regional director of EkoNiva-APK-Holding in Kursk oblast. Parties exchanged views on importance and prospects of farmers' market development.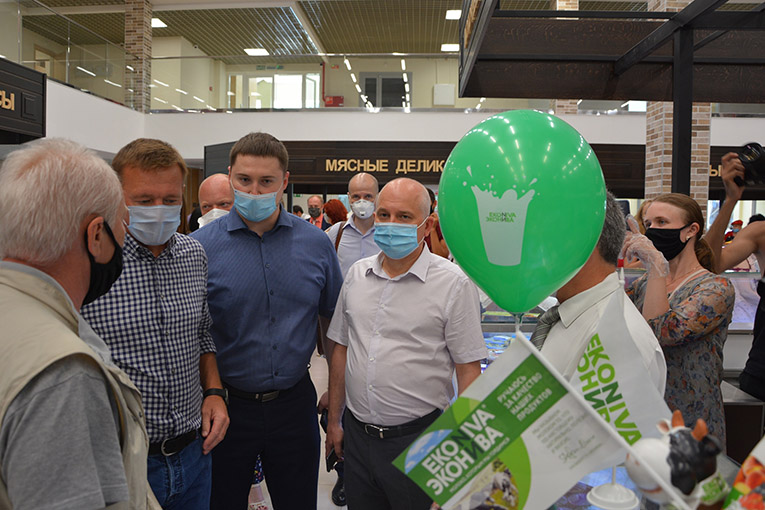 'This farmers' market is a fundamental part of the urban-rural interface, that allows consumers to have access to farm-fresh produce. Here it is possible to sell foods directly by farmers to consumers', says Roman Starovoyt. 'Since this market has just been opened, now we need to gain consumer trust. By raising people's interest, we will attract people, who are looking for healthy and high-quality products. It is a pilot project for our region, in the future we are going to expand it', summarised Roman Starovoyt.
'This type of trading is mutually profitable for farmers and consumers', emphasises Yuriy Vasyukov. 'The most important benefit of the market is that you can buy natural products in one place. EkoNiva offers a wide range of delicious and healthy dairy products: milk, sour cream, quark desserts, fitness yoghurts and so on.'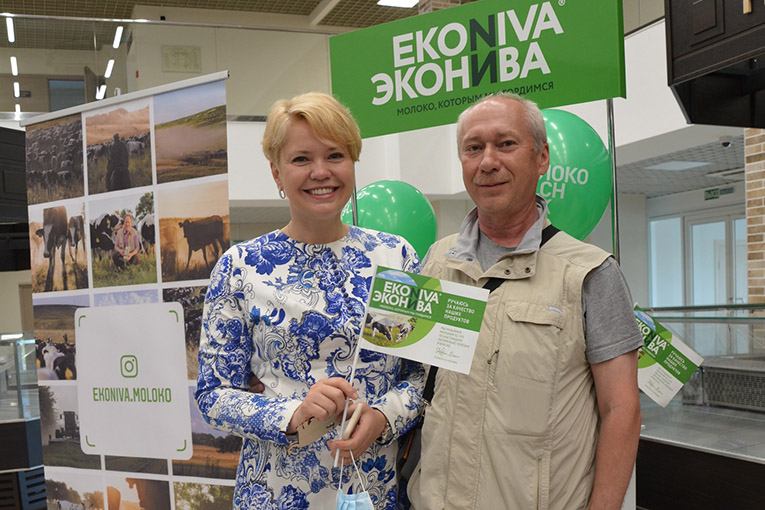 Little Lerochka came to the opening of the farmers' Market with her mother Viktoriya. They are already familiar with EkoNiva produce, that is why they hurried to the showcases with dairy treats. Baby is a big fan of sweet yoghurts with strawberry and cherry flavours. As for Lera's mum, she starts her day with a cup of coffee and always adds EkoNiva cream to it.
'We live near here, on Deriglazov avenue', says Viktoriya. 'We are going to visit farmers' market every weekend to buy all necessary products, especially our favourite dairy.'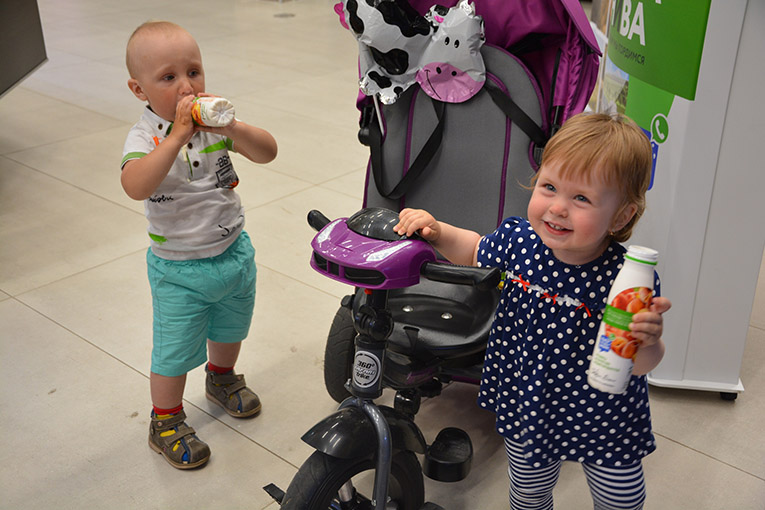 Natalya was not acquainted with EkoNiva dairy produce, but decided to try because she was attracted by the bright design of the package.
'When choosing dairy, I always pay attention to the shelf life', underlines Natalya. 'I know that the shorter it is, the better. I had a look at the content of EkoNiva's milk – the product is natural, without preservatives and harmful ingredients. This fact positively affects my purchasing decision.'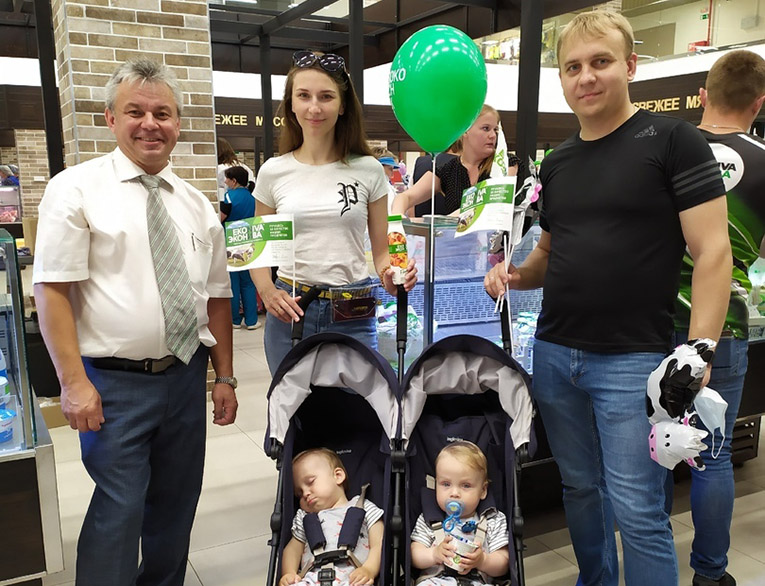 Tight knit family of Olga, Evgeniy and their twins Slavik and Yarik made a choice in favor of EkoNiva produce long ago. They are sure that EkoNiva is a premium quality dairy brand. As for head of the family, he has been working in agriculture for a long time and close business relations have emerged between his company and EkoNiva.
'EkoNiva is a reliable company, that does their job properly', says Evgeniy. 'They use natural premium quality milk from their own cows to prepare products. The main principle of their work 'from field to shelf' allows monitor the quality of their produce. For my beloved family, I purchase only best products, that is why I choose EkoNiva brand.'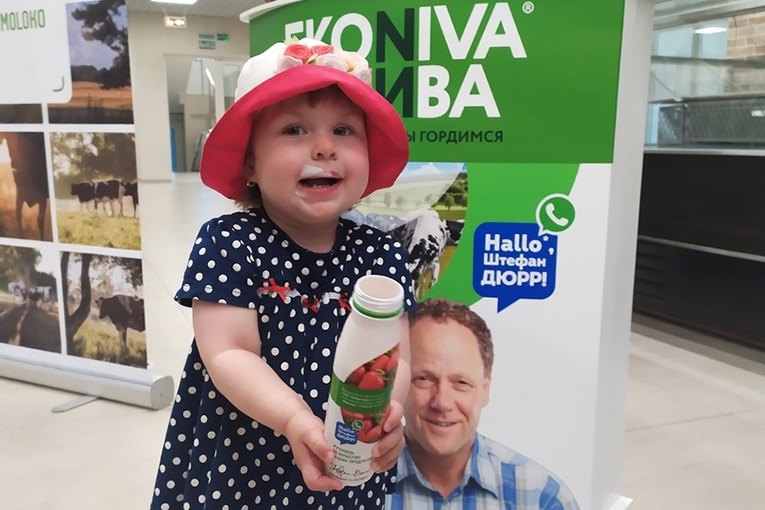 Tasty weekend came to an end unnoticeably, these days were of benefit to both farmers and consumers. EkoNiva representatives would like people to know what a long way milk goes before getting to the customer's table and why their milk is so delicious that is why they explained the details of milk processing at EkoNiva dairies. To learn more interesting facts about dairy farming, visitors were invited to join the virtual tour of one of its farms. More than that, all the guests were hospitably treated to dairy products under EkoNiva brand.
By Tatyana IGNATENKO