Over the past few years, flax production has been gaining momentum in Russia. The considerable domestic market capacity and the possibility of entering the global market makes this crop particularly appealing to many farmers. EkoNiva grows flax for seeds. So far, it has been a small-scale activity, however, the company sees considerable potential for its development.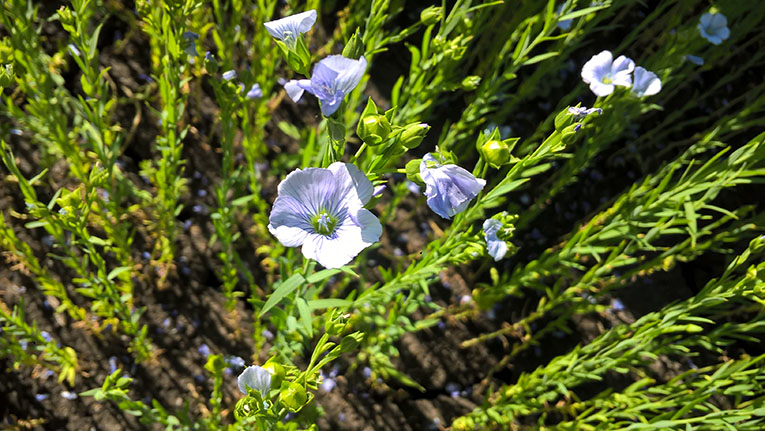 Flax is a profitable crop in many aspects. It is fairly easy to grow: observing basic crop farming requirements is enough to ensure good return on investment.
'It is a low-maintenance crop which doesn't call for much input costs or complicated cultivation technologies', says Willi Drews, Doctor of Agronomy, Advisor at EkoNiva. 'The plants are not susceptible to diseases or pest attacks. Over the growing season, flax is relatively undemanding in terms of soil moisture and crop protection requirements. It is an excellent plant to use in any crop rotation. There are very few limitations related to soil quality, temperature, humidity and dew formation. This means, almost 80% of farmland in Russia is suitable for growing flax.'
Flax is indispensable in managing crop disease and reducing insect populations common with other cereals and oilseeds. It also frees the land from heavy metals and radionuclides. At the same time, linseed harvested from contaminated land does not have any traces of radiation.
'In a rotation, flax is a disease break plant for subsequent crops', comments Kirill Adkin, Chief Agronomist of EkoNiva-APK Holding for Kursk oblast. 'It is harvested with conventional equipment. We grow flax for seed production at Zashchitnoye-North operation (Shchigry district, Kursk oblast). Compared to the last season, when we cultivated only 16 hectares of linseed, this year's area under the crop has been expanded sevenfold to 110 hectares. Next year, plans are afoot to increase this area threefold - up to 350 hectares. The demand for flax seed is on an upward trend. Linseed is sought-after mostly in Central Non-Black Soil region, Northwestern and Siberian Federal districts.'
EkoNiva offers the oilseed flax variety Serpent of British breeding. Its vegetation period is up to 97 days. The sowing rate varies from 5 to 7 million of viable seeds, which corresponds to 35-45 kg per hectare. The seed fat content exceeds 44 per cent.
'Over the years of trial, the variety Serpent has demonstrated high resistance to diseases', continues Willi Drews. 'The maximum yield has been ranging from 1.5 to 1.7 tonnes per hectare. This year, our clients have gathered the first harvests from the seeds supplied by EkoNiva. We have received a favourable feedback on the seed material.'
A great number of products is made from flax, which contributes to the popularity of this commodity in both the domestic and global markets. Vladimir Feoktistov, a farmer from Kolyshley district, Penza oblast, took up linseed production 4 years ago. His friends from the farming industry told him about the advantages of flax growing. The farmer got curious, weighted the pros and cons and decided that it was worth giving a try.
'Just like our fellow farmers, we grow linseed for sale and export it to Poland', shares Vladimir. 'This year's price per kilogram amounted to 40 rubles, which is excellent. It gave us the impetus to develop flax production at our enterprise. Currently, the area under the crop is almost 250 hectares and we are going to expand it. We make a point of purchasing only high-quality seed material. No other company compares to EkoNiva-Semena, our No. 1 seed supplier. When we saw flax in their product portfolio, we decided to give it a go.'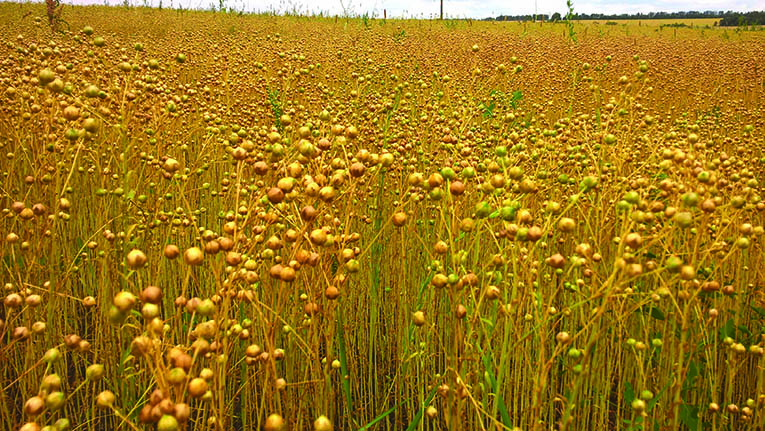 Last year, the variety Serpent was sown at Vladimir's farming enterprise for the first time.
'The performance was beyond all our expectations', emphasises the farmer. 'In comparison with other flax varieties we cultivate, Serpent stands out with its early maturity and high yields. We have harvested around 1.4 tonnes per hectare, which is an outstanding result achieved with minimum input. From now on, Serpent will be our major flax crop. We will also recommend it to all our friends.'
Nikolay Lozhkin, Head of a large-scale dairy farm in Kirov oblast, grows linseed on 1,000 hectares to produce oil for sale. The cake, which comes as a by-product, is used for feeding dairy cows.
'Linseed cake has a high nutritional value', states Nikolay. 'This easily digestible product increases milk fat content and the overall milk yield. I believe that flax is a highly promising crop. Several years ago, I shared my thoughts on flax production with one of my mates, a farmer from Tyumen oblast. Now he grows 3,000 hectares of flax and exports it to the PRC.'
The demand for flax varieties among agricultural producers is growing, which means that the market price of this crop is also on an upward trend. A lot of countries have already made a strategic choice for flax production, understanding all the indisputable benefits of this crop.
Flax is an environmentally friendly crop equiring minimum chemicals and fertiliser. According to the Food and Agriculture Organisation of the United Nations, the amount of pesticides used for flax production is thirteen times less than the amount needed for potato growing.
By Tatyana IGNATENKO