EkoNivaAgro, Voronezh oblast, has always actively participated in sporting events. Its employees play football, volleyball, table tennis, go skiing and fishing, engage in kettlebell sport and take part in fun relay races. The Russian pyramid has just recently become another item on the corporate physical activities list.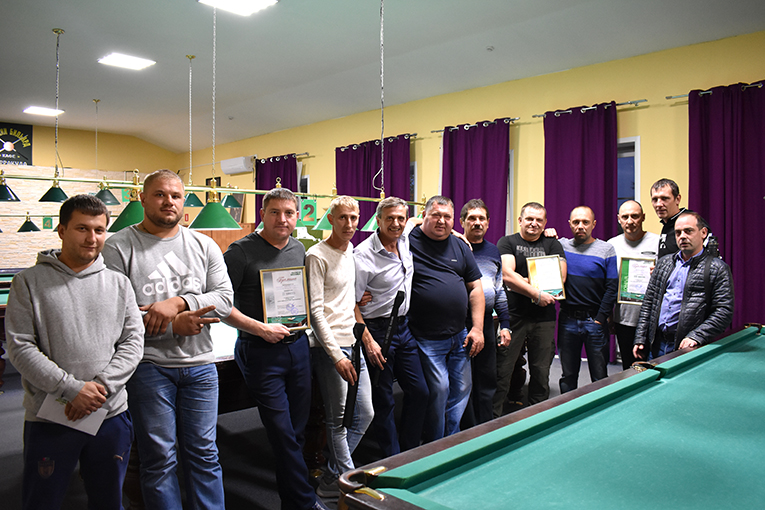 The first Russian billiards championship for EkoNivaAgro staff was held on 3 October in Barracuda club, Liski. The participants played Free Pyramid in teams of two until one of them won two games. Even the very first encounters captured the attention of the most discerning experts. The amateur sportsmen showed off their skills on the billiards table with double, draw, straight and cut shots. However, fouls and penalties were also a part of the games - the players sometimes lost points and the turn passed to their opponents.
'Billiards is a game which requires certain mental dexterity', explains Vladimir Konovalov, main referee of the championship. 'In order to make a pot you need to analyse the positions of all the balls on the table and carefully determine the path, the strength with which to hit it and the right point to strike the ball. While professionals can perform these actions with pinpoint accuracy, for amateur players scoring a point doesn't come so easy. EkoNivaAgro corporate tournament has brought together such talented participants that refereeing it brings me immense pleasure.'
The final game was played between the Right-Bank Operation team – Andrey Naidenov, Aleksandr Vovnenko – and their colleagues from the Left-Bank Operation – Roman Litvinov and Aleksandr Merkulov.
Left-Bank Operation won the first game 8 - 6. Later, after a solid win of the Right-Bank Operation 8 - 1, the status quo was restored. In the decisive encounter, the latter defeated its rival 8 – 4 and became the champion. The silver medals went to the duet from the left bank, while the bronze ones were given to the team of the milk processing plant in Shchuchye represented by Aleksey Prostyakov and Sergey Ryzhov.
'The company management together with the trade union committee pay considerable attention to the corporate culture,' says Aleksey Afanasiev, Deputy Regional Director for Public Relations of EkoNivaAgro. 'We always try to take up new sports, because the company staff are numerous, and their interests vary a lot. Today, we've held an excellent Russian billiards championship, and next time, we will surely organise an event for a different fascinating sporting activity.'
By Viktor BARGOTIN