In the summer 2020, EkoNiva set up stalls at four food markets and food courts of the Russian capital, the press service of the holding reports.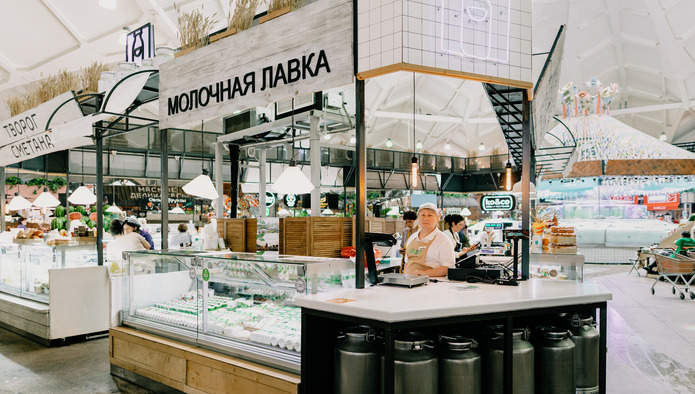 July 1st marked the opening of the first company's point of sale located at Usachyovskiy market, July 23rd — another one at Danilovskiy market, July 28th—one more at the market on Leninskiy prospect, August 1st — the last one at Depo food mall.
Customers are offered a wide range of EkoNiva's own products: milk, butter, ice cream, cheese, cream, curds and yoghurts. Moreover, very soon, the brand shop at Leninskiy market will welcome its guests with breakfasts — pancakes, syrniki (quark pancakes) and hot drinks. The meal will be served all day long.
'The stalls put up at the popular Moscow markets and in the food malls have become another logical step towards the implementation of EkoNiva's strategy aimed at retail business development', says Natalya Starkina, Head of the Marketing department of EkoNiva-Food. 'We do think that the company's products dovetail nicely with the assortment already presented in these locations. We consider the market stalls as an additional opportunity to attract the attention of new customers to our dairy. No doubt EkoNiva's treats deserve to be the first choice of the food mall visitors.'
EkoNiva Group, the largest producer of raw milk in Russia, has been engaged in the agricultural business since 2002. It consists of two independent holdings — EkoNiva-APK Holding LLC (dairy and livestock farming, crop and seed production), EkoNiva-Tekhnika Holding LLC (supply of imported agricultural machinery and spare parts, service and maintenance) —and EkoNiva-Food LLC (milk processing and sale of dairy products). EkoNiva-APK farming enterprises operate in Samara, Smolensk, Voronezh, Kursk, Novosibirsk, Kaluga, Ryazan, Moscow, Orenburg, Tumen and Saint Petersburg oblasts as well as in Tatarstan, Bashkiria and Altai area. Since 2018, the company has been manufacturing its own dairy products under the EKONIVA brand.
Milknews information agency