AgroInvestor magazine, №8 (55), August 2012
Stefan Duerr, Director General of EkoNiva Goup
EkoNiva was established in Russia in 1994. Currently, EkoNiva's agricultural enterprises operate in Voronezh, Kursk, Novosibirsk, Kaluga, Tyumen and Orenburg oblasts on an area of 167 thsd. ha. The principle areas of activity include dairy, beef and pedigree livestock breeding, seed growing and cash crop production.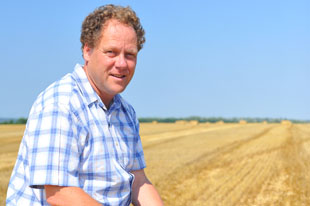 At the end of the 2000s, EkoNiva started its activity in the regions, making considerable investments into new agricultural projects. EkoNiva's regional enterprise in Orenburg oblast was established at the invitation of the then-Governor Aleksey Chernyshev [now Senator representing the same region «IA»], with whom I had developed a good business and personal relationship long before his appointment. At the beginning of the 1990s, I was the leader of the joint project "Russian-German Agricultural and Political Dialogue" and worked in cooperation with the State Duma Committee for Agriculture where the future governor of Orenburg oblast was employed at that moment.
Our assets in Orenburg oblast are combined in the regional enterprise Severnaya Niva which was established ten years ago in Severny district. From the very start, we chose crop production as our main area of business activity in the region. At the present moment, the company is engaged into cash crop production: we grow winter and spring wheat, barley and peas. Total agricultural land area is 13 thsd ha. In 2011, gross yield of cereal crops in Severnaya Niva amounted to 7,5 thsd. tonnes. This year we are planning to allocate 40 mio rub for the development of crop production in Orenburg region. Besides, we are planning to install a 70 thsd. tonne-elevator designed in accordance with North-American grain storage technologies with access to railway road. Apart from agricultural production, we pay close attention to social welfare: our company supports the local school, kindergarten, regional hospital.
I believe that Orenburg oblast is one of the best areas for growing durum wheat not only in Russia but in the whole world. However, the biggest disadvantage of the region is lack of moisture which prevents the producers from receiving high yields. Logistics also leaves much to be desired – the distance to the major livestock breeding centres, large cities and ports is quite considerable. This, certainly, adds to the cost of the cereals, therefore, we decided to develop production of durum wheat as the most profitable crop – this project was launched this year, - next year we are planning to start growing lentil and chick pea. The crops will be further sent for export. In perspective, we are planning to launch a beef project (cow calves).
Lack of qualified specialists is another problem in the region. Labour is very expensive there because very few people are willing to work in agriculture, most part of the population prefers working in the gas industry.