Stefan Duerr Becomes Citizen of Russia

The Kommuna newspaper, № 8 (26224), 21 January, 2014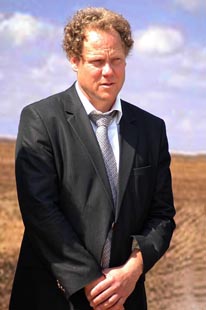 President of Russia Vladimir Putin has signed the Decree awarding citizenship of Russia to the President of EkoNiva Agricultural Holding.
From Novosibirsk to Liski – that is how vast the distance is over which today is spread EkoNiva, a Russian-German agricultural Company promoting innovative agricultural technologies and state-of-the-art farming machinery on the Russian market and developing ambitious dairy livestock projects in a number of locations including Liski, Bobrov, Kamenka and Kashirskoye districts of Voronezh.
In Liski district alone, 76.4% of 100 thousand tonnes of milk yield in 2013 was produced by dairy farms of EkoNivaAgro.
And there is more to come. Embarking on own milk processing project, the Company is constructing a milk processing plant with capacity of 30 tonnes/ day in Shchuchye village of Liski district. Besides, before the end of the past year, Stefan Duerr and the local authorities agreed on another big contribution to the local economy. 12 million rubles will be invested to expand dairy farms in Zaluzhnoye and Kolybelka villages.
Additional 35 million rubles will be used for construction of two big barns, 250 cows each, in remote villages of Liski district: Petropavlovka and Vladimirovka, and for the villagers it means created jobs and stable salaries of min 20 thousand rubles.
Today the Company enterprises in Liski district employ 1,640 people with the average salary of 25.5 thousand rubles after 22% increase in the past year. A large dairy unit for 2,800 cows will be started in Bobrov district in the beginning of February. So, against all existing achievements of EkoNivaAgro and its future projects, the Russian citizenship of Stefan Duerr looks nothing less than logical.
Nikolay Kardashov