Herd replacement in the context of industrial-scale milk production

Dairy industry magazine, №6, June 2014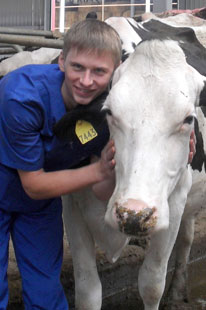 Currently, EkoNiva is the largest milk producer not only in Russia but in Europe. Agricultural enterprises operating in five regions of Russia produce over 415 tonnes of milk daily. The company's objective for the future is not only intensive further growth, but also establishment of a highly efficient modern production process. In order to accomplish this objective, it is important to be successful in all production areas.
It would be hard to find another company in Russia which provides its specialists with the amount of skills and knowledge that Ekoniva does. Employees of the Company keep up to date with the world's best practices in the dairy industry. Besides the regular cooperation with the leading enterprises in the USA and veterinary clinics in Europe, the company organizes trainings with world-renowned livestock experts. The knowledge received in the process of such trainings has made a great impact on EkoNiva's structure of production management and organization of production procedures.
The largest dairy enterprise of EkoNiva is located in Voronezh region. The dairy farming subdivisions of EkoNivaAgro produce over 290 tonnes of milk daily. EkoNivaAgro comprises seven state-of-the-art dairy complexes and eleven conventional dairy farms. The total herd is appr. 30,000 head, 13,000 of which are dairy cows, including 6,180 head of Holstein cattle of American and European breeding with an average daily milk yield of 30 liters per one lactating cow; 1,392 head of Simmental cattle – 25 liters, 5,621 head of Rea-and-White cattle with an average daily milk yield of 24 liters. Petrovsky Dairy Complex, commissioned in 2012, has reached a daily performance of 32,5 liters of milk per one lactating cow. In 2013, the service period in Shchuchye complex, a stock-breeding plant of Simmental cattle, was 112 days, and calves output - 88 head per 100 cows. Average performance across the enterprises is 122 days and 85 head respectively.
The following modern reproduction practices are used as the basis for breeding work:
- rectovaginal insemination;
- electronic accounting and planning systems;
- hormone programs;
- special needs zone logistics;
- motivation programs for specialists;
- early pregnancy check.
Production objectives of the Company: calving 80% of cows per year; service period under 120 days; first insemination at 14 months; first calving at 24 months; Pregnancy Rate – over 20. Of course, these figures are the result of efficient teamwork: from the head of the dairy complex and veterinarian to cow pushers. Understanding of the production goals and involvement of all employees into the process of achieving these goals are the crucial factors for successful operation. Top priority task is detection of the maximum number of cows and heifers in heat. Heat detection is traditionally performed by cow pushers, breeding technicians and veterinaries by means of visual observation.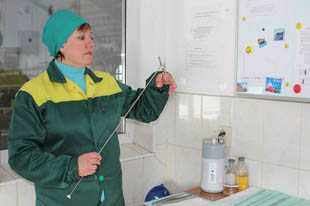 It should be noted that all veterinarians in the company also perform artificial insemination of cows and heifers. The Company uses exclusively rectovaginal insemination. EkoNiva's specialists also analyze cow activity data provided by electronic identification systems, transponders and DairyPlan herd management software to detect animals in heat. The data is collected and summarized in the form of reports and schedules for each animal to facilitate decision making for reproduction specialists. This system has proved itself efficient: it allows the specialists to detect over 98% of cows in heat. Part of the cows in heat are detected solely due to activity data analysis. As a rule, these are high-yielding cows and the cows which due to individual peculiarities have a short heat period or do not display signs of heat. However, in all cases, activity data helps to determine the optimum insemination dates.
Management systems have a strong impact on production results. Herd management software and electronic identification systems allow the dairies to keep a comprehensive record of all herd data: from weight changes, lactation performance, and activity to the planning of certain livestock management events which would be quite complicated to do "manually" at an industrial-scale enterprise. Pregnancy rate is one of the parameters most frequently used for evaluation of results since it provides a clear understanding of reproduction efficiency. This parameter helps to determine the reasons of reduction in the share of inseminated cows from the total number or cows that potentially could be bred and take prompt measures. The heat detection rate at our company is 75-85 %.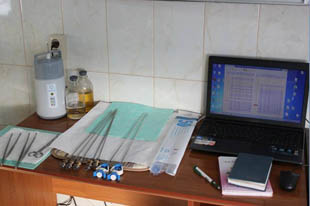 In order to achieve good reproduction results, it is essential to understand how much time a specialist will need to perform one breeding or other veterinary events at the stage of planning a dairy complex. Electronic identification systems and sorting gates allowing to "electronically" separate a certain animal from the group in order to breed it or perform any other necessary actions are very helpful in terms of time saving.
It is also important to take into account the distance between the place where the breeding will be performed to the place where semen and artificial insemination tools are stored. At modern dairy complexes this distance is as short as possible, and the artificial insemination block, the sorting gates, the dairy parlour, and the special needs zone are a single technological unit. Besides, all artificial insemination blocks at dairy complexes are equipped with computers connected to the internet so that the reproduction specialists and veterinarians could easily access the herd management software in order to receive the information on the animals and operate sorting gates in an online mode. While performing such tasks as rounds of the groups or working with open heifers when access to the data base is limited, the specialists use DP-mobile application containing all the necessary data on the animals from Dairy Plan on special tablets or their own phones.
In order to increase the efficiency of reproduction work organization, the heifer pens are equipped with headlocks at all enterprises of the Company.
The company implements obligatory Presynch heat synchronization program. The program presupposes Prostaglandin injections on the 36th -42nd and 50-57th day after calving. Cows which come in heat after the 50th day in milk are bred and go off the program. Non-bred cows from the 61th-68th day in milk as well as the cows which were determined open after the pregnancy check go through Ovsynch program: GnRH and 7 days later - Prostaglandin. The cows that did not come in heat go through compulsory breeding in accordance with the protocol. Practical data shows that the use of compulsory breeding is justified, and it is just insignificantly less efficient than breeding during in heat. The efficiency of breeding mostly depends on preserving good body condition of the cows after calving and observation of the heat synchronization protocol.
Pregnancy check is performed by means of rectal palpation or ultrasound scanning. The check is performed from the 36th day after breeding onwards. Qualification of many specialists allows them to check for pregnancy by rectal palpation from the 33rd day after breeding. The earlier it is determined that the cow is open, the faster it will be bred again and the higher the overall production results will be.
Young people today are reluctant to work in agriculture. However, EkoNiva employs quite a lot of young specialists from different regions of Russia. Many of those who started working for EkoNiva at the same time as I, a few years ago, currently occupy management positions as heads of dairy complexes, veterinary departments, other subdivisions. These are the people who are really committed to their work. We celebrate success together and together look for solutions in difficult situations.
No matter how high-tech the production of milk becomes, it is the Cow that has always been and will always be the heart of it. Therefore, in order to make the production efficient, it is essential not only to fine-tune all production aspects but also UNDERSTAND THE COWS and create comfortable conditions for the animals.
S.V.Fateev, EkoNivaAgro, LLC