Stefan Duerr, EkoNivaAgro: "A crisis strikes careless managers and lazy workmen"

De Facto magazine, July-August 2014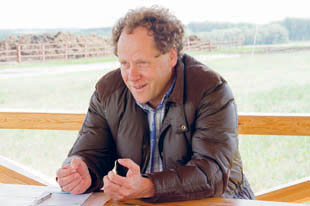 Biography of the investor and business
Stefan Duerr was born in 1964 in the land of Baden Wuertemberg, Germany. He first came to the Soviet Union in 1989 as a student trainee. In Germany, Duerr had a farm on an area of 14 ha. He started his business in Russia with supplies of agricultural equipment, selling East German made second-hand combine harvesters. The EkoNivaTekhnika holding is today the largest dealer of John Deere tractors and combines in Russia. In 1994, the EkoNiva-APK agrarian holding was formed; it operates today in 6 regions of Russia on an area of 186,000 hectares on which 40,000 head of cattle are kept. Around 17,000 of them are a milking herd. The holding company is one of the largest not only in Russia, where it is among the top three milk producers, but also in Europe. In 2002, a Voronezh branch of the holding, EkoNivaAgro, was established. This brings together farms of the Liskinsky, Kashirsky, Bobrovsky and Kamensky districts. In 2013, EkoNiva started to implement a milk processing project.
Details
Stefan Duerr has long stopped considering himself a foreigner in Russia. He is married to a Russian woman and his family lives in Russia. Early this year, Stefan Duerr received Russian citizenship. The businessman acknowledges that in terms of thinking, habits and way of life he is Russian.
Market competition
The region's largest investment projects in dairy husbandry are, following EkoNivaAgro, dairy production facilities of the Kalitva farming firm (operating facility of 2,200 head of dairy cattle and a facility under construction for 2,500 head) belonging to Nikolai Olshansky (No. 6 in the DF ratings) in Rossoshansky district and Novomarkovskoye, belonging to Arkady Ponomaryov (No. 2 in the DF ratings) in Kantemirovsky district (operating facility of 2,100 dairy cattle and plans to build a 2,500 head facility). According to Stefan Duerr, if a company-owned milk processing facility is launched, its principal competitors will be Danone, Molvest and the local processing plants.
The company's activities
Dairy and beef cattle husbandry, sugar beetroot production from elite seeds and – still in planning – milk processing.
Financial partner
Stefan Duerr says that EkoNiva receives over 80% of its loans from the Sberbank. These loans have been used by EkoNivaAgro to build all of its dairy facilities in the last few years. Mr. Duerr believes that without funding from Sberbank only half of the region's planned agrarian projects would have been realised.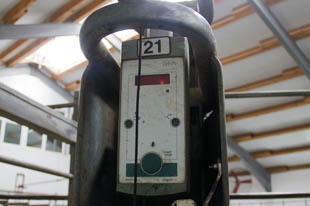 "A crisis strikes careless managers and lazy workmen"
"Talk about the crisis is a fine excuse for lazy and careless managers. It's always convenient to have something as an excuse for one's failures. The attitude is 'None of this is my fault; it's due to the impact of the crisis.' To be sure, the situation is difficult, but then, when was it easy? There is a political crisis stemming from Ukraine. With God's help, all will work out well in the end. Thus far this does not directly influence the economy. As for talk about the influence of our joining the WTO, it ought to have stopped long ago. We must stand up for our interests there instead of just complaining about our ill luck. It doesn't make our life any easier, but other countries do work somehow under such circumstances. The situation is not critical, but rather strained and sophisticated. Strange as it may seem, the West's sanctions thus far have had a positive influence on the farming industry. When the relations with Ukraine became strained in the wake of the Crimea's reunification with Russia, the price of our bonds fell on the market, but this did not affect us in any way at all. They have now risen to their normal level. If new sanctions are introduced, they will harm all the parties involved, both us and the West."
"Ten years may be not enough to supply the country with home produced milk"
"It's good that the state is raising the issue of import substitution. Agribusiness has started to receive support. We've long been producing more grain than we consume. The situation is the same with sunflowers. I don't think anything essential will change here in the future. In animal husbandry, however, the situation thus far is quite different. Russia has been self-sufficient mostly with chicken meat. The production of pork, which until recently was fairly adequate, now is in decline. However, pig breeding is being raised to a new professional level. I think it will take Russia five years or so to fully supply itself with home produced pork.
As for milk and beef, the country has an acute shortage of these products. One can somehow get by without beef (substituting, for instance, with pork), but without milk life is unthinkable. Its production, however, is continuing to fall. Yearly milk imports have reached 8 to 9 million tonnes. Implementing the programme of replacing dairy imports will take us at least 10, if not 20 years. Today, while milk production in the country is falling, consumption is growing so that the shortage becomes more acute. As for beef, I think that complete import substitution may never take place. Russia is probably the world's sole country where beef may be cheaper than pork. This is sheer absurdity! Beef is a costlier product of premium quality. But in Russia this is mainly meat coming from flawed and rejected dairy cattle. Meanwhile, the number of cows is decreasing relative to milk production. Previously, for instance, two cows each yielded 4,000 litres of milk per year. Now one provides 8,000. Consequently, the number of bulls and calves is also fallings.
There is no culture of beef consumption in Russia. In America, however, it does exist and thrives. The Russian consumer (incidentally, like the German one) is fond of good pork. It may happen that in Russia there will be a surplus of premium and shortage of standard quality beef. I'm not sure the Russian consumer is prepared to pay twice as much for beef as for pork."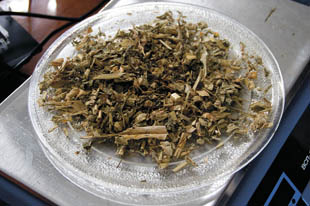 "Farmers must not be spoiled with subsidies; the subsidies must just be made available on time"
"We are working on projects in several regions of Russia, so I can say that doing business in the Voronezh oblast offers remarkable advantages. That's where stable and well-thought-out conditions have been created for entrepreneurship. The governor is managing the oblast effectively, coordinating the operations of different agencies and bodies. The important thing, however, is that he is a farmer in his heart and whole-heartedly loves farming. In other oblasts, one may go through an ordeal trying to receive a permit for building some facility. Here it's different. The officials do their best to help. Of course, not all is plain sailing. But this has nothing to do with the regional authorities. For example, subsidies may be delayed for refunding the interest on loans. The delays started last summer. When Premier Dmitry Medvedev was here, we raised that question. Obviously when we make an investment decision we count on those subsidies. There is an agreement with the Russian Ministry of Agriculture to this effect. The situation has improved somewhat, but the problem remains. I generally think that the country's system of subsidies is quite appropriate and operable. If payments are made on time, they are sufficient so long as the current milk prices prevail. Large subsidies are not always a boon to farmers. Excessively easy conditions will create a situation in which farming will be grabbed by those who are interested exclusively in an easy profit, which would be the end of really effective work. We've seen this no end of times in the Soviet Union."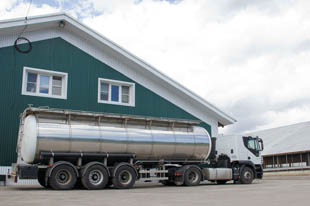 "One shouldn't fear cutting inefficient expenses"
"In order to reduce the impact of negative factors affecting the company's operation, it is just necessary to use the resources available more effectively. On the farms where we operate today, there used to be nearly six thousand people employed. The current figure is 1,600. The previous wages were miserable; today they are on average 28,000 rubles per month. We get rid of inefficient business lines such as sheep- and pig breeding. Fields with unpredictable crop production are converted to hay-making areas and pastures. We have reduced the managerial personnel. Suitable computer software has made 50 of our accountants redundant. The manager must be able to count money in any situation, not only in crisis situations.
We produce products that can be easily replaced, such as grain and milk. A furniture maker, if his products sell well, may try to sell them twice as dear. But this won't work in our case. There is a common price for all the parties involved and most of the profits go to those whose spending and costs are lower. The production cost includes two components: direct, i.e. what we see on the field or in the cowshed, and huge overheads such as guards, bookkeepers, accounting clerks, bus drivers, foremen, deputy foremen, deputy foremen's drivers and the like. Here many executives lack courage and determination to curtail their inflated staff. They continue to use the same old cowsheds and to feed animals with substandard fodder. In doing so they neglect costs. However, in severe economic conditions the ability to abandon inefficient costs in a timely way is often a decisive factor."
"Good specialists won't come to you themselves. You must seek and find them"
"There are many alternatives to farm jobs. Therefore, good specialists must be carefully sought out. They won't come by themselves. In order to attract them, effective motivation must be provided and a positive company image created. This must convince them that work with us is not any worse than at a factory or any other enterprise. Nobody will work just for thanks. We invite many trainees and study groups. We provide grants and scholarships for students from all over the country. One should not fear posting young people in responsible positions, urging them to further their academic activities. It is necessary to educate and encourage own personnel and hone their skills abroad. They should heed experienced experts, but also be able to make decisions independently. Our budget allocated to professional improvement in 6 regions amounts to 35 million rubles. Traineeships are arranged in the US and Germany. Recently, twenty medium level agronomists went to Germany. Sometimes it's better to see things just once than hear about something thousands of times. We've got our own domestic courses for all, from milkmaids and tractor drivers to top managers."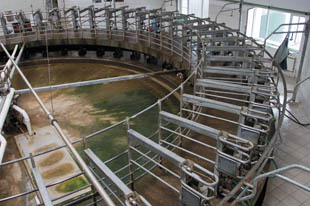 "Even a million dollars won't work in big business today"
"Of course, the state now provides support, ensuring certain stability. But starting a business today is only possible if one has serious money. If I were doing it today, I'd focus on spending and efficiency. I understood this over time. So, perhaps, I'd work not in six regions, but two or three. But I'd come to farming just the same, expressly to dairy husbandry. This is not easy, but this is really what I can do better than anything else.
It's good that there are financial institutions helping the farming industry. Without the involvement of big banks, the investments in Voronezh oblast agriculture would have been half of what they are today. By far not all banks are prepared to take risks and provide credit to the region's agrarian business. Obviously, the bankers, especially those in Moscow, are sceptical about farmers. Their credit experts often ignore the specifics of our work, such as the seasonal nature of activity and long working capital cycles. Therefore, we get credit from only two banks. In doing so, EkoNiva obtains more than 80% of its loans from the Sberbank. All the facilities we have recently erected appeared thanks to their loans. Of course, the desire to receive money fast is understandable but I think that overall our relationship with the banking institutions is absolutely satisfactory. I hope that the policy of preferred credits to agribusiness initiated by the executives of the Central Black Earth Branch of Sberbank will be continued. Sure enough, one always strives to get things done as soon as possible, but our current rate and work pattern are, I believe, perfectly normal."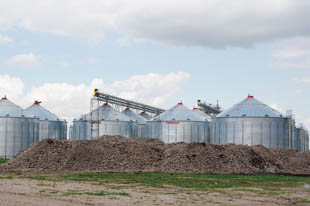 "The competition is reaching an emotional level"
"We are taking the first steps in implementing the Academy of Dairy Products project, a sort of a Disneyland in farming. Why are we doing it? At present, we sell our raw milk. But in the future we plan to establish our own processing facilities. By the end of the year, we're going to process 500 tonnes of milk per day and then to increase the output to 800. However, it won't be easy to sell such an amount of milk. Thus, competition is emerging. Look at the yoghurts of the leading producers. They all are practically the same. So the competition is shifting from the aspect of product quality to that of emotional perception. We must cultivate a positive attitude to milk among the younger generation. This can only be done by producing an impression and inventing some unusual recipe or something like that. Children today still see nothing of the sort. Last year alone we hosted 63 groups of children. We built little houses, put up display stands and showed cows and calves to children to see how they are fed. The children, even those from the countryside, were absolutely delighted. Those from Voronezh were particularly impressed. Many of them saw a cow for the first time in their life."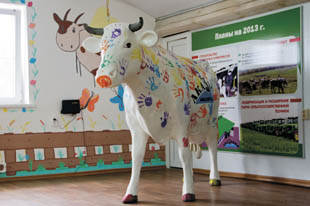 "We owe a lot to the Russian village"
"It's hard for me to judge the progress of the Russian village based on Liskinsky district alone. Here everything is good enough, improving each year. But things are sometimes much worse in other districts. Some economists say: 'What do we want with these villages? All the people should go to towns!' However, I don't think that doing farming business in Russia on a rotation basis, as, for instance, in gas production, is the right way. This will not stabilize society. The South American method of developing agriculture in Russia won't take root. This is an unsuitable country for such a pattern.
I think it is feasible to invite a further two to three major companies to our region, not more. A greater number would not give us room for development. Unlike five years ago, land is today in short supply. Our region might have more pig-breeding complexes since their products sell without problems. The current shortage of pork is temporary, caused by a force majeure circumstance, the African plague. The home market is already saturated with chicken meat. So why not export it?
We can't save all the villages, but we must develop the infrastructure of existing ones. I think the authorities understand this perfectly well. The village deserves a better life. There must be, at least in district centres and large villages, gyms and cultural and recreational facilities. Today the authorities are allocating a lot of money to this end. Voronezh is on the right track, but there's still a lot to be done."