Healthy hoofs as a pledge of premium quality milk

DairyNews Information Agency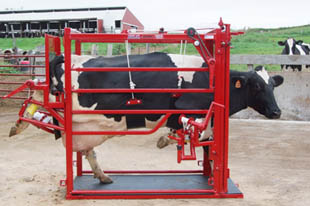 A man can sacrifice his ease and comfort in many ways, but for a cow Spartan conditions are absolutely inadmissible.
The major dairy producers have long understood that economising on cows' comfort cuts the milk yield and, hence, profits.
Cow's comfort is a whole package of services aimed at preserving the animals' health, and increasing their longevity and productivity on the modern farm. At a dairy facility, special attention must be paid to the animals' health and prevention of diseases. In addition, the animals must be supplied with a sufficient amount of balanced fodder and water, fresh air, clean litter, spacious rest area, comfortable stalls and a high quality floor. These are all basic prerequisites of the cow's comfort. Investigations and experience show that if animals feel themselves free and natural, like on a pasture, they yield more milk.
"Today the focus is mostly on fodder provision, various veterinary operations and milking quality, while hoofs often remain unattended to," says Sergey Kupriyanov, head of the veterinarian department in EkoNiva-APK Holding LLC. "True, the milk comes from the fodder, but the cow can't get it without legs. Nothing must prevent the cow from rising up to have a meal and then go back to rest. In modern complexes with loose keeping on the concrete floor, the risk of contracting a foot disease or becoming lame becomes high. Lame cows spend a lot of time lying down, consuming less food and water. This reduces their milk yields and causes reproduction problems."
Sergey Kupriyanov notes that at its cattle raising facilities EkoNiva-APK has introduced Comfort Hoof Care hydraulic units and a 5-step hoof treatment system from Karl Burgi, a developer of the unit and creator of this technology.
"Karl Burgi regularly holds consultations for our specialists," says Sergey Kupriyanov. "That is why we began to pay so much attention to such 'trifles' as functional trimming of hoofs. The units they have developed make our life much easier. We perform prophylactics on hoofs more often, three times during the lactation period whereas previously we did it half as often. This dramatically cuts the risks of disease and, consequently, our outlays. According to our estimates, the cost of treating a lame cow is, on average, 12,500 rubles."
Overall, the number of lame cows at the company has dropped by 10%. While in 2012 lame cows at the EkoNiva complexes accounted for 17 to 20%, now this varies between 3 and 8%. Sure enough, there's still a lot to be done for EkoNiva, which is why we resolved to keep working, seeking to reduce the number of lame cows to less than 3%.
Of course, it's better to prevent a disease than treat it. As Karl Burgi said, the average percentage of clinical lameness on farms that use loose keeping is 24.5% while that during the first lactation is 12.8%, growing by 8% with each subsequent lactation.
EkoNiva-Farm is the sole dealer of Comfort Hoof Care on the Russian market. The machines being supplied are fully automated and safe to use. They comfortably fix up the cow, maintaining her natural upright position and reducing the efforts needed for hoof trimming.
"Karl Burgi, the owner of Comfort Hoof Care and a practicing expert on hoof trimming, has created equipment for maximally convenient treatment," says Anatoly Nosulenko, head of the husbandry equipment sales department, EkoNiva-Farm. "These machines help us to effectively carry out functional and therapeutic trimming, doing this carefully and without stress to the cows at all stages of lactation and pregnancy. This equipment has been operating for three years at the facilities of EkoNiva-APK Holding, winning exclusively positive acclaim of the farmers and, judging by the growing milk yield, of the cows, too."
EkoNiva-APK is one of the leading farming holding companies in Russia. Its divisions operate in Voronezh, Kursk, Novosibirsk, Kaluga, Orenburg and Tyumen oblasts on an area of 196,000 ha. Three thousand three hundred sixty people are employed in the agricultural production.
The company's priority is dairy production. EkoNiva-APK is the largest dairy producer in Russia and Europe, turning out daily 450 tonnes of milk. Its horned animal stock totals 49,000, of which 21,000 are forage-fed cows.