Zashchitnoye, LLC has been operating since 2002. The company is a professional seed-growing enterprise which specializes in production of basic seeds of cereal, pulse and fodder crops. Apart from this, Zashchitnoye is engaged in cash grain and feed production and dairy, beef, and pedigree livestock breeding. Currently, the Company employs 290 people.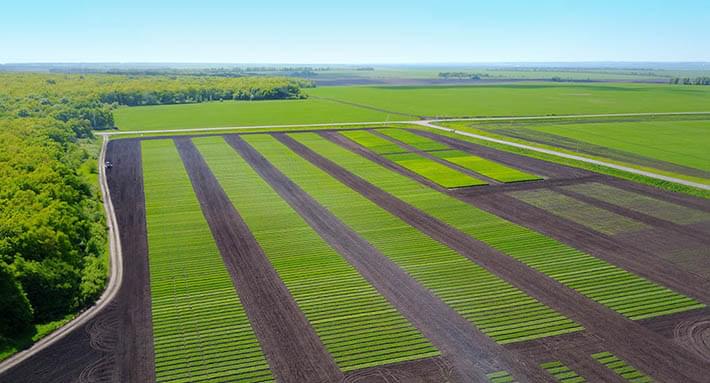 Our professional motto is "Be the first among professionals!"
The total arable land area is over 16,850 ha (as per 01.07.2018). The total herd size is 1,090 head, including 596 head of dairy cows (as per 01.07.2018).
A state variety testing plot used for preliminary testing of new varieties operates on the territory of the enterprise. The enterprise's own seed quality control laboratory performs control of seed material quality, which enables the company to receive high quality and premium class seeds. The enterprise also possesses a seed-processing plant with a capacity of 8 tonnes/hour and a state-of-the-art European type potato storage facility for 2,100 tonnes.
The farmlands are used for growing cereal, pulse, fodder crops, perennial grasses and sunflower.
The enterprise is equipped with modern agricultural machinery and implements advanced grain management technologies which enable the farm to store 30,000 tonnes of grain. The seed drying equipment capacity is 100 tonnes per hour (for wheat), the total capacity of seed cleaning lines is 300 tonnes per day.
The livestock breeding complex with a capacity of 600 head of dairy herd and a free-stall housing system produces about 14 tonnes of milk per day (as per 01.07.2018). The enterprise has the status of Breeding Reproducer of Simmental cattle. Zashchitnoye holds annual Field Days and seminars for the regional agricultural producers.
Specialists employed by the enterprise improve their professional skills on a regular basis, taking extra training at agricultural enterprises abroad and attending the largest agricultural trade shows in Russia and Europe.
Zashchitnoye makes a considerable contribution to the social welfare of the region: the company builds residential premises for employees, supports the local school, kindergarten and community centres. Zashchitnoye is also taking part in reconstruction of the Church of the Kazan Icon of the Mother of God in Melekhino.
Alexey Zolotarev, Deputy Head of the Governor of the Kursk Oblast:'The seed growing enterprise of Zashchitnoye shows true professionalism. Here one can find the most advanced technologies and cutting edge developments allowing to get high yields and produce high quality seeds. This brings a great benefit for the agriculture of the Kursk oblast. I hope that our cooperation with EkoNiva will only become stronger with the years!'.
Ivan Gorbachyov, Chairman of the Committee of Agriculture of the Kursk Oblast: 'Zashchitnoye is an example to follow in matters of implementation of advanced technologies in the agricultural sector. Currently, the enterprise is developing intensively, building new facilities, and expanding its production, all of which results in new jobs and a guaranteed income for the local people'.
Contacts
Zashchitnoye, Shchigry district, Kursk oblast, 306513
Phone: +7 (4712) 74-85-80/81/82/83/84
E-mail: zashitnoe@ekoniva-apk.com
Location Map