EkoNiva-APK is one of the leading agricultural holdings in Russia. Agricultural enterprises of the company operate over 460,000 ha (as per September 1st, 2018) in Voronezh, Kursk, Novosibirsk, Kaluga, Ryazan, Orenburg and Tyumen oblasts. The total workforce engaged in agricultural production amounts to approx. 9,420 employees.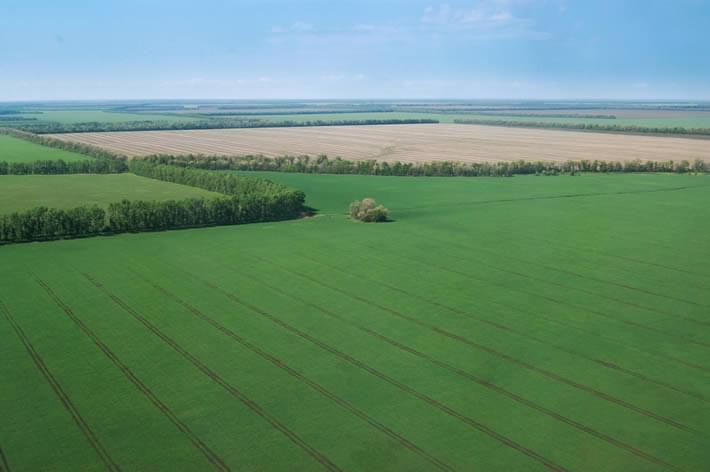 Dairy Farming
Dairy farming is the company's priority area of activity. EkoNiva-APK is one of the largest milk producers in Russia and Europe. The daily output of the company amounts to approx. 1,400 tonnes of milk (as per September 1st, 2018). In 2017, the milk yield reached 300,000 tons. The total livestock population is approx. 122,050 head, of which 53,640 head are dairy cows (as per September 1st, 2018). State-of-the-art livestock handling technologies and efficient herd management ensure rapid increase in production volumes.
Pedigree and Beef Cattle Breeding
Farming enterprises of EkoNiva-APK are engaged in breeding pedigree cattle of Simmental, Brown Swiss, Holstein Black-and-White and Red-and-White, and Hereford breeds.
The beef cattle enterprises involve natural pasture grazing of suckler herd until the young beef cattle reach 6 to 7 months of age with subsequent sale to feedlot operations. The total beef population is 6,300 head, including 2,000 head of breeding herd.
Seed Growing
EkoNiva-APK is one of the leading producers of field crop seeds in Russia. Agricultural enterprises of EkoNiva produce up to 30,000 tonnes of certified seeds of cereal and pulse crops, perennial grasses and potatoes per annum. The company grows seeds of varieties bred in Russia, Ukraine, Germany, France, Scandinavia and Canada. Qualified staff, cutting-edge equipment and high farming standards enable the company to produce premium class seeds.
Crop Farming
EkoNiva's crop growing industry is mainly aimed at production of feed for the company's own livestock. In addition, the agricultural enterprises cultivate cereal, pulse and industrial crops. The gross yield of grain in 2017 reached approx. 278,640 tonnes (including grain corn). The company intensively employs precision farming and other advanced technologies to ensure high yields while maintaining soil fertility.
Milk processing
The company has four milk processing plants in Voronezh, Kaluga and Novosibirsk oblasts, where it produces a wide range of exclusively natural dairy products under the Academy of Dairy Sciences and the Big School Break brands.
Agritourism project
The Academy of Dairy Sciences agritourism project aimed at popularization of milk, healthy lifestyle and careers in agriculture is underway in Voronezh, Kaluga and Novosibirsk oblasts. Over 6 years, 40,000 children and adults have visited EkoNiva's farms.
Organic farming
One of EkoNiva enterprises in Kaluga oblast is engaged in organic farming. It grows field crops and beef cattle. All the products conform to Regulation No. ЕС834/2007.
The Team
The company does a lot to enhance staff qualifications and to attract young specialists. Regular training and education abroad, favourable working conditions and an efficient system of incentives ensure high potential of the company's team of employees.
Social Responsibility
EkoNiva-APK takes an active part in the social life of rural communities. The company supports sports clubs and educational facilities for children, takes an active part in cultural events and invests into village infrastructure projects.