EkoNiva's livestock farming operations have been engaged in the reproduction of pedigree cattle breeding since 2006. The enterprises in Voronezh, Kaluga, Ryazan, Tyumen, Orenburg and Novosibirsk oblasts hold the status of stock breeding farms and breeding reproducers of cattle. Propagated breeds: Simmental, Holstein Black-and-White and Red-and-White, Hereford and Aberdeen-Angus cross. The herd consists of purebred Very Good and Good Plus cattle characterised by high genetic potential. The origin of the cattle is confirmed by genetic testing.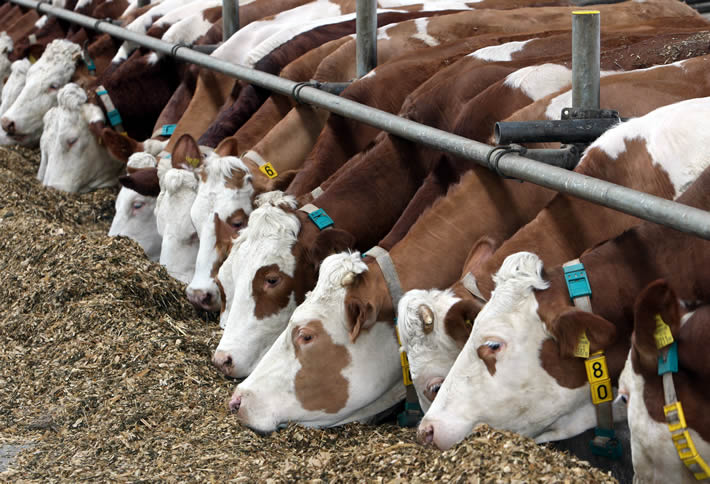 All the farming enterprises implement efficient livestock housing and herd management systems, employ state-of-the-art milking and health care technologies and use advanced software such as Selex and Dairy Comp 305 (VAS).
Milk production parameters are rapidly increasing without affecting the health of the cattle. The average milk yield of Simmental cows in EkoNivaAgro has gone up to 8,722 kg per lactation, the milk yield of Red-and-White cows has increased to 7,949 kg. The rolling herd average of Holstein cows in EkoNivaAgro has increased to 10,327 kg, in Sibirskaya Niva – 9,241 kg, in Kaluzhskaya Niva – 9,474 kg, in OKA MOLOKO – 10,517 kg, in Mezhdurechye – 8,407 kg, in Severnaya Niva Orenburg – to 9,926 kg of milk.
The company uses semen of breeding bulls of western genetics (Germany, Austria, the USA and Canada) for herd reproduction. In order to increase the breeding stock and accelerate the genetic progress of the herd, all enterprises holding the status of breeding reproducers and stock breeding farms use semen of genomic bulls and sexed semen.