OKA MOLOKO has been operating within EkoNiva Group since December, 2017. The key areas of activity are dairy and crop farming. The company employs 1,343 people (as per 16.07.2021).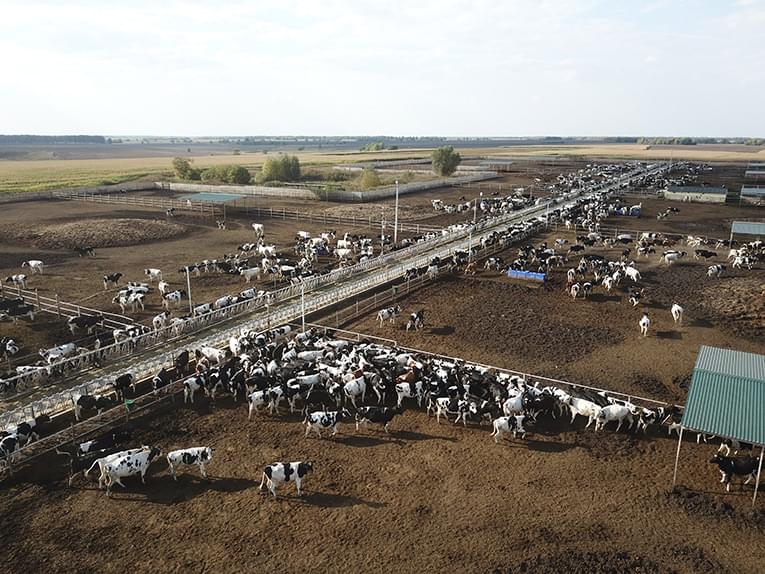 Professional motto Work to grow.
Currently, OKA MOLOKO comprises seven subdivisions in six districts of Ryazan oblast: Chuchkovo, Pitelino, Shatsk, Sarayi, Sasovo and Aleksandro-Nevskiy districts. Total farmland is 101,000 ha (as per 16.07.2021).
The company operates three modern free-stall dairies for 2,800, 2,100 and 1,150 head of Holstein cows and a mega-dairy for 6,000 head. Modern equipment, well-developed infrastructure and qualified staff allow OKA MOLOKO to produce 381 tonnes of high-quality milk every day (as per 16.07.2021).
The total herd size is approx. 23,800 head thereof 12,600 dairy cows (as per 16.07.2021).
OKA MOLOKO grows profitable crops such as sunflower, rapeseed and spring and winter wheat. Besides, the company grows large volumes of corn for silage and grain and produces high-quality feed for livestock. A state-of-the-art elevator for 50,000 tonnes with a rail track facilitates the grain-handling work.
In 2020, OKA MOLOKO harvested 115,519 tonnes of grain, 28,031 tonnes of maize for grain, 43,163 tonnes of haylage, 41,340 tonnes of silage, 22,747 tonnes of industrial crops and 23,801 tonnes of soybeans.
The company possesses all necessary cutting-edge machinery and equipment for agricultural production.
'I am glad that EkoNiva started operating in Ryazan oblast', says Nikolaty Lyubimov, Governor of Ryazan oblast. 'The holding has achieved a lot and continues its successful development always keeping its promises and sticking to its goals. The government of Ryazan oblast, in its turn, is ready to provide comprehensive support to the company to enhance the development of agriculture and the region on the whole.'
Contacts
44A, Shchedrina st., room N-1, 390000, Ryazan
Phone: +7 (4912) 42-71-23
E-mail: [email protected]
Location Map