Zashchitnoye has been operating since 2002. Its main areas of activity are plant breeding and seed growing. The enterprise produces seeds of cereals, pulses, fodder crops and perennial grasses. The enterprise is also engaged in dairy farming. Zashchitnoye currently employs 800 people.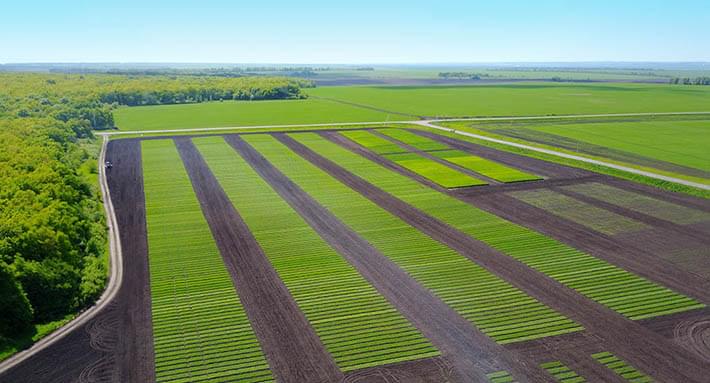 Our professional motto is Be the first among professionals!
The enterprise operates in Shchigry and Solntsevo districts on the total area of 46,300 ha.
In cooperation with EkoNiva-Semena, Zashchitnoye has been successfully implementing a breeding programme for winter wheat and soybeans. Currently, seven varieties of winter wheat of the enterprise's own breeding are undergoing state variety trials. A joint winter wheat breeding project with I.G.Pflanzenzucht is underway. Besides, Zashchitnoye reproduces an F-1 corn hybrid.
A state variety trial plot used for preliminary testing of new varieties operates in the territory of Zashchitnoye. The enterprise's own seed quality assurance laboratory performs control of seed material quality, which enables the company to receive premium class seeds.
Material and technical facilities allow producing 250 tonnes of seeds per day and place 50 000 tonnes of grain for controlled storage.
The gross output in 2022 amounted to 153,900 tonnes (including maize for grain, cereals, pulses and oil crops).
The enterprise is equipped with state-of-the-art agricultural machinery and uses the most cutting-edge technologies. Zashchitnoye holds Field Days and seminars for the regional agricultural producers. The employees of the enterprise improve their professional skills on a regular basis, taking extra training at agricultural enterprises abroad and attending the largest agricultural trade shows in Russia and Europe.
Zashchitnoye pays considerable attention to the social welfare of the region: it builds residential premises for employees, supports the local school, kindergarten and community centres. The enterprise is also taking part in the reconstruction of the Church of the Kazan Icon of the Mother of God in Melekhino.
Roman Starovoyt, Governor of Kursk oblast: 'Kursk oblast has impressive land resources and a lot of competent specialists. These factors give us an opportunity to increase the region's agricultural production. We welcome such investors as EkoNiva in our region and promise to provide all necessary support on our part.'
Contacts
Zashchitnoye, Shchigry district, Kursk oblast, 306513
E-mail: [email protected]
Location Map
Zashchitnoye-South Operation
1, Marii Ovsyannikovoy street, Gridasovo, Solntsevo district, Kursk oblast