EkoNiva has recently opened its 43d brand shop. The first EkoNiva 'milky island' in Ryazan oblast appeared in the urban locality of Aleksandro-Nevskiy and attracted lots of shoppers during the first hours of operation.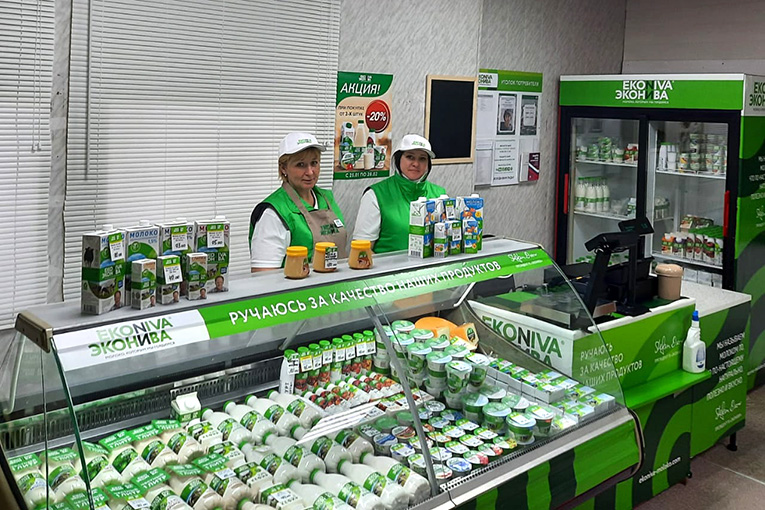 EkoNiva Group is well-known in Ryazan oblast. The Ryazan office of EkoNiva-Tekhnika has been operating in the region for many years, supplying local farmers with the powerful and reliable agricultural machinery produced by world's leading manufacturers.
In 2017, EkoNiva Group established OKA MOLOKO – one of the largest farming enterprises in the region. Currently, OKA MOLOKO comprises subdivisions in six districts of Ryazan oblast: Chuchkovo, Pitelino, Shatsk, Sarayi, Sasovo and Aleksandro-Nevskiy districts.
Total farmland is 101,000 ha, the total herd size is approx. 23,400 head. The company operates three modern free-stall dairies for 2,800, 2,100 and 1,150 head of Holstein cows and a mega-dairy for 6,000 head. OKA MOLOKO produces 364 tonnes of milk every day.
'The new brand shop was eagerly-awaited in the settlement', said Irina Nechaeva, EkoNiva Retail Trade Department Manager. 'We are happy to present our dairy products to the people in Ryazan oblast. Today, we have made a presentation of sour cream, butter and cheese: semi-hard Medyni cheese and five types of white-brined cheese. I can safely say that the locals have appreciated our dairy products. For instance, a big head of c heese, – that is usually for sale during several operational days in a shop, – was sold out just within a few early hours today.'
The new EkoNiva shop is located next to the central square of the village. Such important community facilities as a kindergarten, a secondary school, a bank office and a post office as well as the village council are located nearby.
'The retail outlet in Aleksandro-Nevskiy district is our 43d brand shop', added Irina Nechaeva. 'Currently, we are developing our own retail network within the home regions, where enterprises of the company operate. We have managed to increase EkoNiva brand awareness which helped to attract more customers. The assortment size has expanded to 72 items, including different varieties of milk, kefir, yoghurt, quark desserts, sour cream, cheese, butter and other products.'
Delicious and healthy EkoNiva dairy products are currently sold in the brand shops in Moscow oblast, Kaluga and Kaluga oblast, Voronezh and Voronezh oblast, in Kursk and Obninsk. Now, Ryazan oblast is also on this list.
'We are going to further develop our retail chain of shops', said Irina Nechaeva. 'A new brand shop will soon open its doors in Talovsky district of Voronezh oblast, another shop will be set up at the market 'Maiskiy' in Kursk as soon as February. The chain is rapidly growing in Moscow oblast, namely in Shugarovo, Odintsovo, Golitsyno. Every month, EkoNiva opens one or two shops in these districts near the capital city. The company plans on setting up more brand shops in other Russian cities and districts. We hope to make EkoNiva dairy available at the shops of Tatarstan, Krasnoyarsk area, in the Urals. It is an ambitious plan, but it is worth trying, since we want to allow more people in Russia to experience the best natural dairy products.'
By Tatyana IGNATENKO