The international organic food trade fair BioFach 2021 has begun its work. Annually, it takes place at the Nurnberg Messe Exhibition Centre, Nuremberg, Germany. However, this year due to the Covid restrictions, the organisers decided to exchange ideas and meet new manufacturers hosting the famous event online.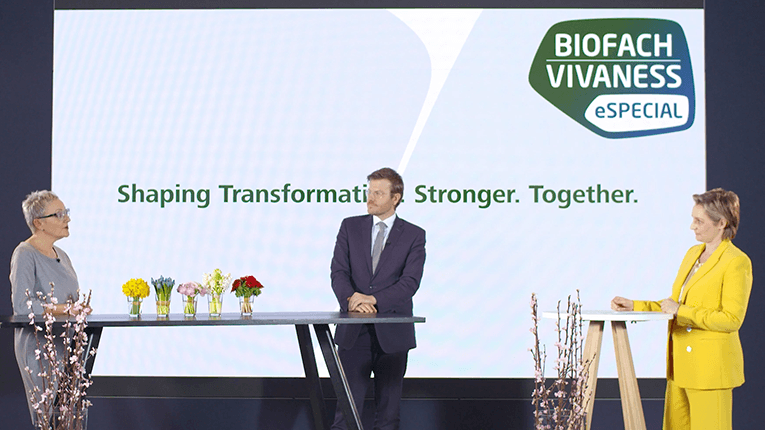 The BioFach trade fair has run in Germany for 32 years. Its participants call on people all over the world to set the stage for global changes. They are confident that caring for our planet, its animals and resources, avoiding the use of plastic and chemical fertilisers, switching to organic farming will help save humanity. Every time, the Minister of Food and Agriculture Julia Klöckner opens the exhibition with a rousing speech and encourages listeners to look after themselves and the environment.
In 2021, her message did not change. But this year, instead of a festive stage, she gave an interview in her office.
'Like a magnifying glass, the coronavirus pandemic has exposed everything', says Julia Klöckner. 'Many people have become very attentive to what they buy every day. Now, they are reading the ingredients list on the product package and studying the information about the manufacturer. Cafes and restaurants are getting less and less popular, and a home-cooked meal tends to be the first choice. Moreover, demand for organic food has risen sharply. Сompared to the last year, the eco produce market in Germany has reached record-breaking figures – 20% increase and 15 billion euro turnover.'
At the online trade show, Roskachestvo (Russian Quality System organisation) presented Russian organic producers. EkoNiva's organic farms – Savinskaya Niva (Kaluga oblast), Severnaya Niva Organic (Orenburg oblast), Smolenskaya Niva Organic (Smolensk oblast) and Stupinskaya Niva Organic (Moscow oblast) – took their well-deserved place on the stand.
EkoNiva's enterprises specialise in crop production, dairy and beef cattle farming. Operating since 2012, Savinskaya Niva has got a number of European and Russian organic certificates and become a member of IFOAM (International Federation of Organic Agriculture Movements). In 2019, EkoNiva launched EKONIVA ORGANIC milk production project, and in 2021 the manufacturing of Medynskiy ORGANIC cheese is already under way.
By Darya DENISOVA