For the first time, EkoNiva-Food has participated in the 8th international exhibition Coffee Tea Cacao Russian Expo 2021 held at Music Media Dome, the largest media space in Moscow. At the booth, the company presented its conventional dairy produce as well as the entire EKONIVA Professional Line and EKONIVA Organic whole milk.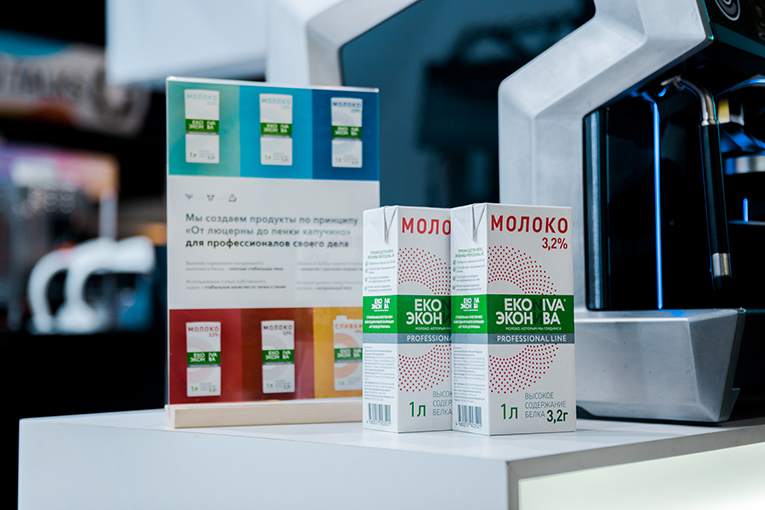 Coffee Tea Cacao Russian Expo is a prime trade show in the respective fields and the fast-food sector. This event featured an exhibition, a tasting session, seminars and workshops, professional competitions for baristas, coffee roasters and tea masters.
In the course of the event, the Dairy Intelligence Agency (DIA) organised a roundtable devoted to white coffees. 'Russians consume 80% of their coffee with whiteners,' notes Mikhail Mishchenko, Director of DIA. 'The most popular milk coffee drinks are latte, cappuccino and Raf. What's more, the number of coffee houses is rapidly increasing, and it is mostly noticeable in large cities like Moscow and Saint Petersburg.'
According to the Dairy Intelligence Agency, the Russians annually add over 1.5 million tonnes of milk to their coffee while the total volume of packaged drinking milk produced in the country per year amounts to about 5.5 million tonnes.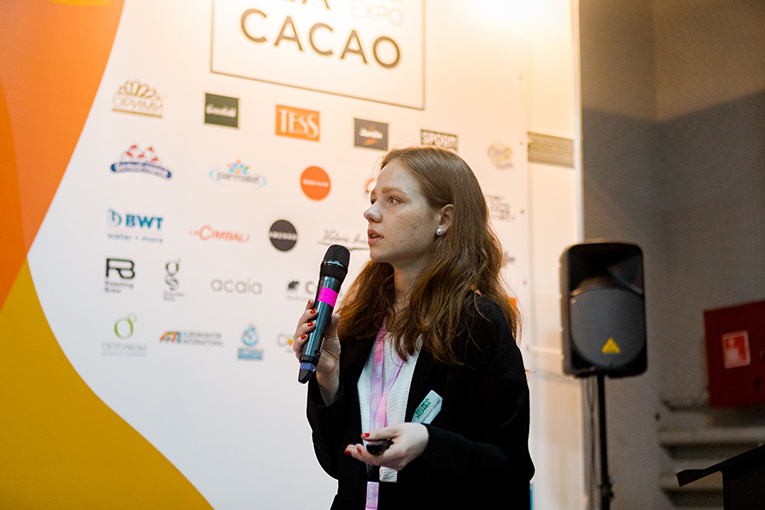 'In contrast to the USA and European countries, our estimates of milk consumption within the coffee industry are not that high,' continues Mikhail Mishchenko. 'However, we are observing a growing tendency toward the use of milk in the coffee industry.'
It is crucial that milk has a consistently high quality, 'clean' composition and natural taste. EkoNiva knows for a certainty that each and every aspect makes its contribution, from the right ration formulated for dairy cows to their housing conditions. Yekaterina Duerr, Deputy Head of the Marketing Department of EkoNiva-Food, delivered a presentation 'From alfalfa to cappuccino froth' devoted to these topics.
'The coffee industry places a special focus on the high quality of milk,' highlights Yekaterina. 'The product should be 100% natural and we can vouch for ours. EKONIVA milk is distinguished by an increased protein content and thanks to this property, the milk can be frothed easier and the froth has a thicker and more stable texture.'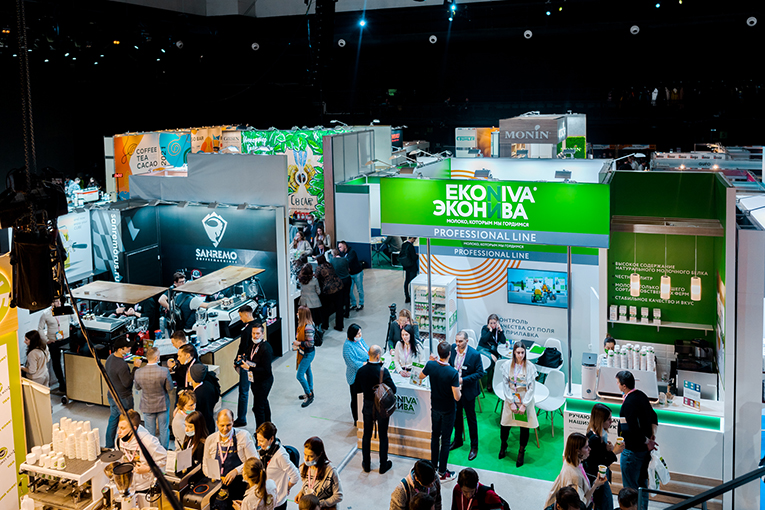 The housing conditions at EkoNiva's dairies meet all necessary guidelines since only healthy and happy cows can produce a lot of delicious milk. The animals have a well-balanced ration comprising of feeds high in protein, such as soya bean, rapeseed and sunflower meals and alfalfa haylage. Other factors ensuring a natural flavour and a long shelf life are the high level of milk microbiological purity achieved through stressless milking on rotaries, sticking to strict hygienic standards, and, last but not least, using only the company's own raw materials at all production stages, thus making it possible to guarantee a superior end product.
'Consistent quality and taste are prerequisites for success,' continues Yekaterina Duerr. 'We hope that having an enjoyable cup of joe whitened with our milk will become a good tradition for guests of any coffee house.'
During all days of the exhibition, EkoNiva cordially treated the visitors to various dairy produce and delectable whitened coffee beverages. Meanwhile Darya Tkachenko, a professional barista at Double B coffee shop chain, shared her expertise in coffee art at the company's booth. Darya is a genuine connoisseur of fragrant and energising drinks as she has been involved into the coffee business for more than 10 years and she knows all the nuances of making right cappuccinos and caffe lattes.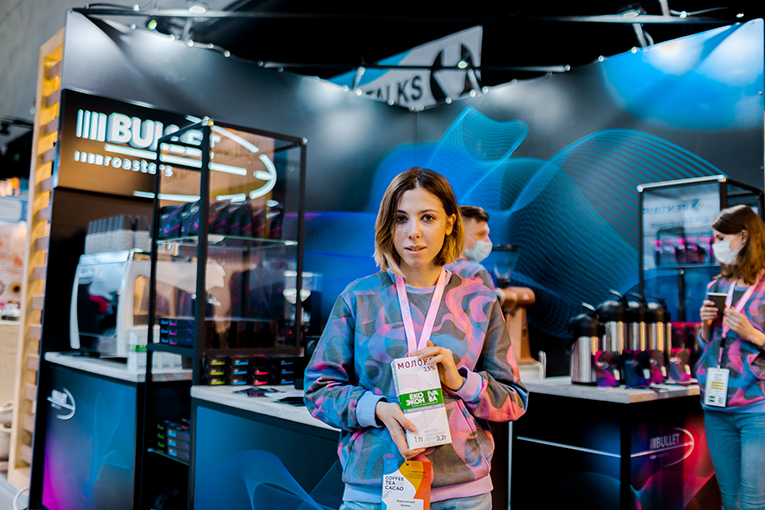 'It is very important to find the proper balance between coffee and milk,' says Darya Tkachenko. 'For instance, milk plays a major role in cappuccino, however its taste should not fade in coffee. On the contrary, it must bring the coffee taste into focus creating a perfect synergy. When I use EKONIVA Professional Line milk, I feel confident about the result.'
EkoNiva had a perfect opportunity to showcase the benefits of its dairy to the wide audience of HoReCa. It is worth noticing that a number of exhibitors representing the coffee industry, such as coffee roasters, manufacturers of coffee machines and syrups are already partnering with the company. They made beverages for their guests using EKONIVA Professional Line milk and cream.
'A nice and high-quality cappuccino should have a sweet flavour, a lovely shiny froth and a homogeneous texture,' says Alyona Korsunskaya, a barista at Bullet Roasters company based in Tula. 'This beverage should serve as a nutritious dessert on its own. What makes milk truly worthy is a high protein content and natural sweetness. EKONIVA milk meets all the parameters, that is why I love working with it!'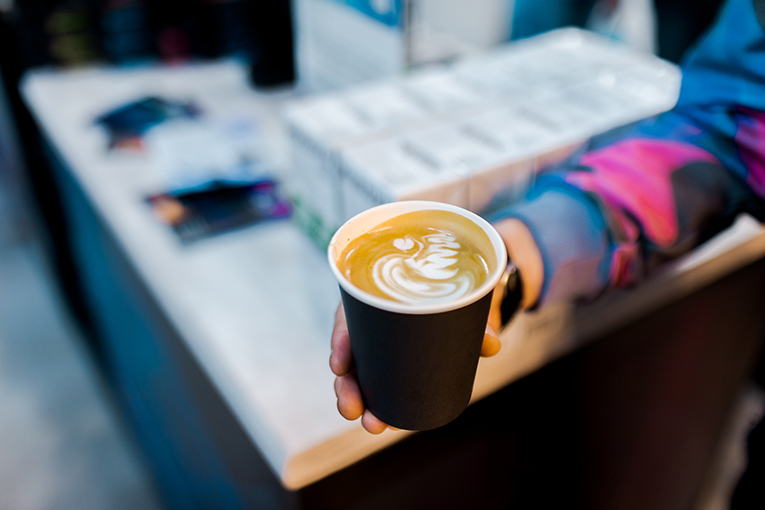 Natalya Grinchuk, a barista at Coffee Wake company, has used EKONIVA Professional Line for a long time.
'The milk is great, it's consistent and predictable in terms of frothing', relates the barista. 'It can be whipped both into a thick milk froth or thin crema which is needed for latte art, and the former remains stable even after a long period of time. EKONIVA milk is the perfect choice for all types of coffee machines, so I recommend it to my colleagues. I also opt for this brand whenever I buy dairy for my family.'
Coffee Tea Cacao Russian Expo 2021 has been a success for EkoNiva resulting in participation in a number of beneficial meetings and conclusion of many agreements on cooperation with coffee companies all around the country. That means healthy and tasty coffee drinks made with EKONIVA milk will be more available to everyone soon!
By Tatyana IGNATENKO