EkoNiva-Semena has participated in AgroKompleks-2021, the largest agricultural forum of Volga and Ural regions. Over 300 companies from 40 Russian regions, the Czech Republic, Hungary and Belarus joined the extensive exposition in Ufa.
This year, AgroKompleks has been held in a hybrid format for the first time: along with a conventional exhibition, the organisers arranged an online platform allowing anyone to watch the forum and acquaint themselves with the exponents. Radiy Khabirov, Head of Bashkiria, paid a visit to the opening ceremony.
'In spite of the difficulties we have faced because of the coronavirus pandemic, agriculture has burgeoned both in terms of production volumes and attraction of investment, as we could witness that at the end of 2020', highlighted Radiy Khabirov. 'The farming sector in Bashkiria is actively developing and becoming more advanced, the villages are being revitalised as well.'
Bashkir farmers have cooperated with EkoNiva-Semena for several years. Scores of crop producers, who arrived at AgroKompleks-2021, hurried to the company's booth to see the novelties, discuss plans and eventually purchase the seeds.
'We annually buy wheat and barley from EkoNiva', says Ilmir Ikhsanov, head of a local farming enterprise. 'This year, we decided to give a try to Kanyuk spring wheat and Paustian barley. Previously, we purchased Calixo, Licamero, Cornetto wheat as well as Margret and Explorer barley and the harvest was always delightful – we never reaped less than 4.5-5 tonnes per hectare, these are remarkable results. EkoNiva's seeds will no doubt keep on pleasing us in the future. We are certainly heading for abundant crops!'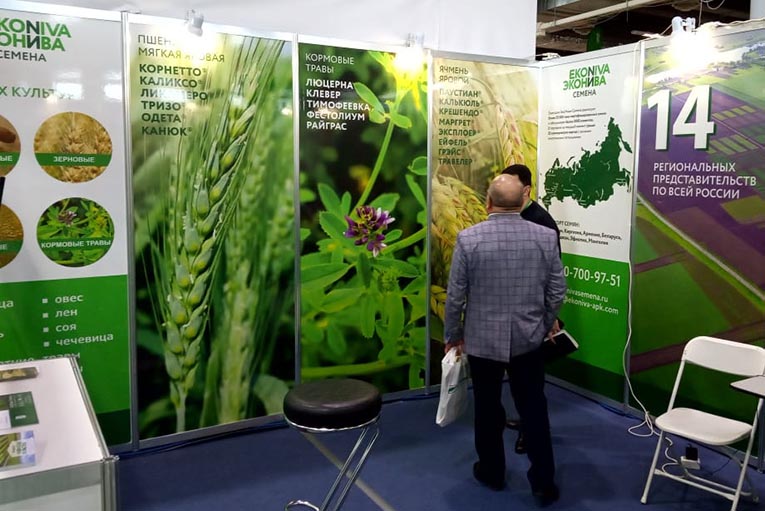 EkoNiva-Semena presented their entire crop portfolio at the exhibition.
'Producers from Karachay-Cherkessia have expressed a particular interest in regionally adapted varieties', says Viktor Prostyakov, Sales Representative of EkoNiva-Semena, 'namely, a high-yielding pea variety named Rocket and Eifel medium-early malted barley, a novelty distinguished by its consistent yield capacity, resistance to lodging and draught.'
AgroKompleks, held for the 31st time, is one of the oldest agricultural events in Russia, primarily in Volga Federal District, and running it is especially relevant as it precedes the sowing campaign.
'This exhibition was extremely beneficial for us,' continues Viktor Prostyakov. 'Indeed, we've been missing live conversations and mass events like this one and now we could finally strike up new valuable relations. AgroKompleks instilled in farmers confidence in tomorrow and fruitful communication inspired us for the further productive work'.
By Tatyana IGNATENKO