TatAgroExpo 2021, the largest agricultural exhibition, has taken place in Tatarstan. Over 200 enterprises from 30 regions of Russia and a number of leading foreign companies demonstrated their produce at Kazan Expo Exhibition Centre. EkoNiva was one of the most successful exhibitors of the show.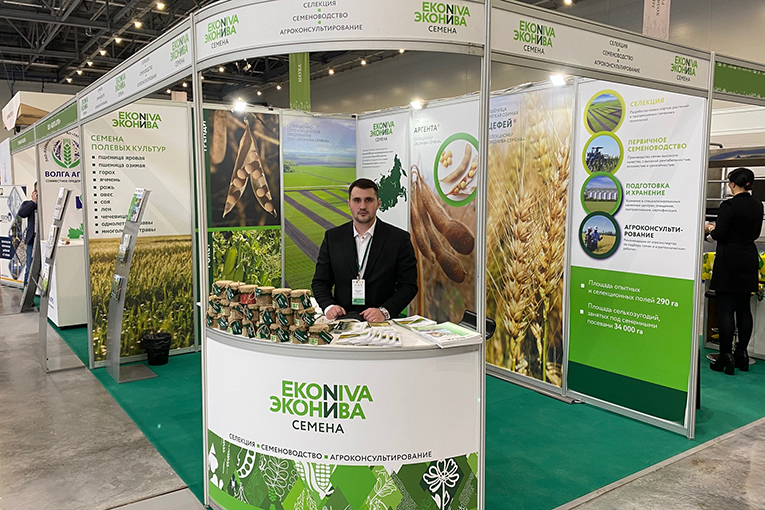 The exhibition encompassed all aspects related to agriculture: farm machinery, equipment and spare parts, chemicals, fertiliser, seeds, latest scientific developments and products supplied by the local farmers.
'TatAgroExpo provides a unique opportunity to form and develop new business partnerships', says Marat Zyabbarov, Minister of Agriculture and Food of Tatarstan, in his opening speech. 'It is an excellent platform to discuss the burning topics of the farming industry, learn about the most advanced agricultural technologies and obtain useful information for the upcoming season.'
The trade show was very productive for EkoNiva-Semena. The company booth attracted both local farmers and agricultural producers from the neighbouring regions. On the eve of the new agricultural season, the professionals are eager to discuss the suppliers' offers and learn about the latest developments in the industry.
'We have been very successful with our seeds in Kazan', says Viktor Prostyakov, Sales Rep of EkoNiva-Semena. 'Tatarstan farmers attach great importance to high-quality seeds. The most demanded crops are spring wheat, barley and peas. They demonstrate impressive performance in the local conditions. Flax, oats and lentils have also been gaining in popularity lately. Farmers are mainly interested in area-specific varieties.'
The state seed register for 7th region lists Max oats, Kanyuk spring wheat, Margret, Laurikka and Eifel varieties of barley, Rocket and Jackpot peas. The winter wheat variety EN Taigeta bred by EkoNiva has been recently included in the State register of plant breeding achievements. This stress-tolerant variety is a perfect choice for the climatic conditions of the republic. The company has already concluded several purchase agreements with the local farmers.
By Tatyana IGNATENKO