EKONIVA Professional Line milk developed specifically for HoReCa will soon complement coffee drinks at McDonald's.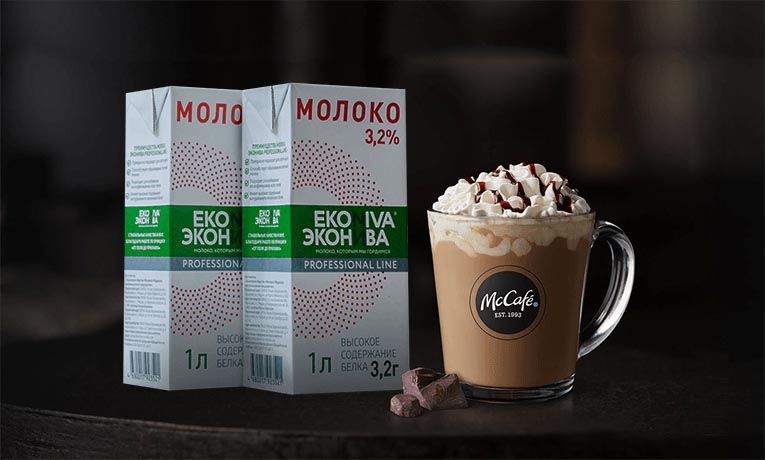 Beginning with April 2021, EKONIVA milk with a fat content of 3.2 and 3.5 per cent will be supplied to McDonald's fast food restaurants operating in Central, Volga, Southern and Northwestern Federal Districts.
EKONIVA milk will be used for making both McDonald's classic menu drinks as well as the McCafé items. Currently, McDonald's is a leading fast-food chain comprising over 780 outlets in 60 regions of Russia.
In line with McDonald's domestic sourcing policy, the company purchases 99 per cent of ingredients locally. The raw materials are produced in compliance with the fast-food giant's high international quality and safety standards by the Russian community of farmers. EkoNiva-Food has now become one of them.
'Just like us, our suppliers are committed to continuous processes improvement to ensure exceptional product quality', comments Sergey Kapkov, McDonald's Russia Supply Chain Director. 'We are happy that EkoNiva-Food has entered into partnership with McDonald's. From now on, the company will deliver its wholesome milk for our coffee drinks served at the local restaurants in Russia. Through our joint efforts, we will deliver the flawless taste of top-quality coffee drinks to the customers of the McDonald's restaurant chain.'
One of McDonald's Russia priorities is cooperation with vertically-integrated suppliers such as EkoNiva whose dairy produce is made from natural premium-quality milk that comes from the company's own farms. Representatives of McDonald's Russia have inspected EkoNiva's production facilities to assure the compliance with all the required parameters. Also, the foaming properties of milk have been tested. The company has successfully passed the audit.
'We have come a long way to become eligible for the cooperation as McDonald's has quite strict supplier selection criteria', says Dmitriy Rayev, HoReCa Sales Manager, EkoNiva-Food. 'What matters at the end of the day is that our milk has met the partner's expectations and has been highly rated. We hope that our cooperation with McDonald's Russia will be fruitful and long-lasting.'