EkoNiva-Semena has participated in AgroExpoCrimea 2021, a specialised agricultural trade fair which took place in Yalta. The peninsula farmers had a chance to become familiar with a wide range of seeds of various crops and achievements of the company's in-house plant breeding programme for winter wheat, where draught-resistant varieties were in the limelight.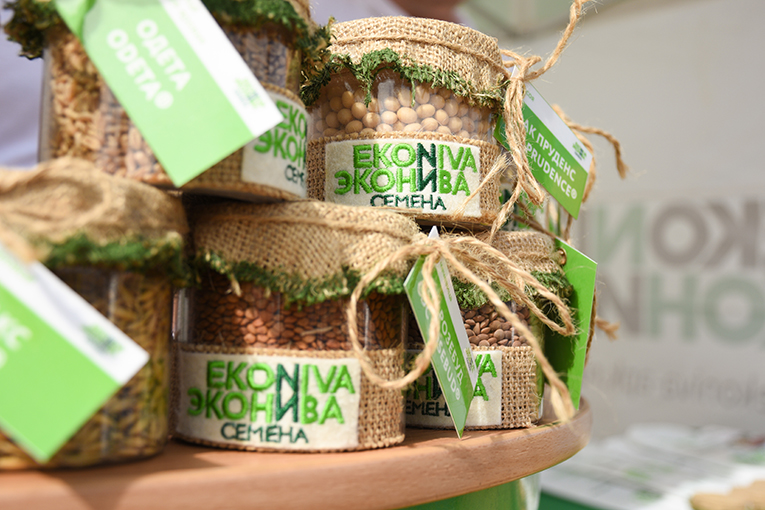 For nine years in a row, AgroExpoCrimea has been successfully creating an international interactive platform for discussing trending topics of the world's farming markets and determining most profitable directions in developing agricultural production.
'This is a unique opportunity to communicate with competent experts and to establish new business relations in the field of farming', says Maksim Golovanyov, Sales Representative of EkoNiva-Semena. 'The event was a success for us as we managed to significantly expand our client base and to reach agreements on planting our crops on trial plots, in particular winter wheat varieties.'
An avid interest that the locals took in the winter wheat varieties came as no surprise since this crop is the most suitable one for growing in the region.
'Traditionally, Crimea has been an area of cultivating first-rate winter wheat', continues Maksim Golovanyov. 'In order to reap the finest seeds, you need to sow the varieties with enhanced bread-baking qualities. Considering the agroclimatic conditions over the peninsula, EkoNiva's varieties, which captured special attention during the trade show, are likely to have high potential.'
In-house bred winter wheats, such as Cepheus, EN Taygeta and EN Albireo have recently been enlisted in the State Register of Plant Breeding Achievements. These varieties respond to high fertiliser input with a sharp productivity rise. The genetics of EkoNiva's plant breeding novelties ensure consistently high yields due to insusceptibility to stressful biotic and abiotic environmental factors. One of the most important features for Crimea is draught resistance and tolerance to the most wide-spread field phytopathogens.
'Apart from the new varieties, we have also offered our traditional favourites to the Crimean farmers: Licamero and Triso spring wheats and Margret, Laurikka, Paustian and Calcule spring barleys. More and more local agricultural producers opt for legumes, but they do not even consider peas as an option because of low soil moisture. However, they show a keen interest in chickpeas and lentils.'
Surkov, one of the local farming enterprises situated in Crimea, has already planted CDC Redcoat lentils as part of their experiment.
'We decided to give this wholesome crop a try', shares the Head of the enterprise. 'Lentils have a number of benefits: they save their healthy properties after heat treatment and can substitute grains and meat in a daily diet. What's more, it is a nice export. Hopefully, growing seeds supplied by EkoNiva will be a lucrative business for our operation thus providing a solid foundation for the future harvest.'
What gets the most attention among Crimea residents is flax and forage crop seeds. Lately, flax cultivation has been on the rise in Russia – the capacity of the inner market and prospects in the global market make this crop especially attractive for many agricultural producers, and its popularity is increasing along with its price.
EkoNiva-Semena is always ready to supply a wide range of premium-class seeds of field crops boasting a high genetic potential and most importantly – offer the latest agricultural technologies for their cultivation.
By Tatyana IGNATENKO