On June 25 and 26, EkoNiva-Chernozemye demonstrated a bewildering variety of state-of-the-art machines at Voronezh Field Day 2021. The trade show was held in Liski district on the fields of EkoNivaAgro where the participants had the chance to discover the latest technical innovations.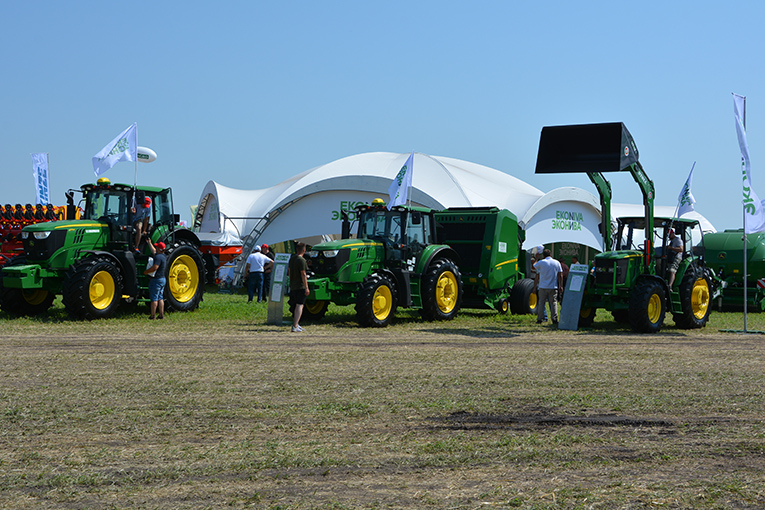 Voronezh Field Day is a large-scale exhibition for professionals who want to stay up to date with all the novelties in the world of farm machinery.
'Today's event is one of the most significant ones in the region', says Sergey Storozhev, Executive Director of EkoNiva-Chernozemye. 'It has taken place at our farm, next to the new service centre. This is a great opportunity for us to meet with our friends and partners, discuss ongoing issues and share the latest achievements and trends from the leading manufacturers of agricultural equipment.'
An updated version of the new-generation Vaderstad Tempo seed drill was showcased at Voronezh Field Day. Intended for carrying out proper planting, it completely stole the show.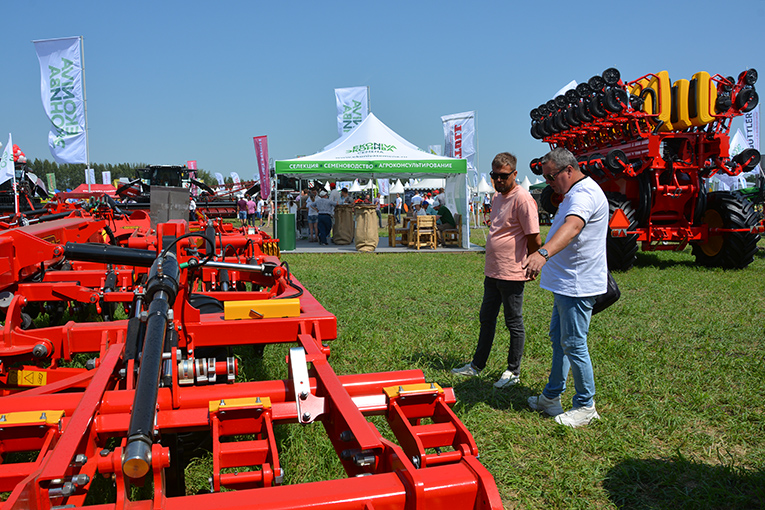 'This trailed high-speed seed drill with 16 row units delivers striking performance', says Eduard Ivanov, Sales Department Manager of EkoNiva-Chernozemye. 'It is equipped with the ProStop wheel designed for excellent results even at high sowing speed. The Gilstring Seed Meter, the unique seed metering unit which is at the heart of the machine, guarantees absolute precision of planting.'
The powerful and efficient JCB 541-70 AG telescopic handler was presented at the trade show together with the attachments of this brand. The field was also decked out with green beasts – the John Deere 8R 340 and John Deere 8R 280 tractors. Besides, the premiere appearance of the John Deere 6140 M tractor took place. It is an invaluable helper in both livestock farming and crop production which is ideal for working row crops. The John Deere L624 baler was featured among the newcomers as well.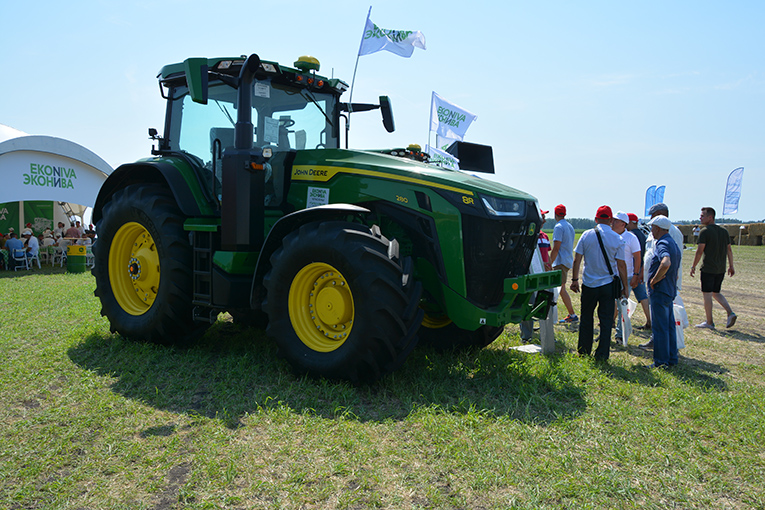 'It is the first time we have exhibited the John Deere L624 square baler', continues Eduard Ivanov. 'It can shape perfect bales up to two metres long and one metre wide. This machine is designed for baling hay, straw and specialised industrial crops.'
This year, EkoNiva has expanded the range of equipment by signing dealer agreements with new companies. It has started cooperation with Rauch, the world's leading manufacturer of mineral fertiliser sprayers, and STOLL.
'We have made a contract with STOLL which offers top-class front loaders for tractors', shares Eduard Ivanov. 'New models will open up more opportunities for using small tractors, such as the John Deere 6135 B.'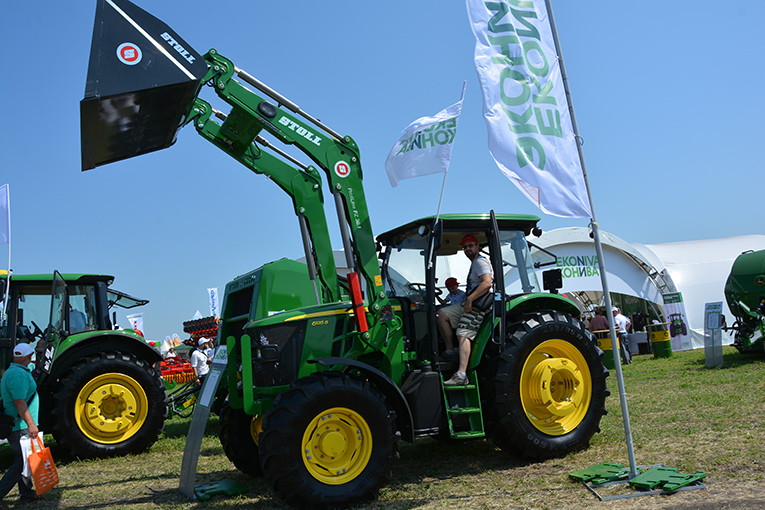 To keep in step with the times, EkoNiva is devoting special attention to precision farming.
'We supply equipment and technologies that allow for reducing costs and increasing performance', emphasises Artyom Novikov, EkoNivaTekhnika-Holding Smart Farming Department Manager. 'There is a growing trend for automated steering solutions and machines controlling the application of seeds, fertilisers and crop protection agents. They make it possible to eliminate overlaps and minimise skips during field works. All of this can be done with the AutoTrac steering system for John Deere machinery and AutoTrac Universal (ATU 300) for the equipment of any make and model.'
Another system that is gaining popularity is Section Control which automatically switches individual sections on and off to avoid overlap on passes in field, for example at headland turns. The smart device is compatible with ISOBUS compliant implements of any brands.
The harvesting is just around the corner, and EkoNiva is ready to offer intellectual assistance – the Cognitive Agro Pilot.
'The Cognitive Agro Pilot is based on artificial intelligence and machine vision functions', continues Artyom Novikov. 'The system is able to detect whether the crop is harvested or not and guide the combine in such a way as to make the most efficient use of the header. As a result, boosted performance and reduced fuel consumption are ensured. In a short period, higher yield can be produced without crop shattering. We are seeing a surge of interest in such developments – agricultural producers understand that they can really help in keeping the costs down.'
Igor Rozhnov, Deputy Manager of Rozhnov A.I. enterprise, has been cooperating with EkoNiva-Chernozemye since 2011. The machinery fleet of the farm includes several John Deere tractors and combines, JCB loaders and Vaderstad seed drills.
'This trade show is a perfect event for us', says Igor Rozhnov. 'Farmers have little time, but once a year we are happy to meet and discuss novelties in agriculture. What has caught my attention is the Cognitive Agro Pilot system. I would like to try it out on the farm.'
When it comes to the cooperation with customers, an important part belongs to the machinery after-sales service.
'In addition to sales of spare parts and consumables, we perform maintenance and repair of self-propelled and trailed machines', points out Stanislav Dolbin, After-Sales Department Manager of EkoNiva-Chernozemye. 'The harvesting campaign is about to start. We recommend that our partners think about pre-season arrangements and defect detection of the vehicles in particular. This will guarantee their smooth and successful operation.'
EkoNiva-Chernozemye's servicing received high praise from Roman Glazkov, Manager of Pobeda enterprise.
'On our farm, we have a John Deere W650 combine and a couple of 8 Series John Deere tractors', says the businessman. 'All the machines are in excellent condition. I do appreciate the top-rate work of the service department.'
According to EkoNiva's specialists, the quarantine has caused many changes. For instance, communication with customers is increasingly taking place remotely. However, there is always field work, so agricultural producers need to think out every step – they cannot afford mistakes.
'Everyone is going through troubled times today', adds Eduard Ivanov, 'but there is a sure way to get a high profit – look to the future, plan in advance the purchase of new machinery and balance your budget.'
EkoNiva-Semena also took part in Voronezh Field Day displaying trial plots with farm crops.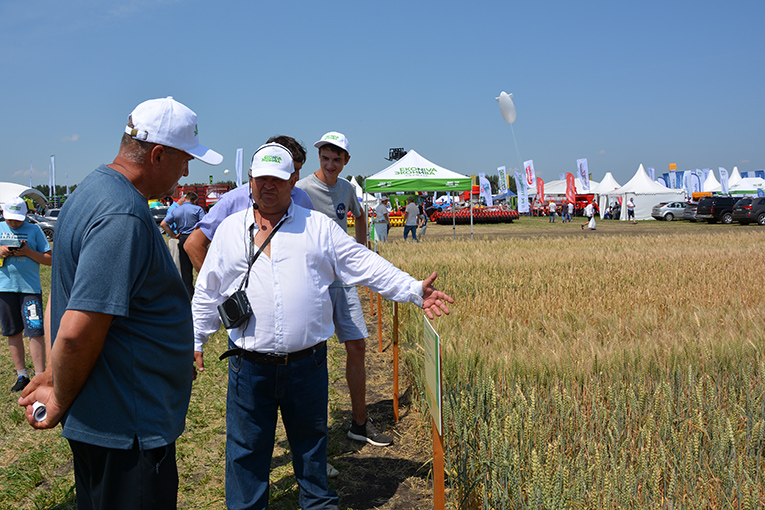 'We present seeds of our own breeding', says Aleksandr Novosyolov, Senior Sales Representative of EkoNiva-Semena. 'These are winter wheat varieties EN Albireo, EN Taygeta and Cepheus. Many guests of the trade show turned their attention to our new soya bean cultivar EN Argenta with the maturation period of 98 days. Its main features are high yielding capacity and branching. We also offer different varieties of barley, oats, lentils and a whole range of forage crops.'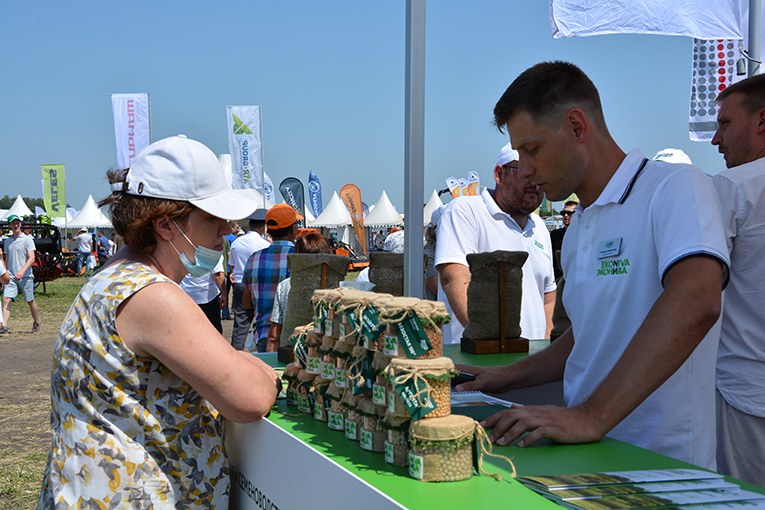 The guests could escape from the heat at EkoNiva's branded tent where they were treated to cooled dairy products and delicious ice cream made by the company. Those who wished had the chance to taste novelties which had recently hit the shop shelves – Shchuchye and Kolybelka cheeses.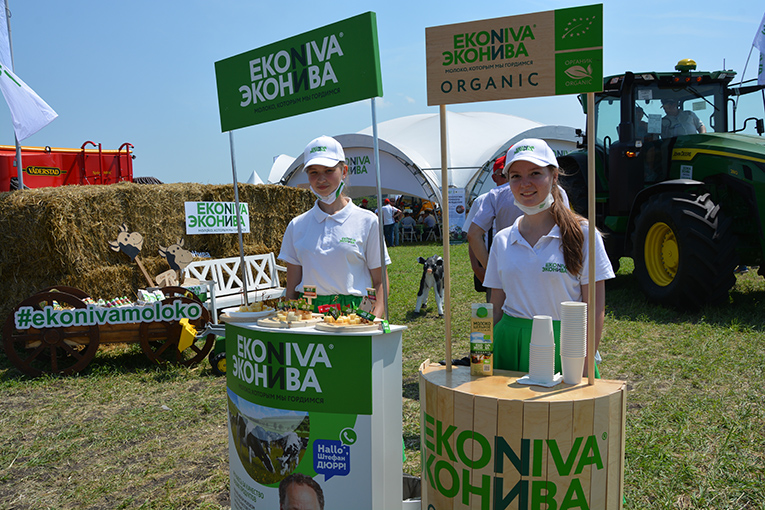 By Darya DENISOVA