Johnson Agara Olwa, Plenipotentiary of the Republic of Uganda, has paid a call to EkoNiva together with the delegation. The distinguished guests have visited Dobrino dairy in Voronezh oblast.
A delegation from Africa has come to Voronezh oblast to meet with dignitaries of the region and discuss the opportunities of the cooperation in the field of economic and trade relations and agriculture. The guests from Africa were invited to Dobrino to see modern dairy farming first-hand.
'The guests arrived to share best practices', says Ramon Schenk, Deputy Director General for Livestock Production of EkoNiva-APK Holding. We managed to communicate with Johnson Agara Olwa and demonstrate to him all the steps of dairy farming. He was greatly interested in how we look after animals, take care of their health, manage herd and what innovative technologies we use. The attendees were impressed by modern 72-stall rotary milking parlours. Production scale in Uganda is much smaller. Cows are kept on pastures and in small groups.'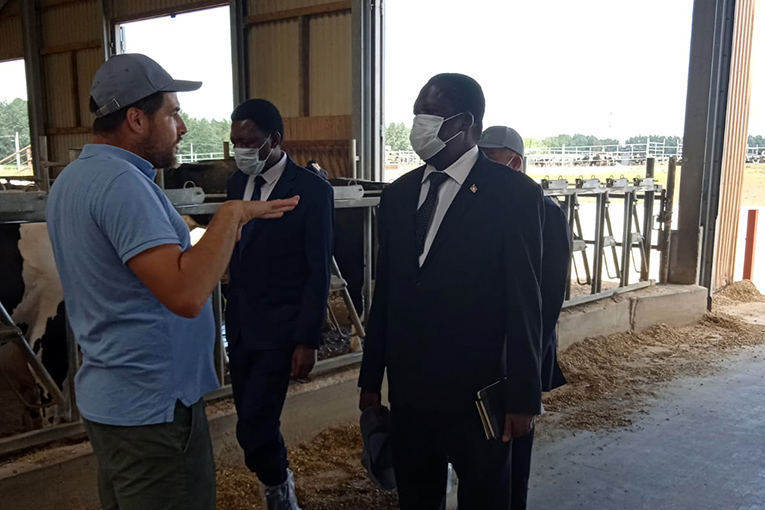 The visitors paid attention to animals' diet and were curious about fodder that is grown at EkoNiva's own fields. Moreover, calves that live in special hutches were in the spotlight - the delegation members were filled with admiration for these animals. Henry Sanyu, financial attache of Uganda embassy, could not resist and bottle-fed one of the calves.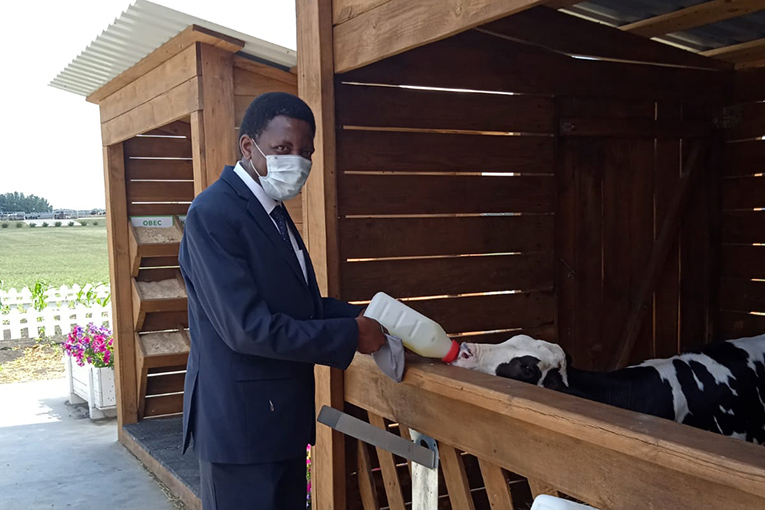 Dobrino dairy was launched in 2019. Now, its total herd size is 7,184 head of cattle including more than 3,000 dairy cows. The daily output of the enterprise amounts to 93 tonnes of milk.
Dobrino is a high-tech facility that has launched a successful tour project. The main purpose of the tour project is to popularise milk, a healthy lifestyle and to explain the idea behind the company's main principle – 'from field to shop shelf'.
'It is important that now you can visit Dobrino without an appointment', says Yekaterina Bartseva, Head of the Tour Project Department of EkoNiva-Food. 'Lots of people are on holidays now, therefore we decided to hang out a new advertising banner on highway M4. That banner ad invites everyone to take a tour around the dairy. Travellers from all over Russia come to have a look at our farm. There is always a tour guide on duty to assist the guests. This year, the number of visitors has increased – 2,500 people came to Dobrino in June.'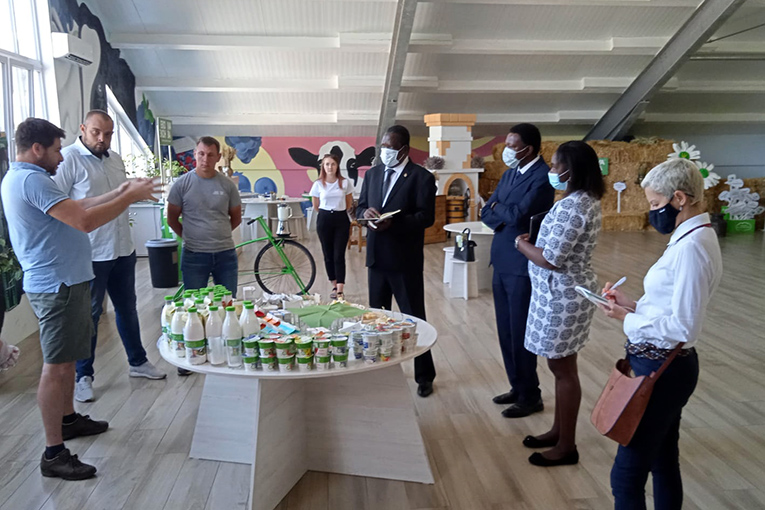 Guests from Uganda were glad to accept the invitation to come to Voronezh oblast again. They tasted EKONIVA dairy produce with delight. They especially liked ice-cream and organic milk.
EkoNiva employees presented African friends with branded rucksacks and coloured ceramic cows as a symbol of prosperity. In return, the guests gave their colleagues fragrant coffee, that their sunny country is famous for.
'We will be definitely brewing coffee! I think that EKONIVA milk will make the perfect pair with this coffee', emphasised Ramon Schenk.
By Darya DENISOVA